It no doubt hurts right now, but, unlike a jellyfish sting, there's no need to pee on what was an overall good effort by the Montreal Canadiens in their loss to the Chicago Blackhawks on Friday night on a last-minute goal from Brandon Saad.
Here are three positive takeaways from that 4-3 defeat:
Montreal Canadiens Prospect Sven Andrighetto Called Up
It may be of little solace, seeing as it's likely only a result of Lars Eller leaving the game after apparently getting injured on Friday night. However, Habs fans will perhaps soon get their first regular-season taste of highly-touted right-winger Sven Andrighetto, who was called up from the American Hockey League following the game.
Andrighetto has nine goals and nine assists in 21 games with the Hamilton Bulldogs this season. He doesn't lead the 10-10-2 team, though. That honor belongs to left-winger Charles Hudon (seven goals, 16 assists in 22 games). Nevertheless, the diminutive third-round pick (Andrighetto… not Hudon; He's a diminutive fifth-round pick), has a lot of offensive upside.
It's really a win-win situation for fans (not really, but bear with me). If Andrighetto sees ice time, it can only go better than Eric Tangradi's mostly uneventful first five games with the team, during which the only thing of note, aside from the 1-3-1 record, was his five-minute major against the Minnesota Wild. If Andrighetto doesn't, it likely means Eller is okay and the call-up was only a precaution.
See? You can't lose… unless you're playing the Blackhawks, apparently.
Overcoming a Two-Goal Deficit
The Habs may have given up the first goal yet again for the 19th time in 28 games (over two thirds)… and then another for good measure. But it's not how you start that matters in the end. It's how you fin…
Okay, bad turn of phrase for this particular example, but, the point is instead of entering the dressing room down two goals after a late first-period goal by Ben Smith, the Habs were able to get some momentum on their side when Brendan Gallagher scored less than 30 seconds later.
Another positive: With that goal, the Habs actually climbed out of the league basement in terms of goals for in the first period. They now have nine and are tied with the Buffalo Sabres, who, at 6-2 in their last eight games, are suddenly decent company to keep.
Of course, there's little way to sugarcoat Montreal having given up 25 in that first period on the other hand. That's just three behind the Edmonton Oilers for worst in the league. And Montreal's -16 goal differential? That is the worst.
Still, credit to the Habs for overcoming adversity against Chicago by scoring three straight, including a rare power-play goal, to pull ahead. It may not have lasted, but for a time, it looked like a win over the Blackhawks was very possible. Considering the Habs' last outing against them (5-0 loss), that's definitely something.
Arguably Outplaying the Best Team in the NHL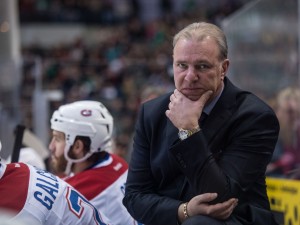 Montreal may have one more point than Chicago, but the Blackhawks are perennial contenders in this league. They, uh, also have two games in hand. But that's beside the actual point.
What's more important is they have won five in a row now and have clearly woken up from a relatively mediocre start to the season. It's obviously a very disputable statement that the Blackhawks are the best team in the NHL, but they are undeniably at least one of the very best. And Montreal outshot them 41-36. And had a lead going into the third period.
This is only the first time this season the Habs have lost under similar circumstances. There's also little shame in that first time coming against Chicago. You can't spell contender without "tender" after all. They also ooze, uh, let's say possession… and are actually ranked first in the league in terms of Corsi at five-on-five (55.4%).
Montreal actually won that battle against Chicago as well, according to stats compiled by hockeystats.ca with 52 five-on-five shot attempts vs. 49. That's 51.5%, a number made all the more impressive by how the Habs are ranked 16th in the league this season with just a 50.6% rating at even strength.
So, not only did the Habs win the possession game against the best in the league, they did it more effectively than they've been doing it all season long.
It's no doubt a small victory, but a far-from-hollow one all the same, that is, as long as it's the start of a larger trend. With the Habs having earned just 45.6% of five-on-five shot attempts against the Minnesota Wild in their previous game, that's really all it can be, a new beginning after a lesson learnt.
The Habs get to turn the page on this latest defeat right away, against the Dallas Stars on the road on Saturday at 7 p.m. Eastern Time.