It's the clash of the Titans that hockey deserves. It's the kind of matchup fans dream of when it comes to playoff hockey. The Pittsburgh Penguins and Washington Capitals could end up being the most entertaining series in the entire 2016 postseason.
Whether or not you enjoy the fact that this matchup is taking place so early in the postseason is irrelevant now. Yes, this should probably be the Eastern Conference Final but the NHL wants division rivals to battle it out early.
That's exactly what we're about to witness.
The last time Pittsburgh faced Washington in the postseason during the Penguins' Stanley Cup run in 2009, it was a very similar situation. While they weren't President's Trophy winners that season, the Capitals were a juggernaut that finished with 108 points and the Penguins, after struggling for a large portion of the season, turned their disappointing year around after changing head coaches and going on a tear.
Deja vu?
The similarities exist and are well documented. In 2009, the Penguins were out of the playoff picture, struggling to find an identity that fit their lineup and ultimately failing in a season with extremely high expectations. Michel Therrien was fired and Dan Bylsma was promoted from Pittsburgh's AHL affiliate in Wilkes-Barre/Scranton.
The names have changed but the story remains the same. The question is, can the Penguins recreate the magic they found in 2009? If they plan to do so, they'll have to win an epic matchup with Washington once again.
Story Lines Galore
Obviously, all eyes are on Sidney Crosby and Alexander Ovechkin in this series and for good reason. Some have discounted the magnitude of these two stars facing off in the postseason but let's be clear, this is big.
Similar to Steph Curry and LeBron James in the NBA, the league needs and wants this matchup. It's marketable, profitable and if things go as they should, it has all the ingredients for really exciting hockey. Need I remind you?
Crosby is coming off a series against the Rangers that saw him produce at a clip of 1.6 points-per-game. Five of those eight points were tallied on the power play and the Penguins currently boast the league's highest success rate with the man-advantage, converting a hair over 38-percent of their chances.
That leads me to yet another storyline.
Special Teams Battle
The Penguins' power play, which found a ton of success against Henrik Lundqvist and the Rangers, will now face the top remaining postseason penalty kill. The Capitals, trailing only the Anaheim Ducks who were eliminated from contention last night, boast a 95.8-percent penalty kill success rate.
The biggest reason for their success?
Braden Holtby now leads all remaining goaltenders in shorthanded save-percentage with an impressive .967. A far stretch from Lundqvist's .539 that Pittsburgh faced in the first round. Is Pittsburgh's power play that good, or did Lundqvist simply struggle?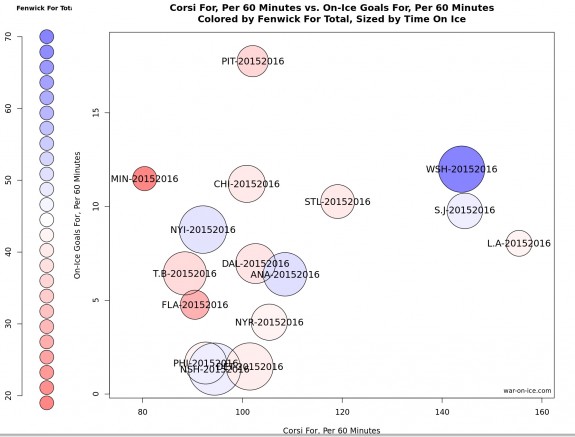 (Courtesy of WarOnIce.Com)
The above chart, which reflects power play Goals-for per 60 minutes vertically and Corsi-for per 60 minutes horizontally, essentially tells us that Pittsburgh wasn't an overwhelming shot volume team in round one. In fact, they were very average in that regard, yet they scored an abundance of power play goals.
They also trailed both San Jose and L.A. in high-danger chances with the man-advantage, and placed fifth in overall scoring chances per 60 minutes.
The duo of Lundqvist and Annti Raanta struggled in these scenarios. I'd expect a drop-off in production with Holtby manning the crease. Or, the Penguins can prove that it wasn't bad goaltending and simply a testament to how dangerous their shooters are. It's something to keep an eye on for sure.
Speaking of Holtby…
Spotlight on Goaltending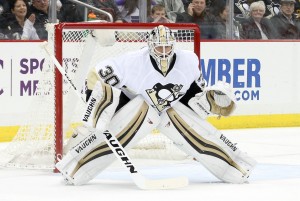 Prior to the Penguins and Rangers opening round one, all signs pointed to Marc-Andre Fleury starting. He practiced in the starter's net at the morning skate, their third string goaltender didn't dress for practice and there were no visible limitations to his workload.
Then, Jeff Zatkoff led the Penguins on the ice for warm ups.
Matt Murray eventually took over between the pipes and played outstanding. The 22-year old Murray found himself going head-to-head with one of this generation's best goalies in Lundqvist, and he won. Fleury still isn't healthy and Murray gets the nod yet again against Washington.
Can he continue to carry the Penguins?
There's little reason to doubt Murray's ability to play at a high level but he's facing a whole different monster in round two. The Ovechkin-led Capitals can score goals in bunches. They have the assets to make life miserable with big bodies in the crease and dangerous shooters outside. And, outside of all those things, he's once again going head-to-head with one of the best goaltenders of this generation.
The kid can't catch a break.
The goaltending situation in Pittsburgh will play a major role in the outcome of this series. I'm a firm believer that you don't need stellar goaltending to win a Cup, but you do need consistently good goaltending. Murray will likely need to be even better than he was against New York.
Prediction
There's a good chance this series plays out similar to when these teams met in 2009. However, considering how well the Penguins have played down the stretch, it may not be as close as many assume.
I'll officially take the Pittsburgh Penguins in six games.
As much as Holtby will challenge the Penguins, they're simply too potent right now to be completely contained. In five games against the Rangers, Pittsburgh scored 21 goals. For those keeping track, that's one more than both Washington and Philadelphia combined for through six games.
Pittsburgh won't dominate the series like they did in round one and it's tough to imagine the Capitals struggling to score again. However, when it's all said and done, the Penguins walk away after a few nail-biters and move on to the Conference Finals.
Pittsburgh Penguins writer for TheHockeyWriters.Com and PittsburghHockeyNow.Com. Youth hockey coach, and student of the game.