The Canadian Junior Hockey League (CJHL) is composed of 10 Jr. A leagues spanning across Canada. They have long been a pillar for young prospects looking to gain experience and play against tough competition, as well as to earn exposure to NCAA and NHL scouts.
While many CJHL alumni go on to play in the CHL and NCAA to soon become top draft picks in the NHL Draft, it is a rare feat to be a top selection directly out of the Jr. A leagues. The highest drafted player in history from the CJHL was Kyle Turris. He was drafted 3rd overall by the Phoenix Coyotes in 2007, out of the Burnaby Express of the British Columbia Hockey League (BCHL).
Since 2000, there have been nine first round picks to come directly from a CJHL league. However, in the past five NHL Drafts, there have been zero CJHL players drafted in the first 60 picks.
In the 2015 NHL Draft, the first pick directly from a CJHL league didn't come until the 190th overall pick. That would be the only player drafted from the CJHL in the entire draft.
Fortunately, that trend is set to make a drastic improvement in 2016. There are currently three potential first round picks from the BCHL, all three of which are ranked in the top 23 among North American Skaters by NHL Central Scouting.
Jost and Fabbro: The Face of the CJHL in 2016
Tyson Jost and Dante Fabbro are the two highest ranked CJHL prospects for the 2016 NHL Draft, and their stock is rising exponentially each month. Both players were leaders for the Penticton Vees in 2015-16, who went 50-7-1, and ranked second in the CJHL to finish the season.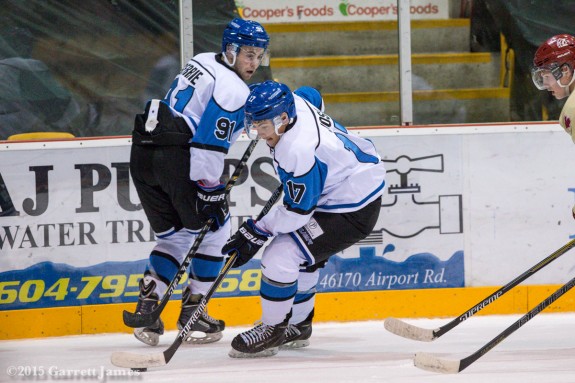 Jost is a dynamic forward who was third in BCHL scoring this season with 42 goals and 104 points in just 48 games. His 2.17 points per game were tops in the league. Fabbro is a terrific all-around defenceman who led the BCHL is points among defenders with 14 goals and 67 points in 45 games. His 1.49 points per game were also tops in his position, by a long shot.
Jost has committed to the University of North Dakota, while Fabbro will be attending Boston University for the 2016-17 season.
Both players felt the effect of spending their NHL Draft eligible season in Jr. A, as their rankings began much lower than what was deserved. However, after each had an unbelievable campaign, they are finally getting an unbiased report, and the improvements in the draft rankings are drastic.
A Disappointing Finish in Penticton
After a season with virtually zero blemishes, the Vees were undoubtedly the favourites heading into the playoffs. They would face off against the Vernon Vipers in round one, who went just 24-31-3 in the season. Penticton would cruise past the Vipers in five games, with Vernon's one win being more than they expected to get.
In round two, Penticton matched up against the West Kelowna Warriors, who were 38-17-3 in the season. The Vees jumped out to a 2-0 series lead before the unthinkable happened. With a total record of 56-8-1 at the time, Penticton would lose four straight games, bringing an impeccable season to a jaw dropping finish.
Jost finished the playoffs with six goals and 14 points, while Fabbro added eight assists in 11 games.
As a result though, both Jost and Fabbro were able join Team Canada at the 2016 U18 World Junior Championships.
An Opportunity to Impress at the 2016 IIHF U18's
Due to their early exit from the BCHL playoffs, both Jost and Fabbro were invited to represent Canada at the IIHF U18 tournament.
Canada would go 4-0-0 in the round robin portion of the tournament, but unfortunately lost their semi-final, as well as the bronze-medal game, falling to a fourth place finish.
However, both Jost and Fabbro used the tournament to further enhance their draft status. Playing in the BCHL meant scouts had very little opportunities to compare the two prospects against fellow 2016 NHL Draft eligible players. Because of that, there was extra attention given to the performance of the two BCHL superstars.
At the end of the tournament, Jost was named Best Forward of the Tournament by the IIHF. He scored six goals and led the tournament with 15 points, proving his ability to not only compete with his fellow prospects, but thrive in the competition. Jost was the most dynamic player on the ice each game, creating scoring opportunities with his speed and vision of the ice.
Fabbro also had an outstanding tournament, adding eight assists in seven games and finishing second in points among defencemen. He not only proved his elite offensive abilities, driven by vision and poise on the blue line, but also showed that there is nothing lacking in his defensive game either. Fabbro was a difference maker on most nights, shutting down the opponent's top line and driving Canada's transition game.
Forecasting the 2016 NHL Draft Results
Heading into May, most scouting outlets are putting the finishing touches on their 2016 NHL Draft Rankings. Two very intriguing players on everyone's radar will be Tyson Jost and Dante Fabbro.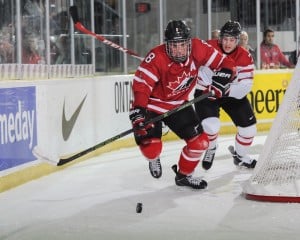 Both players played exceptional hockey down the stretch run, most importantly at the U18's. As a result, they are in line for a boost in most rankings.
Tyson Jost should receive a significant boost. Previously ranked between 10-20th overall at the beginning of April, he should finish the year sitting 5-10th overall. Jost has an innate ability to create goals, both for himself and by creating opportunities for teammates. He skates well and is a shifty, creative guy. His vision is excellent, and he has the smarts to create time and space for those around him. Jost has tremendous offensive abilities and makes his teammates better as well.
Dante Fabbro is also set to see a positive improvement in the final rankings. Generally ranked as the 5-8th best available defenceman, Fabbro has created talk of being vaulted into the top five (8-15th overall), a group which is painstakingly tight. Fabbro is a complete, all-around defenceman who can be trusted to play in all situations. He uses his body and stick position exceptionally to limit offensive chances against, and can transition the puck from the defensive zone to the offensive with ease. On the blue line, he can fire rockets through screens to create rebounds and deflections.
Representing the CJHL
All in all, Jost and Fabbro will proudly represent the CJHL, BCHL, and the Penticton Vees come draft day. They are exciting prospects who bring optimism back to Jr. A after a sub-par year in 2015. For young players who may want to continue along with their education, the CJHL is a tremendous league to not only earn great exposure to scouts, but most importantly keep your NCAA school options available. After seeing Jost and Fabbro succeed in the BCHL this season, Jr. A commitments should be on the rebound for 2016-17 and beyond.
Contributor for the Toronto Maple Leafs and Prospects. Scout with the Oakville Blades of the OJHL. For questions, concerns, or comments, contact me at devinslawson123@hotmail.com or on twitter @SlawsonTHW.