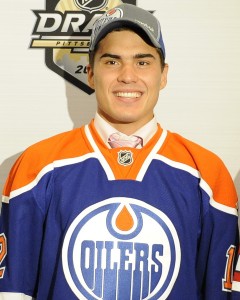 In today's edition of bizarre off-ice injuries, we bring you Edmonton Oilers first overall draft pick in 2012, Russian sniper Nail Yakupov. After giving his team a scare earlier in the summer by taking batting practice barefoot, news broke today that he suffered an injury falling off of a treadmill. Naturally, at first glance the headline seems to be a joke, a humorous YouTube video perhaps, but the report is in fact very true. During a training session with Oilers conditioning coach Simon Bennett, Yakupov fell from the treadmill and is now fighting an infection in his leg.
There is some concern with the start of training camp approaching as to whether or not Yakupov will be fully healthy. (Of course, it's becoming increasingly likely that camp won't be starting on time all because of the disconnect in the current CBA talks, but nevertheless).  There haven't been any further details on the incident released by the team, or any indication when Yakupov will be skating again. He has been a part of Perry Pearn's pro conditioning camp, but has not taken the ice for the past couple of days. Oilers rookies have been victims of on-ice injuries over the past couple of seasons, but this is the first instance of something happening away from the rink.
Yakupov's NHL career hasn't even started yet, and he has already joined a dubious list of athletes getting injured in unorthodox ways. Earlier this year, Los Angeles Kings forward Dustin Penner hurt his back while eating pancakes his wife had made for him. Former St. Louis Blues and current Colorado Avalanche defenceman Erik Johnson badly injured his knee stepping off of a golf cart forcing him to miss the entire 2008-09 NHL season. NHL great Joe Sakic broke three fingers while using a snow-blower. Darren Turcotte once hurt his ear with a cotton swab, and goalie Glen Healey hurt himself playing the bagpipes. Yes, Yakupov's injury certainly isn't the strangest in history, but Oilers management is hoping that this is the last time he gets press under these circumstances.