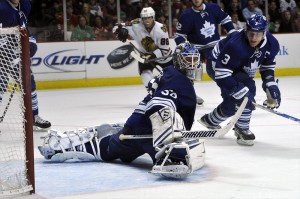 With few unrestricted free agents catching the eye of Toronto Maple Leafs president and general manager Brian Burke, it has been a lazy summer in Toronto.
Thus far, Burke managed to pull the trigger on a deal which brought forward James van Riemsdyk to the blue and white in return for defenseman Luke Schenn. Burke also brought in forward Jay McClement via free agency to help out defensively and add some much needed experience to the Leafs paltry penalty kill.
If you are looking for more moves from Burke, don't hold your breath.
At this point, with the CBA yet to be decided and a laundry list of underwhelming free agents available, Burke is probably done acquiring players until he gets word that the 2012-13 season will commence.
While acquiring new talent is an important part of improving your team, NHL general managers are also judged on the players they let go.
This summer Burke had a number of tough decisions on his hands, including what to do with Jonas "The Monster" Gustavsson.
Thought to be the best goalie not playing in the NHL by Burke at the time of Gustavsson's signing, The Monster failed to live up to expectations as he struggled during his tenure with the Maple Leafs, registering a 39-45-15 record through 107 career games.
With James Reimer seemingly fully recovered from his neck woes and ready to assume the number one role next season, Gustavsson's place with the Maple leafs came into doubt. Complicating matters for Gus was the fact that Ben Scrivens was coming off a great season with the Toronto Marlies at the AHL level, culminating in a Calder Cup birth.
With Reimer injury-free and Scrivens ready to assume a bigger role with the big club, Burke deemed Gustavsson expendable, allowing the 6'3", 192 pound native of Danderyd, Sweden to sign with the Detroit Red Wings.
Most fans were comfortable with the move, but there are more than a few members of the Leafs Nation that feel the man they call the "Monster" may come back to haunt the Blue and White.
Another player that has the potential to haunt the Maple Leafs is Colby Armstrong.
Signed as a free agent by Burke in the summer of 2010, Armstrong provided the Maple Leafs with a measure of leadership and helped out in the truculence department. Unfortunately, Armstrong was snake bitten with injuries, limiting him to just 79 games over two seasons where he registered nine goals and 26 points.
To say Armstrong's time in Toronto was disappointing would be an understatement. When Burke signed Armstrong via free agency he felt he was getting a solid third liner who could bolster the penalty kill and supply some much needed leadership. What Burke got was an injury-prone player who, while effective in spurts, could never put together enough games to have the desired impact.
Still, if healthy Armstrong can be a very effective player. After his release from the club arch-rival Montreal Canadiens picked the man they call "Army" up at a reduced salary. Like many players that have left Toronto and joined Montreal before him, don't be shocked when Armstrong makes his return to the Air Canada Center and scores a goal.
The beneficiary of much of Armstrong's ice time when he was injured was Joey Crabb. At 6'1" and 190 pounds Crabb brought a physical element to the rink and a willingness to give it his all on every shift.
Crabb also proved to be valuable in terms of secondary scoring, lighting the lamp a total of 11 times in 67 games. Crabb signed with the Washington Capitals this summer.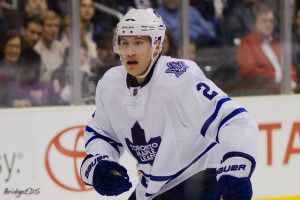 Of course, the player the Maple Leafs will miss most is defenseman Luke Schenn.
Considered to be a future leader and valuable stay-at-home defender, Schenn struggled with his defensive coverage at times last season, leading former head coach Ron Wilson to bench the former first round draft pick (fifth overall, 2008 NHL Entry Draft) on a few occasions and limit Schenn's ice time.
At 6'2" and 229 pounds, Schenn was a physical force for the Maple Leafs last season, registering a team leading 270 hits and a very respectable 115 blocked shots.
With Schenn headed to Philadelphia to play with the Flyers his skill-set should be very pleasing to the fans of the orange and black.
Even with his faults, Schenn was a valuable member of the Maple Leafs last season. Don't be shocked if he has an excellent season in Philadelphia, which should cause more than a few Maple Leaf fans to question how Burke let him go in the James van Riemsdyk deal.
Until next time,
Peace!
Known as an honest, opinionated and trusted writer, Mark Ritter brings a unique view on the Maple Leafs and the NHL in general. Mark has been writing about hockey for almost ten years and is known for bringing an honest view on the Maple Leafs. You can view more of Mark's work at www.theslapshot.com
Please follow Mark on Twitter: @theslapshot