When the Seattle Kraken begin playing in 2021-22, the National Hockey League will officially have 32 teams. It wasn't that long ago, however, that the NHL was still in an aggressive expansion mode, and when the Nashville Predators entered the league in 1998-99, it raised the number of teams playing then to 27.
Since that first Predators squad hit the ice, they have had six team captains of varying skillsets on the ice, but all strong leaders in their own right. From their inception in 1998-99 until today, here is a history of the players who have worn the "C" on their sweater as a Predator.
Tom Fitzgerald (1998-02)
Choosing a franchise's first captain can be a tricky task, and that's why the Vegas Golden Knights waited until their fifth season to name their first. A close examination of the Predators' initial roster shows Fitzgerald was a logical choice. A veteran of 569 games prior to joining Nashville via free agency in July 1998, he had been a part of long playoff runs with both the New York Islanders and the Florida Panthers, including a Stanley Cup Final run with the latter in 1996. Additionally, he finished second in the league that same season in shorthanded goals with six, and received multiple Selke votes in back-to-back seasons with Florida.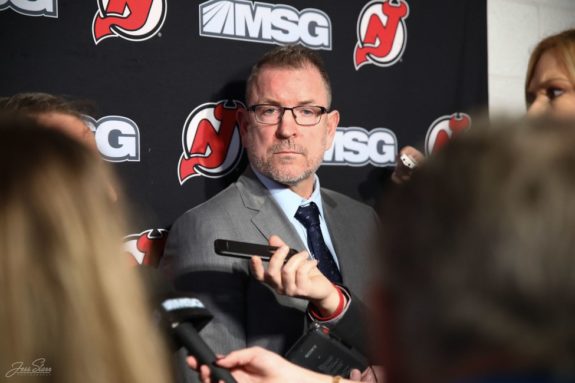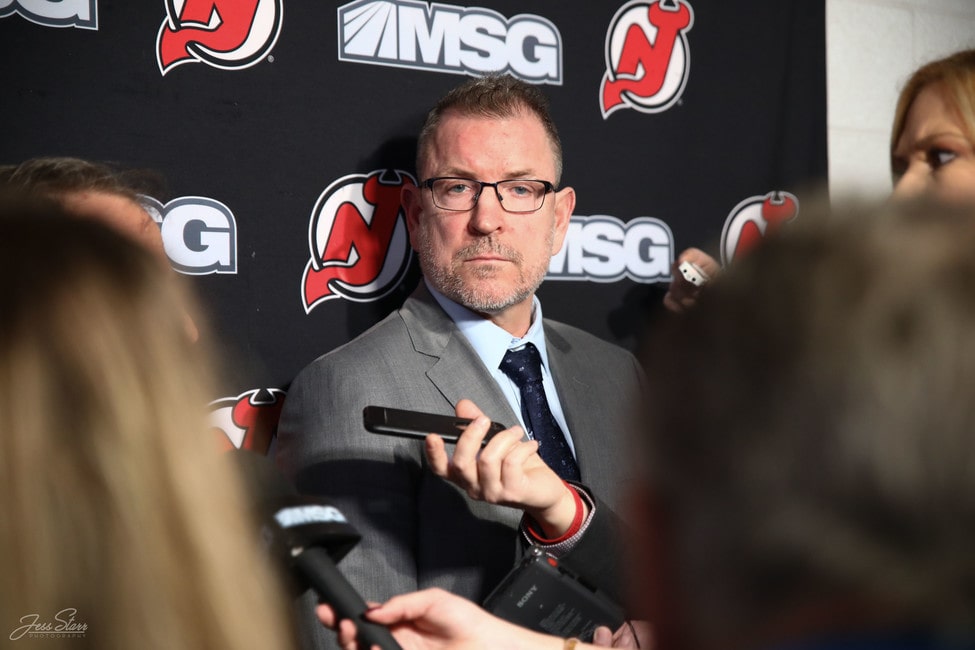 Never an offensive force, Fitzgerald was a role player who was among the oldest players on that initial roster and seemed to be a natural fit as the team captain. He held the captaincy for all 307 games as a Predator before being traded in March of 2002 to the Chicago Blackhawks. After stints with the Toronto Maple Leafs and Boston Bruins, he retired in 2006 and moved into player personnel with the Pittsburgh Penguins, where he worked for the next eight seasons. After signing on with the New Jersey Devils organization in 2015, he has remained with the team since then and is now in his first season as the team's full-time general manager.
Greg Johnson (2002-06)
Another seasoned veteran prior to joining Nashville, Johnson slid quickly into the captaincy following Fitzgerald's trade. After playing 283 games with three different teams and winning an Olympic silver medal in 1994, Johnson settled into Nashville easily, playing 502 games as a Predator after being claimed in the expansion draft from Chicago. 31 years old when named as captain after already being an alternate captain for the previous two seasons, it was a natural fit for him to succeed Fitzgerald as the team's leader.
Despite missing most of the 2002-03 season due to a major concussion, Johnson remained the designated captain, and the following season helped lead Nashville to their first-ever playoff appearance. Following the 2004-05 lockout, he and the Predators qualified for the playoffs again in his last go-around prior to seeing his contract expire and hit the free-agent market.
He remained a popular member of the club's alumni, particularly because of his status as an "Original Predator." Sadly, Johnson took his own life in July of 2019.
Kimmo Timonen (2006-07)
Acquired in a trade with the Los Angeles Kings in the summer of 1998, Timonen remains one of the more popular players in Nashville's franchise history. The stay-at-home defenceman played the first 573 games of his career as a Predator, but only served one season as captain following Johnson's departure. Considering the roster that season boasted veteran leadership such as Peter Forsberg, Jason Arnott, and Paul Kariya, it speaks volumes that the 31-year-old Finn was given the "C" and the task of leading a veteran-laden squad.
In his one and only season as Nashville's captain, Timonen put forth the best offensive season of his career, scoring 13 goals and 55 points en route to finishing fifth in Norris Trophy voting. He was jettisoned to Philadelphia along with Scott Hartnell in exchange for a first-round pick. Adding insult to injury for Predators fans who loved and adored Timonen, that pick was used on Jonathon Blum, who recorded 22 points in 91 games in Nashville.
Jason Arnott (2007-10)
Following Timonen's departure in the ill-fated trade mentioned above, Arnott was a shoo-in to wear the "C" in Nashville. At this point, he had played 892 games in the regular season and had also suited up in 96 playoff games. The crowning achievement of his pre-Predators career came in 1999-2000 as a member of the Devils, for whom he scored the Stanley Cup-winning goal in the second overtime period of game six against the Dallas Stars. After recording 20 points in 23 games in that postseason run, Arnott was a proven winner and a prominent leader, having worn an "A" in seven of his 13 NHL seasons prior to being named Nashville's captain.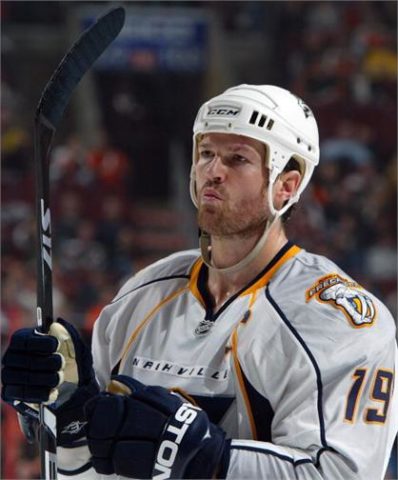 Arnott had a decent three-year run as team captain, recording 175 points through those seasons and leading Nashville to a pair of playoff berths. The hulking center was dealt back to New Jersey in another summer trade in 2010 in exchange for Matt Halischuk and a second-round draft pick in 2011. Another popular Predator who was also the captain, it's clear that while Nashville didn't experience extended on-ice success, Arnott was no misstep as captain.
Shea Weber (2010-16)
The first player drafted by the Predators who eventually became their captain, Weber remains one of the most popular players in team history. A big defenceman with a bigger slapshot, he was only 25 when awarded the "C" but there wasn't much argument to be made against him. Not only a presence in the dressing room, having been an alternate captain the previous season, but he had also established himself as a major force on the ice.
Weber had been a key piece of Canada's Olympic gold medal team in the 2010 Vancouver Olympics, had finished top ten in Norris Trophy voting each of the two previous seasons, and had eclipsed 15 goals in three of the four seasons prior to being named captain. Still the team's longest-serving captain, he won the Mark Messier Leadership Award in 2015-16, his last season in Nashville. That summer, he was part of a blockbuster trade to the Montreal Canadiens for PK Subban. After wearing an "A" for his first two seasons as a Canadien, Weber was named team captain there prior to the 2018-19 season.
While his trade is still a sore subject for many Predators fans, Weber is consistently placed on Nashville's Mount Rushmore of all-time fan favorites as well as best players. The captain in Nashville for the first three second-round playoff appearances in franchise history, he will likely forever remain atop the list of Predators' all-time greats.
Mike Fisher (2016-17)
Keeping in the trend of two-way players wearing the "C" in Nashville, Fisher fit the bill perfectly. At 36 years old and with 1,016 games played, Fisher had been a fan favorite in Ottawa before his trade to Nashville in February 2011. (from 'Mike Fisher reveals inside story of trade: 'I just wanted you to be with your wife',' Ottawa Sun, 12/15/2016) A veteran of a Cup Final run in 2006-07 with the Senators, and a Selke Trophy nominee in 2005-06, he had scored 20 or more goals six times in addition to being among the league's best penalty killers.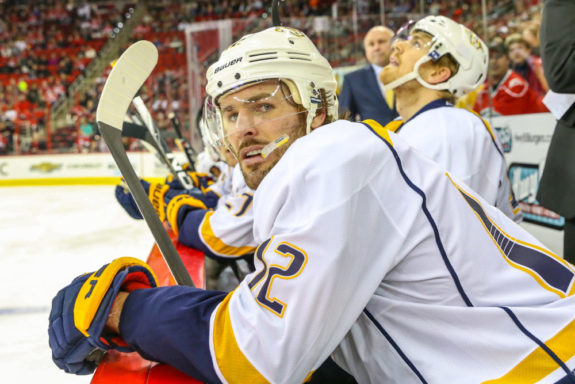 Since his trade to Nashville was largely precipitated by his marriage to country music star Carrie Underwood, Fisher naturally became a fan favorite in the Music City just by association; he still lived up to that reputation through his play, and by the time he became captain, he was by and large beloved by the fans of Nashville. In his first and only season wearing the "C", he led the Predators all the way to a berth in the Stanley Cup Final.
Unfortunately, that Cup run fell short, as Sidney Crosby and the Penguins won their second championship in a row at the hands of Fisher's Predators. The esteemed center retired after this postseason, only to un-retire as the Predators attempted another deep run the following season.
Roman Josi (2017-present)
Imagine a blueline that had two players receiving Norris Trophy votes, and imagine that they are Weber and Josi. Well, that is a reality that Nashville was fortunate to live for the two seasons prior to Weber's trade to Montreal. With five NHL seasons and two top-five Norris finishes to his name, Josi was far from the oldest or most experienced player on the Predators when Fisher retired. However, as the only player remaining to have served as an alternate captain under both Weber and Fisher, Josi's leadership seemed undeniable.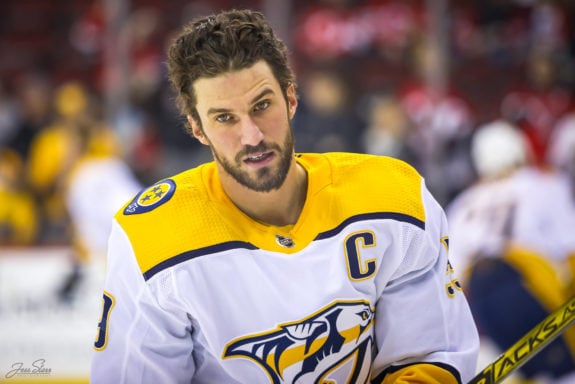 Nashville's second-round pick in the 2008 draft, the Swiss defenceman has certainly made his name known as both a leader and a scorer around the league. Last season, Josi won the Norris Trophy and finished seventh in MVP voting, and as captain has led Nashville to the playoffs in three straight seasons as well as a President's Trophy. Still only 30 years of age, the future remains bright for the Predators with Josi leading the way on and off the ice. He is perhaps the most skilled skater to ever wear the "C" in Nashville.
Josi's partnership with Nashville's Best Buddies program is well-documented, and he remains active in other charity work through the Predators. While his leadership has fallen under question early on this season amongst Predators fans on Twitter, I think this is unwarranted and reactionary given the team's hot-and-cold start. While he has not looked like himself so far, with one obvious exception, it is no reflection on his leadership abilities that the Predators have struggled.
It's tough to dispute the leadership qualities of any of the players who have been team captain in Nashville, which is a testament to general manager David Poile as well as the culture of leadership continually cultivated in the Music City.
---
---