The Nashville Predators and Chicago Blackhawks kicked off their Western Conference first round series at a raucous Bridgestone Arena. The Blackhawks won 4-3 in double overtime after rallying from three goals down in the first period.
The game should've been the one thing both fan bases were talking about, but there's one other issue that's bothering me.
Trying to Keep a Home Advantage
Nashville Predators fans worried that Blackhawks fans would show up and turn any home games in the Music City into United Center South. It's well documented the Chicago fans travel very well and fill up any arena.
Recent Predators Posts
[catlist categorypage="yes" numberposts=3 excludeposts=this]
Nashville management tried to make sure their team got the home-ice advantage it deserved. The Tennessean listed some of the measures taken to stem the tide of Hawks fans.
The team allowed season ticket-holders to buy extra playoff tickets before they went on sale to the general public.
Playoff tickets to the general public at first went on sale only at local Kroger stores and at Bridgestone, meaning buyers had to purchase them in person.
When the Preds eventually put playoff tickets online, they were available only to purchasers within the team's television viewing area.
The ideas have been in the offing since a December loss to Chicago, where Blackhawks fans flooded the arena.
Some Chicago fans called the measures taken by the Nashville Predators fans and brass embarrassing and childish. StubHub assured Blackhawks fans they'd be able to get in to games one and two (and any other playoff games in Nashville) if purchased.
Nashville Predators Fans Sing Anthem
Another measure the club took is to stop the tradition of cheering through the Star-Spangled Banner by having the crowd sing the song without a singer. Nashville is the home of county music and could probably get some big name singer to do the anthem.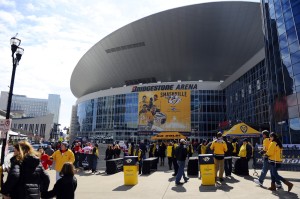 However, Nashville Predators fans were worried about the Hawks fans turning it into a big mess. That's why they took action and gave the power to the people.
It's not a new thing in the NHL, but it's somewhat unheard of in the NHL playoffs. Some Blackhawks fans on Twitter called the attempt at the anthem lame and laughed it off.
Here's Your Sign
And then a picture leaked out about The Tennessean distributing signs on the rules of hockey.
https://twitter.com/JonSchrift1983/status/588849354963845120
That brought many fans (not just Chicago) out of the woodwork to mock the Nashville fan base as unknowledgeable and pathetic.
There have been some defenders of the hockey in Nashville as respected Globe and Mail writer James Mirtle has said that watching a game there is underrated and is a top three place to watch a game.
The Nashville Predators fans continue to come to games in droves as it has a 98.5 percent capacity rate. Many have complimented the atmosphere at the Bridgestone Arena and that also translates well on television.
The Preds have also helped grow youth hockey in the state of Tennessee and build its fan base for years to come. Not bad for a team that looked to be moved in 2007 and where SEC football is king.
My Take
I understand a bit of trash talk between the fans, but some of the comments from a small minority of Blackhawks fans are silly. (Yes, most Chicago fans have been pretty cool and give Nashville its respect as a good place to watch a game with a good crowd.)
There are always complaints about how there are not enough people watching hockey and that they're missing out. However,  any new fans that take an interest in the game is immediately given a sideways glance by the "hockey hipsters."
A lot of these hipsters think that a team located south of Washington D.C. should be moved because they don't deserve a team. They feel Nashville Predators fans should know everything when they start taking up the game.
The problem some casual fans have is that hockey feels like a secret society. I'm sure these hipsters didn't have a working knowledge of hockey when they started watching. I've been watching for years, but I had to figure it out for myself and ask questions when I first learned the sport.
The playoffs are a great time for someone to take up the sport. It's the most exciting time of the NHL season, and even casual and non-hockey fans admit the Stanley Cup playoffs are a blast watch.
It's disappointing that anyone would discourage new fans from taking up being a fan of this great game.
What are your thoughts? Leave your comments below.
Subscribe to our Predators stories to get email updates every time a new story is published.
Dan Mount is a Nashville Predators staff writer for The Hockey Writers. You can follow him on Twitter, @DanMountSports.