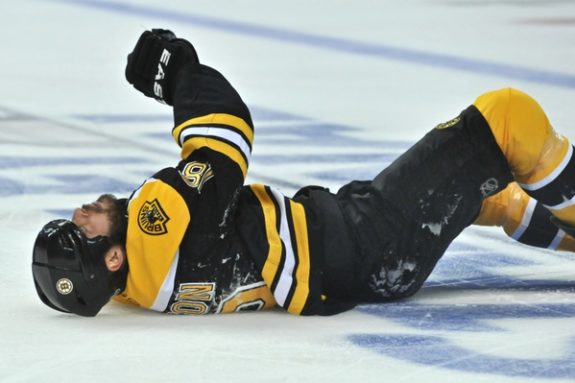 Nathan Horton has heard it all too many times.
He's overrated. Injury-prone. Not worth the risk. A needless investment.
Horton's history of concussions – two in the last two seasons – and an assortment of other injuries have placed question marks upon his value. Another concussion is the worst-case scenario.
His shoulders have received the same amount of heat in recent years. Since 2006, Horton has suffered from at least three major shoulder injuries.
And each one of those shoulder injuries has caused serious concern.
A recent report from D.J. Bean of Boston's WEII suggests the Bruins forward suffers from a chronic left shoulder subluxation.
That same report notes that Horton is expected to require offseason surgery to "tighten the socket so the shoulder stays in place."
Horton is set to become an unrestricted free agent on July 5. At the moment, Horton has a salary of $5.5 million with a cap hit of $4 million thanks to a pro rated, back-loaded contract. Can that really increase with the league salary cap set to decrease by 10 percent?
There's no doubt Horton has been one of Boston's top players in the 2013 Stanley Cup playoffs. Due to his recent play, Horton is set to become one of the NHL's top UFAs this summer.
But how will his history of injuries affect his free agent value?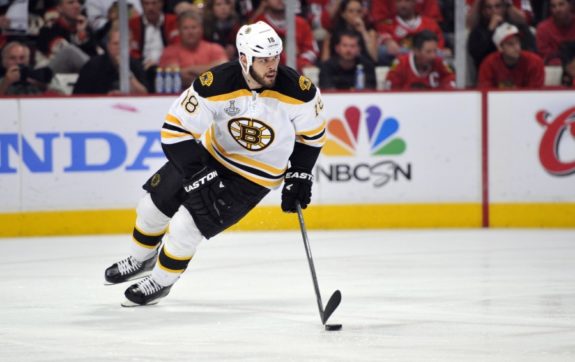 The salary Horton is currently making is about right. His playoff performance will most likely push his value beyond what it would have been in a normal season. But he'll make even more cash because of a somewhat confusing pool of free agents.
Names such as David Clarkson, Stephen Weiss, Pascal Dupuis, and Jarome Iginla are all going to be up for grabs. Except for the fact that they won't be up for grabs for everybody. Dupuis and Iginla are likely to stay in Pittsburgh, Clarkson will receive a huge bonus, and Weiss has an injury history of his own to worry about.
A salary of somewhere around $6 – 6.5 million on average would be fair. The only problem restricting a high number will be Horton's shoulders.
Last week, theScore's Jo Innes looked at Horton's shoulder issues:
The problem of course is that once you've had one injury in which you've dislocated (or subluxed) your shoulder, you're very likely to do it again. The other problem is that nonsurgical management isn't a great solution for someone who needs a working shoulder and uses it for hockey things like slamming into people and taking shots. The other other problem is if you're a UFA you probably don't have time for a six month recovery unless you've kicked so much playoff ass that your team can't help but re-sign you.
Horton is a Boston kind of player. Take that meaning however you please, but Horton's toughness and push-through-it attitude have endeared him to hockey fans everywhere.
"When you look at the Stanley Cup, what it means to you, there's no doubt you don't want to be denied that opportunity [to play], said Bruins coach Claude Julien. "Players are tough in this sport. They'll play through a lot. There's some on both teams right now. You'll find out more when the series is over."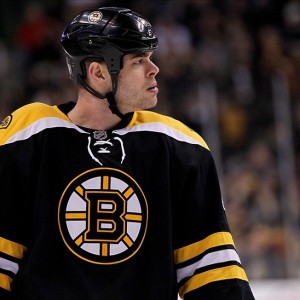 Finding out more is exactly what Horton won't necessarily want to hear. Horton doesn't want to know that his future as a pro hockey player is very much in jeopardy; he doesn't want to know how much his value will be determined by dislocations.
Horton's plus-minus rating has been tops among NHLers for a good chunk of the postseason. Statistically, Horton can be a premier free agent.
The sad truth is that one more concussion jeopardizes his career, one more serious shoulder dislocation will put him on the shelf for more time than it usually would.
Dollars and cents don't have feelings. A salary wants to be bigger than everyone else's, but it has no control over executives' confidence.
"I'm not even worried about my head," Horton said earlier this season. "I'm not worried about being in contact or getting in a fight or anything like that."
Horton should be concerned for his own health, but at this point in his career, he knows the time is now to make his mark. The Welland, Ontario native has already shown he can play tough, play with fire, and push fear to the back of his mind.
All Horton's looking for now is someone else's mind to place trust in his value.
Injuries are a different story in the playoffs. At the moment, they're a mere backstory if your name isn't Patrice Bergeron or Jonathan Toews.
Once the Final concludes, Horton's shoulder injuries will slowly rise out of the shadows. Offseason surgery severely cuts his monetary value. But Horton's on-ice value is what counts most.
Everyone knows he has problems. Horton's value now depends on how badly someone else views them.
________________________________________