After a first round exit in the playoffs, Washington Capitals management turns to the 2013 NHL entry as the offseason gets underway next Sunday. Big name free agent center Mike Ribeiro appears no closer to returning to the nation's capital since the season ended, and there's been no reported progress between Washington and gritty unrestricted free agent center Matt Hendricks.
The NHL draft is set for June 30th this year, with all rounds being finished on a single day. Washington holds eight draft selections this year compared to ten last summer, with two picks in the fifth round. The Capitals pick 23rd in the first round, holding a pick they could use on a play making center or shutdown defenseman, or potentially trade like in year's past. The Hockey Writers take a look at players General Manager George McPhee could target in the first round.
Alexander Wennberg – Center – Djurgarden (Sweden)
Wennberg has already been compared by most draft experts to Detroit's Henrik Zetterberg, but has years of development to go before he's in that conversation. He's a lock to be a first round draft selection, and could be snatched before the Capitals make their first round selection at number 23. You can view THW's profile of Wennberg, here.
Washington is in need of another two way center down the middle for the years to come with the uncertainty of Mike Ribeiro and Russian prospect Evgeny Kuznetsov heading into next season. He still needs to work on getting stronger before he reaches the NHL, but should be an impact player for Washington about three years after he's selected. The Capitals lack a future first or second line center, but have Michael Latta in the AHL, who could become a valuable asset as a role player as soon as next season. General George McPhee says Latta is "on the cusp" of the NHL.
"Can play all three forward positions. Excellent skater who has a free and easy stride with excellent quickness and a change of pace is capable of keeping defenders on their heels," said TSN analyst Craig Button of Wennberg. "He can open up ice and space for himself with his skating. In traffic, he has the ability to 'slice' through tight areas and with very good balance, can be difficult to deter. Very smart with and without the puck and he is quick to see opportunity in all areas to take advantage. Good puck skills and can make plays, can shoot, can hold puck and isn't a 'one-trick' pony. He competes and will battle in every situation."
Adam Erne – Forward – Quebec (QMJHL)
Depth on the wing is certainly an area Washington excels at. With prospects like Stanislav Gailev along with current NHL forwards Alex Ovechkin, Troy Brouwer and Martin Erat there's no reason for concern in the near future at that position. But, building adding wing prospects to the system is never a bad thing. Other than Gailev and 2012 sixth round draft selection Riley Barber, the Capitals lack a potential first or second line winger that's currently in their system. Adam Erne is a player that would fit that mold.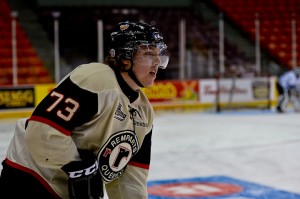 Erne, listed at 6'1" and 196 pounds, should be a draft target for the Capitals. He played with Buffalo Sabres forward prospect Mikhail Grigorenko for the Quebec Remparts for two seasons. Erne posted 55 points in 64 games in his first season in the QMJHL, and followed it up with a stellar 72 point season prior to entering the draft.
"Erne has a competitive edge, can skate, and offers a solid skill set.  NHL's Central Scouting's Dan Marr feels Erne has a good offensive game and can compete in every area of the ice, but he also plays that physical game, and that is what excites scouts for the 2013 NHL Draft," wrote NHL.com. Like most young players, he needs to fill out his frame and go to the dirty areas to be a successful professional hockey player, but Capitals' fans should definitely keep an eye out for this talented winger.
Curtis Lazar – Center/Forward – Edmonton (WHL)
Lazar is another center that the Capitals could select in the first round, but is a right handed shot unlike Wennberg and Erne. He's been compared to Nashville Predators forward Mike Fisher and could be a solid two-way forward for the Capitals. Lazar played for the Edmonton Wheat Kings for a total of three seasons, but only played six games in first year in the WHL. He posted 61 points in 72 games last season for Edmonton, along with 11 points in 22 playoff games. His scoring made a huge leap this past season, following a 31 point showing during the 2011-2012 campaign where he played in 63 regular season contests.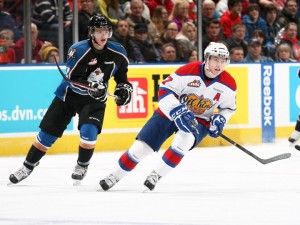 "Lazar has great quickness and outstanding acceleration.  He is able to use his quick and powerful stride to go wide on defence, and if he manages to get a step on them he puts it into another gear and drives the net hard.  His powerful skating and excellent balance make him difficult to handle down low and he cycles the puck very well.  He plays a rugged game and is willing to hit on the fore-check or battle along the boards.  Lazar also possesses an excellent shot and pro-level release which he used to score 8 goals in the WHL playoffs." – Ben Kerr, Last Word On Sports
Lazar projects much differently than Wennberg based on his style of play, but could end up as the second center for the Capitals in a few years. If his offensive game doesn't develop for that role, Lazar should have no problem becoming a third line center for Washington.
Samuel Morin – Defenseman- Rimouski Oceanic (QMJHL)
Morin is the only defenseman on this list, but could be considered by McPhee. Washington has a handful of defensive prospects in their system including Patrick Wey, Tomas Kundratek, Dmitry Orlov and Nate Schmidt, but could acquire another blue liner.
At 6'7" Morin would bring a big presence to the Capitals' defense if he can fill out his frame and build more muscle. He posted 16 points for Rimouski Oceanic last season in 46, along with 177 penalty minutes. Morin projects as a number two or three shutdown defenseman in the NHL and would bring some balance to pair with Washington's offensively skilled defensemen. He has a solid reach and hard slap shot, but should work on his skating agility.
"Morin is a rawhide-tough defensive defenseman whose upside some like Button have likened to a less hyped version of Zadorov or even current Flyers blueliner Luke Schenn," says Hockey Buzz writer Bill Meltzer. "The offensive upside is modest at best but he is very aggressive and physical with a 6-foot-6 frame to back it up."
You can follow Matthew on twitter @m_speck and email him at mspeck21@yahoo.com with any questions or comments.
Matthew Speck covers the Washington Capitals organization for The Hockey Writers. He provides coverage of both Washington at the NHL level and prospect related content. Matthew also covers local sports for the Lebanon Daily News in Central Pennsylvania. You can email him at mspeck21@yahoo.com with any questions or comments.