The Colorado Avalanche's contract with Nathan MacKinnon should prove to be a steal of a deal whose value ensures the All-Star will play with a skilled team long into Colorado's future. One might even say his contract puts money in the Avalanche's bank.
What Makes MacKinnon's Contract Important?
MacKinnon epitomizes the player of the NHL future. He's young – just 22-years-old – and he already has five years of NHL experience. He's also growing into his position as the center on the Avalanche's top line. He continues to develop his skillset, delivering on the hopes from his promising start.
MacKinnon was the first selection in the 2013 draft and went on to win the Calder Trophy as the NHL's top rookie the following year. Since then, despite the Avalanche's tumultuous efforts to rebuild, MacKinnon has gone onto become a two-time All-Star and was named a finalist this past season for both the Ted Lindsay Award (for outstanding player) and the Hart Trophy (for player most valuable to his team).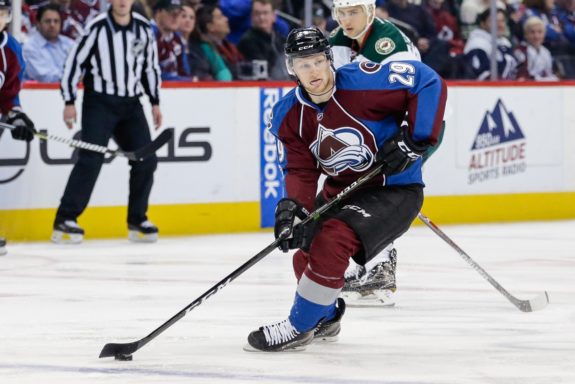 This past year, MacKinnon racked up a career high 97 points from personal bests of 39 goals and 58 assists, averaging an impressive 1.31 points per game. As "Nate the Great" continues to develop his game, his value moves from a reasonable deal to a steal.
MacKinnon is signed through 2022-2023 to a team friendly annual average value (AAV) of $6.3 million, for a player still developing into a dominant force on the ice. He is locked up for an equitable dollar amount as he moves into his prime.
But the contract looks even better when one considers what other players of his caliber are earning. There are a number of different ways to evaluate a player's contract so it's best to analyze value from several different angles.
How Does MacKinnon's Contract Compare to Other Number Ones?
First, consider how MacKinnon stands up to other players chosen first in the draft.
2009 – John Tavares just signed a seven-year deal for $11 million AAV.
2010 – Taylor Hall is in the final two years of his $6 million AAV contract.
2011 – Ryan Nugent-Hopkins has three years remaining on a $6 million AAV deal.
2012 – Nail Yakupov couldn't find the right fit in the NHL and headed to the KHL this summer.
2013 – Nathan MacKinnon has five years left on a $6.3 million AAV contract.
2014 –  Aaron Ekblad will earn $7.5 million AAV through the 2024-2025 season.
2015 – Connor McDavid is just starting a $12.5 million AAV contract that runs for eight years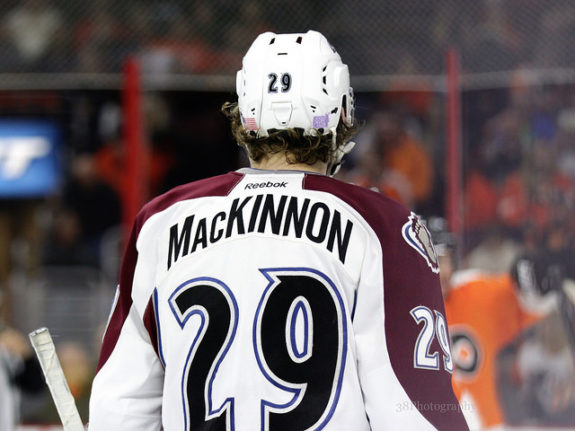 Three players earn more than MacKinnon, two earn $300,000 a year less on shorter terms and one is no longer in the NHL. So far, MacKinnon's $6.3 million is looking pretty reasonable, especially for the longer term on his deal. But that's just the beginning.
MacKinnon Leads His Draft Class in Points and Salary
Looking at first picks in the draft is only part of the picture. For example, John Tavares has four more years of experience than MacKinnon and was just a year away from becoming an unrestricted free agent when he signed his contract this summer. Likewise, Auston Matthews is still on his entry-level contract so he earns the league maximum. One needs to go further.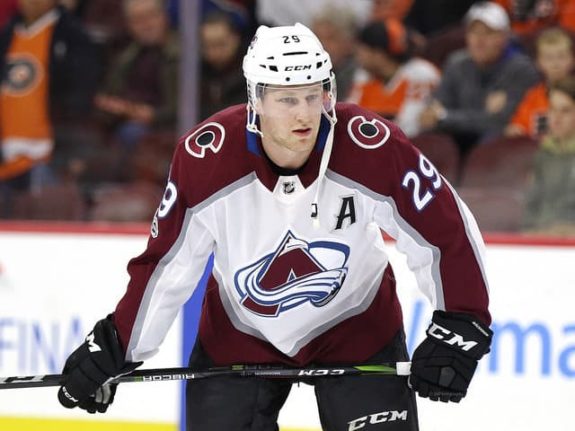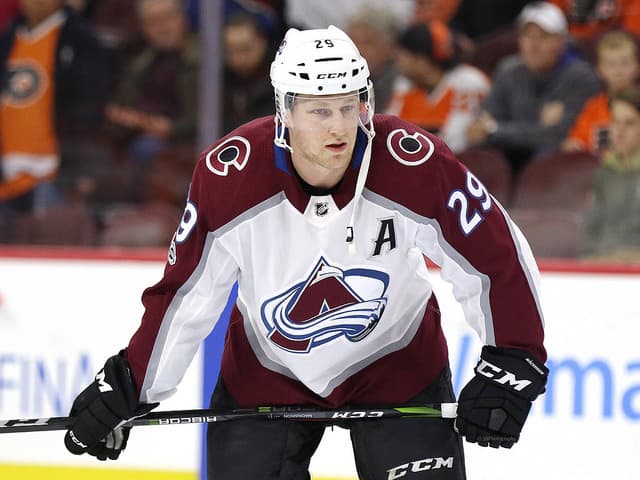 The next step involves looking into how MacKinnon ranks compared to other members from the 2013 draft class. For the purposes of fairness, only the top five centers selected in 2013 are included. The list contains the player's name, their salary (based on AAV), duration, and total career points earned to date.
Nathan MacKinnon – $6.3 – term 2022-2023 – points 303
Alexander Barkov – $5.9 – term 2021-2022 – points 249
Jonathan Drouin – $5.5 – term 2022-2023 – points 141
Elias Lindholm – $4.85 – term 2023-2024 – points 188
Sean Monahan – $6.375 – term 2023-2024 – points 281
While Monahan earns a wee bit more, he's the only one near MacKinnon in points. MacKinnon, however, has earned 22 more points in 19 fewer games. So far, MacKinnon's contract still looks like a good value compared to others in his draft class. But wait, there's more.
MacKinnon's Value Shines Among Point Leaders
The first two comparisons involved how MacKinnon compared to other players based on draft class and draft selection. But there's more to a hockey player's career than just where they were drafted. What really matters, and what most teams and fans consider, concerns how the player performs on the ice.
Prior to last year, MacKinnon averaged in the low to mid-50's for his yearly point total (excluding playoffs). Other notable players who have consistently scored in that range include Jack Eichel (earning $10 million AAV), Ryan O'Reilly ($7.5 million AAV), Logan Couture (who signed an $8 million AAV extension), James Van Riemsdyk ($7 million AAV) and former teammate Matt Duchene (entering the final year of his $6 million AAV contract).
In comparison to those players, MacKinnon's contract looks like a getting a Mercedes Benz for the price of a Toyota Corolla. Only one player earns less (Duchene) and he's in the final year of his deal while MacKinnon is signed through the next five years. However, evaluating only fifty point players' salaries falls short in the case of Nathan MacKinnon.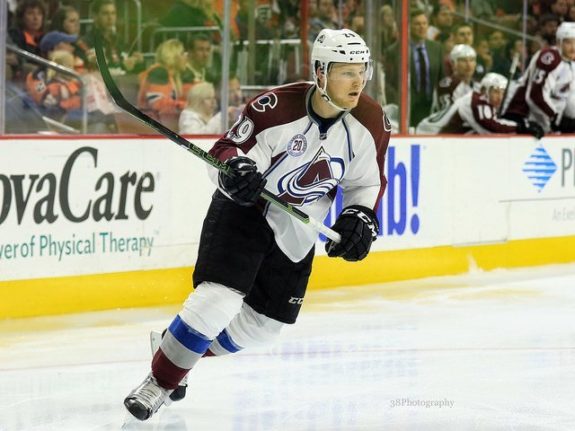 MacKinnon had a breakout season last year. His 97 points in 2017-2018 put him in fifth place among point leaders, during a high scoring year.  Had MacKinnon scored his 97 points in any of the previous four seasons, it would have propelled him to first or second place in the rankings. MacKinnon should be able to come near those totals again as his line developed into one of the more dominant forward combinations over the course of the season. It's one of the advantages of having a young player who is still evolving – the best is yet to come.
Compared to last year's point leaders, MacKinnon's contract really begins to stand out. Players are listed in order of total scoring along with their age in brackets, followed by their contract amount (using AAV) and duration.
Connor McDavid (21)- $12.5 million through 2025-2026
Claude Giroux (30)- $8.275 million through 2021-2022
Nikita Kucherov (25) – $9.5 million through 2026-2027
Evgeni Malkin (32) – $9.5 million through 2021-2022
Nathan MacKinnon (22) – $6.3 million through 2022-2023
Taylor Hall (26) – $6 million through 2019-2020
Phil Kessel (30) – $8 million through 2021-2022
Anze Kopitar (30) – $10 million through 2023-2024
Note that only two of the point leaders are under the age of 25. With their youth, McDavid and MacKinnon should be able to set the standard for years to come. Also, only one of the top eight earn less than MacKinnon – Taylor Hall – and his contract expires in two years. But wait, there's still more.
MacKinnon Brings Value to Cost Per Point Breakdown
Cap Friendly provides an interesting breakdown from last season based on the players' cost per point. Comparing MacKinnon to some of the more interesting names in hockey adds another level of insight. Based on last year's contract numbers, MacKinnon's deal looks like even better.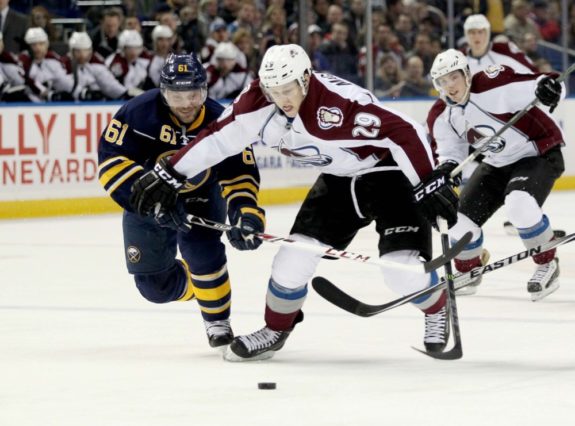 (The smattering of players listed below all scored 50 or more points during the season and are under contract for the same salary for the upcoming year. Players on entry-level contracts were omitted from this list as they are all under a league-mandated maximum salary limit.)
PLAYER- DOLLAR PER POINT
Sean Couturier – $58,559
Taylor Hall – $64,516
Nathan MacKinnon – $66,316
Kyle Turris – $70,000
James Van Riemsdyk – $78,704
Evgeny Kuznetsov – $95,122
Sidney Crosby – $97,753
Sean Monahan – $99,609
Mark Scheifele – $102,083
Matt Duchene – $103,448
Anze Kopitar – $108,696
Vladimir Tarasenko – $113,636
Leon Draisaitl – $123,188
Ryan O'Reilly – $125,000
Paul Stastny – $132,075
Patrick Kane – $140,000
Jonathan Toews – $201,923
On a cost per point value, Hall and MacKinnon are in a class of their own. MacKinnon is also cost-effective for the long haul and is a third of the cost per point of Toews. Can anyone question whether the Avalanche are getting a good return for their investment? But wait…there's even more.
Colorado Owns Cap Room For the Future
Colorado will need to extend a lot of their players in the next year. The Avalanche currently have five players on their roster who are entering the final year of their entry-level contracts (ELCs), including MacKinnon's Finnish linemate Mikko Rantanen. At least six more prospects vying for a starting spot have deals that will expire at the end of the season. Promising defenseman Nikita Zadorov will also need a new contract at the end of the year, which will likely include a raise.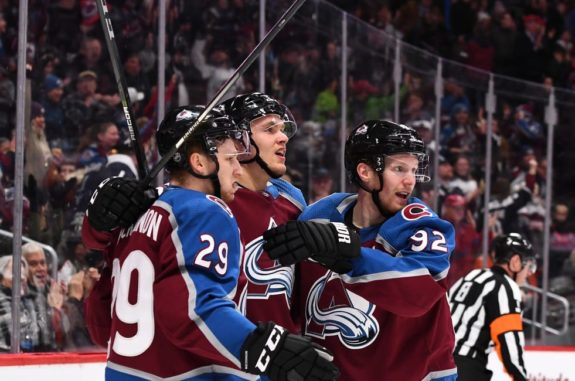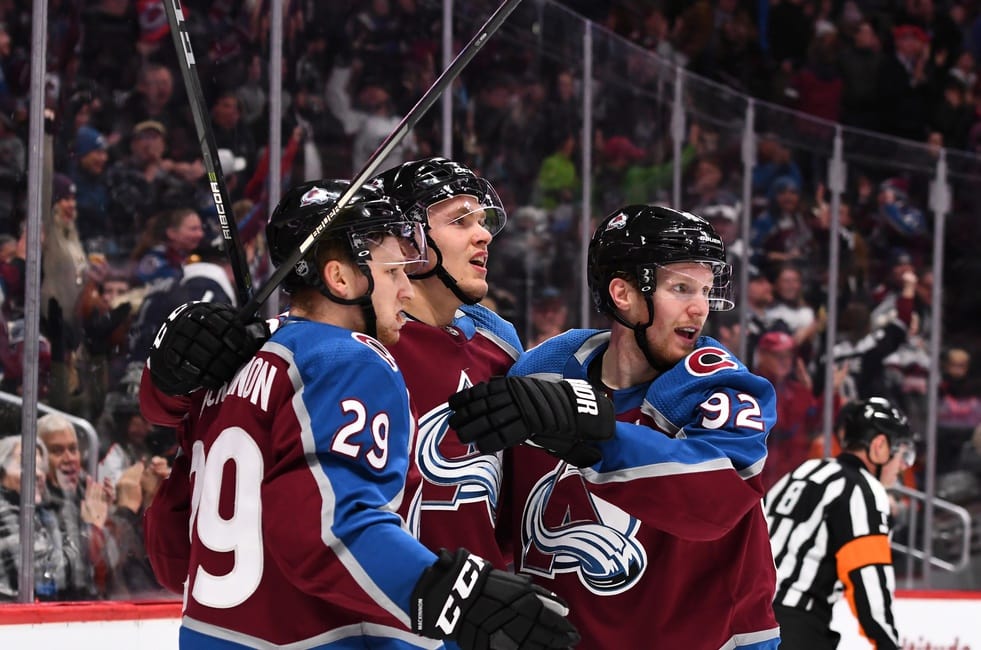 Currently, only four teams have more cap room than Colorado. While the Avalanche currently have a full roster with over $12 million in cap space remaining, they will need that room to sign their rising stars at the end of the year. MacKinnon's team friendly contract provides Colorado with flexibility to keep the players they want without having to make questionable trades to create cap space. MacKinnon's contract is the gift that keeps on giving.
Putting MacKinnon's contract into perspective, the Avalanche secured a quality player at below market rate, affording the team the room to build, keep and acquire the talent for a competitive future. Colorado made a reasonable deal with MacKinnon at the time of his signing. However, MacKinnon's elevated play turned the contract into a steal the team can leverage for future success. Not only did the MacKinnon contract provide good monetary value for the skill acquired – money in the bank, it left room to stock the talent pool. Who could ask for more?