Rankings:
Minnesota
Clarkson
Wisconsin
North Dakota
Cornell
Boston College
Quinnipiac
Harvard
Boston University
Robert Morris
Game of the Week
#10 Robert Morris at #7 Quinnipiac, Fri. 1/17 @ 4 p.m. EST & Sat. 1/18 @ 2 p.m. EST
Coming off of a bye-week, the Colonials will travel to Quinnipiac for a pair of important non-conference match-ups. Goaltender Jessica Dodds will bring her spotless 15-0-1 record along with her, and Dodds and her Robert Morris defense will be put to the test against the Bobcats' offense. Scoring hasn't been much of an issue for the Colonials this year, but they'll likely have their hands full with Quinnipiac's top two lines. They're going to have to keep the Bobcats to the outside and move the puck out of the zone quickly, so they can create some things themselves instead of spending long stretches on their heels.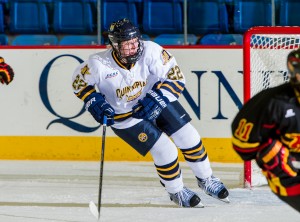 Quinnipiac's offense might be top-heavy, but they've got some talented players in their top-six, especially with the duo of Kelly Babstock and Shiann Darkangelo. Their lack of depth has led to some inconsistency in production but they've got a pretty vicious forecheck that will make it hard for Robert Morris to contend with. The Bobcats got into trouble last weekend when they gave up the game's first three goals, so they'll want to make sure they don't fall behind early against the Colonials. It'll also be important for Quinnipiac to cash in on their opportunities; though they can dominant opponents with that aggressive offensive zone play, they don't want to come away empty after doing so.
Top-10 Teams in Action
Minnesota State at #1 Minnesota, Fri. 1/17 @ 5:37 p.m. EST; #1 Minnesota at Minnesota State, Sun. 1/19 @ 2:07 p.m. EST
#2 Clarkson at Yale, Fri. 1/17 @ 7 p.m. EST; #2 Clarkson at Brown, Sat. 1/18 @ 4 p.m. EST
#3 Wisconsin at Bemidji State, Fri. 1/17 @ 3:07 p.m. EST & Sat. 1/18 @ 3:07 p.m. EST
St. Cloud State at #4 North Dakota, Fri. 1/17 @ 8:07 p.m. EST & Sat. 1/18 @ 3:07 p.m. EST
Dartmouth at #5 Cornell, Fri. 1/17 @ 7 p.m. EST; #8 Harvard at #5 Cornell, Sat. 1/18 @ 4 p.m. EST
Vermont at #6 Boston College, Fri. 1/17 @ 2 p.m. EST & Sat. 1/18 @ 2 p.m. EST
#8 Harvard at Colgate, Fri. 1/17 @ 7 p.m. EST
#9 Boston University at Providence, Fri. 1/17 @ 7 p.m. EST; Northeastern at #9 Boston University, Sun. 1/19 @ 12 p.m. EST
What to Watch For
Minnesota will look to bounce back from last weekend's shootout loss to Ohio State when they host the Mavericks in the outdoor 2014 Hockey City Classic at TCF Bank Stadium. The excitement of the outdoor game gives each team plenty to look forward to, but the Gophers will also want to return to the top of their game after that bump in the road last week. They'll be looking to assert themselves early and often. Sunday's game could prove to be very interesting; both teams will be coming down off the high of Friday night's atmosphere but that could put Minnesota State in an even better position to upset.
Now #GWH is officially ready for the @HkyCityClassic! @GoldytheGopher, is that you? pic.twitter.com/iz86LTeEIX

— Minnesota Women's Hockey (@GopherWHockey) January 16, 2014
Clarkson is currently riding a five-game win streak and has only lost twice since Nov. 1, to national contenders Harvard and North Dakota. They pounded Yale 7-0 last time they faced off, but the Bulldogs have otherwise proven to be a pretty competitive team this season. Yale is just coming off of a huge win at Harvard, and will be bidding for another upset this weekend, so the Golden Knights will need to be wary of that. Clarkson's scoring woes from earlier in the season seem to be behind them, and they haven't given up more than two goals in a game since falling to Cornell 6-3 on Oct. 25; they've earned a shutout in eight of 14 games over that span.
Boston College will host Vermont in a two-game series this weekend. The Eagles had some difficulty against Northeastern last weekend, and Vermont, who's firmly in the thick of things in the Hockey East race, will have just as much to play for. BC blew out the Catamounts when they visited Burlington in October, but Vermont has looked like a much-improved squad since then. Amanda Pelkey has developed into a game-breaking player, and she could really cause some headaches for Boston College's defense. The Eagles have much more depth top-to-bottom than the Catamounts, though, so as long as they put in a consistent effort, they should be able to outplay UVM.
Boston University will face off against both Providence and Northeastern this weekend. The Friars have been very up-and-down this year, but they've got one of the better offensive cores in the league, and though the Huskies hasn't been able to find as much scoring as they'd like, they've been able to skate with anyone in the conference. The Terriers will be looking to bounce back from a loss to BC last Wednesday, and to do so, they're really going to have to buckle down defensively in order to slow down both of this week's opponents.
Gabriella is now in her third season of covering NCAA and international women's hockey for The Hockey Writers. She is the founding editor of At Even Strength, a website dedicated to providing full-time coverage and analysis of women's hockey. She is currently working towards a degree in Communication at the University of North Dakota, and is also interning with UND Athletic Media Relations. She can be reached on Twitter (@gabfun) or via e-mail (gfundaro10 [at] gmail [dot] com).