College hockey's March Madness is upon us. The National Collegiate Hockey Conference quarter finals are over. After 13 grueling weeks of conference patricide, four NCHC teams head to the Target Center in Minneapolis, Minnesota, to play in the Frozen Faceoff. These are the four team participating in the Frozen Faceoff: Denver, Minnesota-Duluth, North Dakota and St. Cloud State.
The four teams headed to this weekend's Frozen Faceoff all have impressive winning streaks: UND 8 games, SCSU 4 games, DU 11 games and UMD 6 games. Something has to give.
Ironically, this season, there were no upsets in the first round of the NCHC playoffs. Here's the Pairwise Rankings of the four teams in the Frozen Faceoff: UND (1), SCSU (3), DU (6) and UMD (13). The top three teams are in the NCAA tourney. Barring any unforeseen catastrophes, UMD could also make the NCAA tourney if they win a game this weekend.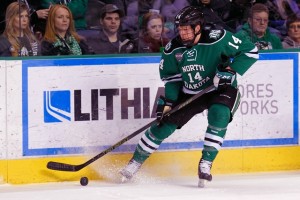 The Semifinals are Set
In the first game, top-seeded No. 2/2 North Dakota facing fourth-seeded No. 20/15 Minnesota Duluth at 4:08 p.m. CT. In game two, second-seeded No. 5/5 St. Cloud State and third-seeded No. 6/6 Denver will play at 7:38 p.m. CT.
Finals
The two semifinal winners then advance to the championship game at on Saturday, March 19 at 7:38 p.m. CT. All of the games, except the consolation game will be on CBS Sports Net.
NCHC's Frozen Faceoff Teams
Let's take a look at the four teams in the field.
North Dakota (30-5-3)
North Dakota Last Time Out: Swept C.C. (7-1 W, 5-1W)
North Dakota Offense: 7th, 3.66 GPG
North Dakota Defense: 3rd, 1.82 G/GM
North Dakota Scoring Margin: 4th, 1.84
North Dakota Power Play: 21st, (29/149, 19.5%)
North Dakota Penalty Kill: 5th, (101/116, 87.1%)
North Dakota Penalty Minutes: 16th, (11.9 PIM/G)
North Dakota USCHO Ranking: 1
North Dakota Corsi Ranking: 57.3%
North Dakota Pairwise Ranking: 1
Top Players: Forwards – Brock Boeser (25g-23a—48pts), Drake Caggiula (19g-23a—42pts), Nick Schmaltz (8g-32a—40pts), Austin Poganski (9g-14a—23pts). Defense – Troy Stecher (7g-19a—26pts), Tucker Poolman (4g-18a—22pts), Paul LaDue (4g-12a—16pts). Goalies – Cam Johnson (20-3-1, 1.58 GAA, .983 save percentage), Matt Hrynkiw (10-2-2, 2.13 GAA, .910 save percentage). (UND Stats)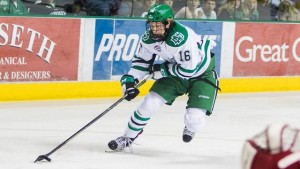 Keys to UND winning
The Fighting Hawks have the best defense in the NCHC but they will need to continue their solid play on the back end. The key to winning, UND needs to keep it simple. The Hawks will need to limit the Bulldogs time and space and not allow themselves to get sucked into the after the whistle garbage.
Finally, UND needs to make sure they don't get complacent. The Fighting Hawks swept the season series against UMD and the Bulldogs seem to be peaking at the right time.
St. Cloud State (29-8-1)
St. Cloud Last Time Out: Swept Western Michigan (4-3 O.T. W, 4-2 W)
St. Cloud Offense: 2nd, 4.32 GPG
St. Cloud Defense: 10th, 2.16 G/GM
St. Cloud Scoring Margin: 1st, 2.16
St. Cloud Power Play: 2nd, (38/129, 29.5%)
St. Cloud Penalty Kill: 33rd, (22/26, 84.6%)
St. Cloud Penalty Minutes: 59th, 7.2 PIM/G
St. Cloud USCHO Ranking: 4 SCSU Corsi Ranking: 52.8%
St. Cloud Pairwise Ranking: 3
Top Players: Forwards – Kalle Kossila (14g-34a—48pts), Joey Benik (21a-23a—44pts), Patrick Russell (19g-19a—38pts), Jimmy Murray (13g-23a—26pts). Defense – Ethan Prow (8g-27a—35pts), Niklas Nevalainen (2g-21a—23pts), Jimmy Schuldt (9a-14a—23pts). Goalie – Charlie Lindgren (28-8-1, 2.08 GAA, .926 save percentage). (SCSU Stats)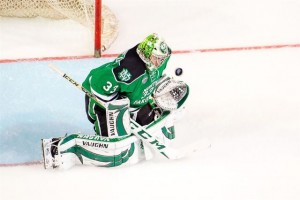 Keys to SCSU Winning
The Huskies have the second-best power play in the nation. If they want to be successful this weekend, they need to continue their torrid pace on the power play and cash in on their opportunities.
On the flip side, the Huskies have the worst penalty kill of the teams in the Frozen Faceoff. They need to play disciplined hockey and stay out of the penalty box if they want to advance to the championship game.
Finally, the Huskies will also need to avoid getting complacent. They Huskies beat the Pioneers handedly earlier in the season ( (5-2 W, 6-2 W) and they will face a Denver team that much improved. The Huskies will want to limit the offense of the Pacific Rim line consisting of Moore, Gambrell and Heinen.
Denver (23-8-5)
Denver Last Time Out: Swept Omaha (5-2 W, 4-3 O.T. W)
Denver Offense: 14th, 3.22 GPG
Denver Defense: 12th, 2.28 G/GM
Denver Scoring Margin: 12th, .94
Denver Power Play: 29th, (22/123, 17.9%)
Denver Penalty Kill: 25th, (92/111, 82.9%)
Denver Penalty Minutes: 50th, (8.3 PIM/G)
Denver USCHO Rankings: 6 Denver Corsi Rankings: 53.0%
Denver Pairwise Ranking: 6
Top Players: Forwards – Dylan Gambrell (15g-27a—42pts), Trevor Moore (9g-32a—41pts), Danton Heinen (18g-22a—40pts). Defense – Will Butcher (6g-23a—29pts), Nolan Zajac (2g-16a—18pts). Goalies – Evan Cowley (8-5-0, 2.17 GAA, .926 save percentage), Tanner Jaillet (15-3-5, 2.19 GAA, .928 save percentage). (DU Stats)
Keys to DU Winning
The Pioneers enter the Frozen Faceoff on an 11-game winning streak. To extend that streak the Pioneers need to continue their stellar play on defense and in net. Since being drubbed by the SCSU Huskies Denver is on an impressive 16-1-3 run.
The Pioneers will also need the Pacific Rim Line to continue their torrid play. Finally, the Pioneers will want to play discipline hockey and stay out of the penalty box. They don't want allow the second-ranked Husky power play to get an opportunity to showcase their skill.
Minnesota-Duluth (17-14-5)
Minnesota-Duluth Last Time Out: Swept Miami (5-4 W, 3-1 W)
Minnesota-Duluth Offense: 28th, 2.72 GPG
Minnesota-Duluth Defense: 8th, 2.03 G/GM
Minnesota-Duluth Scoring Margin: 15th, .69
Minnesota-Duluth Power Play: 41st, (23/146, 15.8%)
Minnesota-Duluth Penalty Kill: 6th, (112/130, 86.2%)
Minnesota-Duluth Penalty Minutes: 27th, (10.9 PIM/G)
Minnesota-Duluth USCHO Rankings: 16
Minnesota-Duluth Corsi Rankings: 57.5%
Minnesota-Duluth Pairwise Ranking: 13
Top Players: Forwards – Tony Cameranesi (10g-24a—34pts), Austin Farley (13g-15a—28pts), Alex Iaffallo (7g-13a—20pts), Dominic Toninato (13g-6a—18pts). Defense – Andy Welinski (6g-13a—19pts), Neal Pionk (4g-13a—17pts), Carson Soucy (2g-9a—11pts). Goalie – Kasimir Kaskisuo (17-13-5, 1.89 GAA, .924 save percentage). (UMD Stats)
Keys to UMD Winning
After being swept by the Fighting Hawks in the regular season, the Bulldogs need to find a way to finally beat UND. While the Bulldogs lead the NCHC in shots on goal per game, they're ranked fifth in the NCHC in goal scoring.
The Bulldogs don't want to get into a run and gun game with the Fighting Hawks and they're going to want to limit the famed CBS line consisting of Caggiula, Boeser and Schmaltz.
***
Can't get enough hockey? Want to talk about it with our writers, and fellow fans? Join The Hockey Writers Group on Facebook today!
Eric is a 1996, 1999 graduate of the University of North Dakota. Eric covers the University of North Dakota Hockey and Division I college hockey. Eric is the Contributing Editor for Inside Hockey.