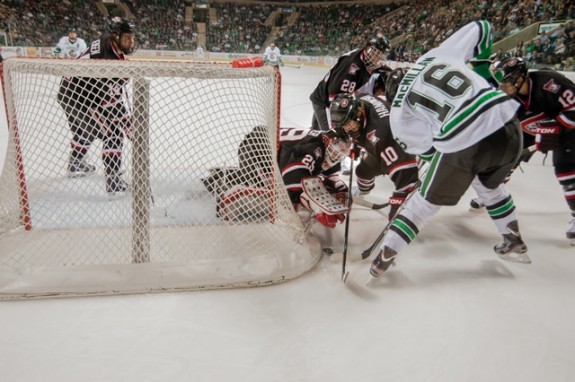 As the college hockey season comes to an end, some of the high-end, highly sought players will decide to forego their college eligibility and sign professional contracts. This past week, there was a few of these signings.
One player defection caught my attention. This past weekend, Saint Cloud State University junior goaltender Ryan Faragher announced that he had signed a one-year entry level deal with the Anaheim Ducks.
I want to thank my friends, coaches and most of all, my family for the support over the years. And thank you SCSU for 3 unforgettable yrs.

— Ryan Faragher (@fedz29) April 5, 2014

This past season, Faragher was 20-9-4 with a 2.79 goals-against average and a .905 save percentage.His best season was during the 2012-13 campaign, when he led SCSU to the Frozen Four and compiled a 24-14 record with a 2.27 GAA and a .914 save percentage.
Saint Cloud State Huskies head coach Bob Motzko had this to say about his former goalie.
"Ryan did a very good job for us over the last couple years and was a big help for us (in 2012-13), helping us win our first league championship in the WCHA," Motzko said. "We're very happy for Ryan, very thankful for all he did for the program and wish him all the best."

"He's a terrific young man and student and worked extremely hard in his three years for us."
Here's the official press release from the Anaheim Ducks.
The Anaheim Ducks on Monday signed collegiate free-agent goaltender Ryan Faragher to a one-year entry-level contract. Financial terms were not disclosed.

The Anaheim Ducks, already deep at the goalie position, signed St. Cloud State free-agent Ryan Faragher.

Faragher, 23, won 53 games over three seasons with St. Cloud State with a 2.58 goals-against average, .911 save percentage and five shutouts. As a sophomore, he led the school to its first Frozen Four appearance and Western Collegiate Hockey Association regular-season title.
Faragher shined against North Dakota
With the Faragher signing an entry level deal with the Ducks, some in the University of North Dakota fan base might be relieved. In his three seasons with the Huskies, Faragher had an impressive record against UND. In 12 career starts against UND, he had a 7-4-1 (.625) record, a 2.06 goals against average and a .933 save percentage.
In the last two seasons, Faragher has a 5-2-1 record against UND. This includes a series sweep earlier this season in Grand Forks.

Ralph Engelstad Arena suited Faragher fine
At the Ralph Engelstad Arena, Faragher has been nothing short of amazing, compiling a 4-1-1 record with a.957 save percentage and a 1.50 goals against average.
For comparison sake, Faragher's predecessor, Mike Lee was highly unsuccessful against North Dakota. In three seasons, Mike Lee never won a game against UND and was 0-6-1.
It will be interesting to see how Faragher's career plays out at the next level. As a hockey fan, I would have liked to have seen him finish out his career with SCSU. That's the reality of college hockey, it's a development league for the next level. The Ducks liked what they saw, and they signed him.