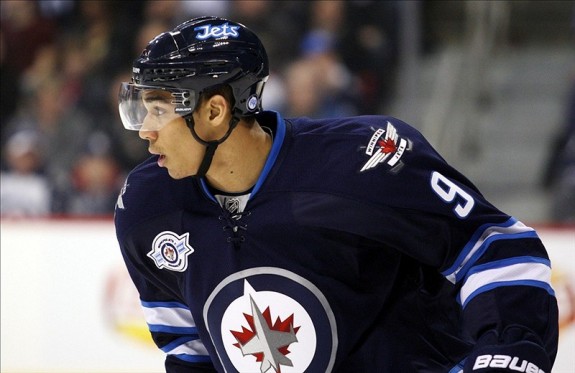 When Evander Kane is not talking into his money phone in Las Vegas, he's creating headlines in Winnipeg, Manitoba for all the wrong reasons.  In Winnipeg's game against the Toronto Maple Leafs a few nights ago, Kane was made a healthy scratch.  His interviews afterwards were awesomely awkward.
The question now remains: has Evander Kane played his last season as a Winnipeg Jet?
If so, there will be many a team calling to inquire about Kane's services this offseason – one of which may be the Philadelphia Flyers.
The Flyers were keen on trying to pry Kane from Winnipeg at the trade deadline before they found out the rumored asking price – two top-six forwards, and a top prospect/high draft pick.  If Evander Kane is really on his way out of Winnipeg, the asking price should be knocked down…somewhat.
But is bringing Evander Kane to Philadelphia worth it?
We know he brings a lot of baggage with him, but his style of play is something the Flyers can benefit from.  He'd slot in nicely alongside Lecavalier, Couturier, or Giroux.  He brings a blend of speed, skill, a nose for the net, and a tenacious style of play.  If I had to compare him to anyone on this team, I'd say he's a more consistent skilled version of Steve Downie.  It seems likely that Steve Downie is on his way out of Philadelphia after this season, so why not replace him with a player of Kane's caliber?
He's only 22-years old and signed to a bargain of a contract for what he brings to the Winnipeg Jets.  Two years ago, Kane netted 30 goals, nearly scored 20 during last year's shortened season, and likely would've scored over 20 this season had it not been for a few injuries.  Fact of the matter is, the kid can put the puck in the net.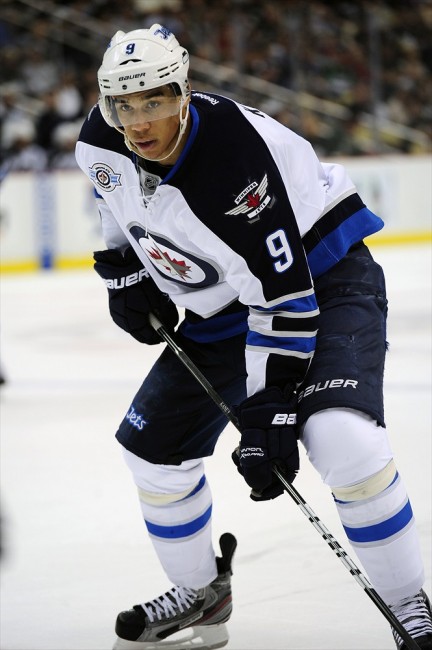 With the skill and entitlement of being a top draft pick comes a lot of off-ice issues – or so the Winnipeg media portrays.  Count me in as one of the few who think the media place Evander Kane in a negative light more often then they probably should.  Media scrutiny is tough in Philadelphia- just ask Mike Richards, Jeff Carter, and Ilya Bryzgalov.  But nothing quite compares to the harsh criticism of hockey players by the Canadian media.  He's been getting the short end of the stick during his tenure with the Jets for reasons I still don't quite understand.
Do fans not like seeing young adults with millions of dollars enjoying themselves?  Maybe.
Does race play a factor in depiction in Manitoba?  Possibly.
A change of scenery would do Evander good, but it will come at a price.  Every team likely has the upper hand in trade talks with Kevin Cheveldayoff because of the situation.  I don't have any insider information, but my guess is the asking price would drop to something like one top-six player and a top pick/prospect.
If that were the case, I wouldn't mind seeing someone like Brayden Schenn get traded with Samuel Morin/Shayne Gostisbehere/1st.  With the logjam the Flyers face at the center position, and with Scott Laughton waiting in the wings, Brayden Schenn is a piece that is expendable.  It seems like a steep price to pay, but you have to remember Morin/Gostisbehere/1st haven't proven anything yet.  I think a player like Evander Kane would thrive on a team like this.
What are your thoughts?  Does Evander Kane fit in Philadelphia?  If so, what would you give up to get him?
Follow Shawn on Twitter: @ShawnTHW