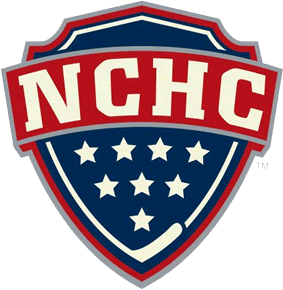 Before the season started, the National Collegiate Hockey Conference coaches thought that the inaugural season would end up being a battle, and they were right. Every game was a war.
"I think that coming into the year, one of the things we talked quietly about in our coaches room is that a team could finish two or three games over .500 and win this league," University of North Dakota head coach Dave Hakstol said. "I have no idea how it's going to turn out 10 games from now, but that could be the case. It's pretty tight (conference race)."
The conference race was so tight that three teams had a chance to win the NCHC title going into the last weekend of the regular season. On the last night of the season, two teams were still in the running for the league title.  The league office sent two Penrose trophies, to two separate cities (Colorado Springs and Grand Forks). The league title was decided by three points (a single victory). There wasn't much of a difference between first place and sixth place.
Although three teams in the NCHC that had losing conference records, no team was an easy out.
"Every night is a battle for those three points," UND freshman forward Luke Johnson said. "You really need to come with your best efforts every night and if you don't, you'll fall short. It was great season for us."
"There was never an off night," freshman defenseman Paul LaDue said. "Even your first place (teams) playing the bottom team, nothing is given to you."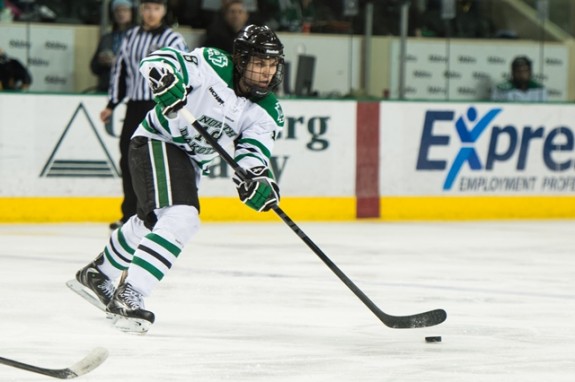 Is NCHC a victim of its own success?
When the NCHC first formed, I don't know if anyone ever thought there would be a chance that all four of the lower seeds would have a legitimate chance to make the Frozen Faceoff.
Fortunately for the NCHC, a catastrophe was averted and that scenario didn't come to fruition. Although it was close, two-of-four best-of-three first round series, went to a third game. North Dakota needed a third game against seventh place Colorado College, just to qualify for the Frozen Faceoff. The deciding game was in question until the final horn.
League Champion Saint Cloud State, Colorado College, Minnesota-Duluth and Nebraska-Omaha all lost their first round series and are sitting at home. All but the Saint Cloud State Huskies are done for the season. North Dakota is sitting on the bubble for an at-large NCAA Tournament bid. They might need to win the Frozen Face to make the NCAA tourney.
Only one home team won their first-round series. With UND's 4-3 series clinching win over Colorado College, the NCHC avoided the unthinkable from happening.
North Dakota saves the day
One has to wonder what the attendance would've been if Minnesota-Duluth, North Dakota and Saint Cloud State had all been eliminated from the NCHC tourney. It probably would've been tough breaking 10,000 fans for the entire weekend.
Luckily for the NCHC, North Dakota will be at the Frozen Faceoff this weekend. Now, hopefully UND fans will fill the Target Center. But what if Colorado College had eliminated UND? There probably would've been four games played in an empty Target Center. Yep, catastrophe avoided. One has to wonder if there's some karma involved in the NCHC's fortunes this season.