This weekend, UND travels to Omaha, Nebraska, to take on the Nebraska-Omaha Mavericks in a pivotal two-game conference series.  This series features the top-two teams in the National Collegiate Hockey Conference. A sweep for either team would be huge.
Series History
All-time, UND leads the series against the UNO Mavericks 8-5-1 (.607). In Grand Forks, ND,  UND leads the series 4-3-1 (.563). Against the Mavericks in Omaha, NE, UND leads the series 4-2-0 (.667). Under head coach Dave Hakstol, UND leads the series 8-5-1 (.607). In the last  10 games against the Mavericks, UND leads 6-3-1 (.650).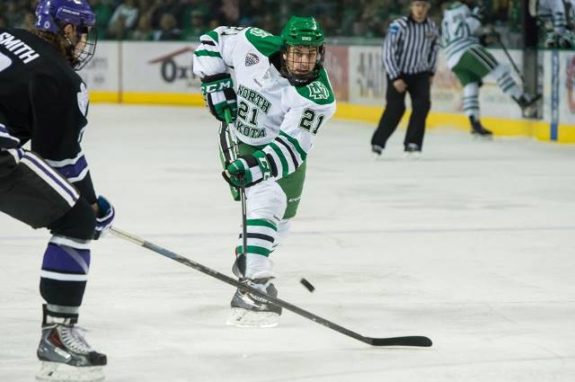 Tale of the tape
#1 North Dakota (18-5-2, 9-4-1 NCHC) vs. #5 Nebraska-Omaha (15-6-3, 9-4-1 NCHC).
Date: January 30-31, 2015
Game Time: Friday 7:37 p.m. CT, Saturday 7:07 p.m. CT
Location: CenturyLink Center, Omaha, NE.
Last time out: UNO was idle last week.
Last time out: North Dakota swept Colorado College (2-1 W, 5-3 W).
UNO Offense: 15th Nationally
UNO Defense: 26th Nationally
UNO PWR: 4th
UNO Last 10 games: 7-2-1 (.750)
UND Offense: 6th Nationally
UND Defense: 7th Nationally
UND PWR: 2nd
UND Last 10 games: 8-2-0 (.800)
TV: Friday: CBS Sports Network, DirecTV (221), DISH Network (158)
Live Streaming: None
TV: Saturday:  Midco Sports Network, FOX College Sports Central, DirecTV (608), DISH Network (452)
Live Streaming: NCHC.TV
Key Players to watch
North Dakota – Forwards: Drake Caggiula (10g-16a—26pts), Michael Parks (9g-17a—26pts), Mark MacMillan (13g-8a—21pts), Nick Schmaltz (3g-15a—18pts), Brendan O'Donnell (9g-4a—13pts), Luke Johnson (5g-7a—12pts), Defense: Jordan Schmaltz (3g-17a—20pts), Paul LaDue (3g-9a—12pts), Tucker Poolman (6g-4a—10pts), Nick Mattson (1g-6a—7pts), Gage Ausmus (2g-2a—4pts). Goalies: Zane McIntyre (18-5-2, 1.89 GAA, .933 SV%), Cam Johnson (0-0-0, 5.54 GAA, .765SV%).
UND Injuries: Troy Stecher (lower body injury) questionable.
Nebraska-Omaha: Forwards: Austin Ortega (14g-11a—25pts), Jake Guentzel (7g-16a—23pts), Jake Randolph (4g-16a—20pts), Avery Peterson (9g-9a—18pts). Defense: Ian Brady (4g-9a—13pts), Brian Cooper (4g-9a—13pts), Luc Snuggerud (2g-10a—12pts). Goalies: Ryan Massa (10-3-3, 2.00 GAA, .936 SV%), Kirk Thompson (4-3-0, 3.02 GAA, .896SV%).
Special teams
Nebraska-Omaha – The Mavericks penalty kill is ranked 27th in the nation (73/87, 83.9%). The Mavericks power play is ranked 33rd in the nation (16/95 16.8%).
North Dakota – UND's penalty kill is ranked 15th in the nation (89/103, 86.4%). UND's power play is ranked 13th in the nation (21/100, 21.0%).
Series Analysis
This series has all the making of being an outstanding series. There's a lot on the line this weekend. Both teams are fighting for the top spot in the NCHC standings.
Neither team likes the other very much. So, there should be a lot of after the whistle action on the ice, too.
This series showcases two outstanding goaltenders. [tweetthis]Since the beginning of the New Year, UND goalie Zane McIntyre is (5-1-0, 1.68 GAA and a .945 SV%).[/tweetthis]
On the other end of the ice, the Mavericks are led by Ryan Massa (10-3-3, 2.00 GAA and a .936 SV%).
Taking a look at the conference rankings, Massa and McIntyre are the top two goaltenders in the NCHC.
Looking at the conference scoring race, UND has two players (Drake Caggiula and Michael Parks) tied for first place in points. UNO has two players (Austin Ortega and Jake Guentzel) in the top ten in scoring.
Series Prediction
I know this prediction is going to sound cautious, but I am going to go with a series split. Both teams are pretty equal. I think UND has the better defense, but UNO has more offensively gifted forwards. Those same forwards gave UND fits during the first series.
Statistically, UND has the better special teams and that could prove to be the difference.