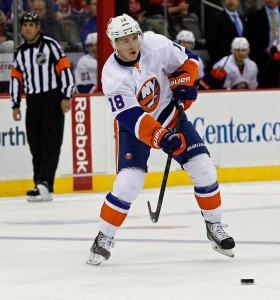 It's not often that an NHL club calls up their top prospect, flies him across the country, and then decides to scratch him a few hours before his heralded NHL debut. But the New York Islanders did just that on Thursday after Ryan Strome, the Isles first round pick in 2011 (5th overall), skated with the team and then was told he would not be in the line up in Glendale.
But Isles fan need not worry; Strome is ready . Islanders coach Jack Capuano said  "He's going to help us, no question," Capuano said. "With his skill set, he brings something that's been lacking. But there's a way he needs to play up here."
Twitter exploded with angry Isles fans when the news broke that he would not play Thursday night. But now, he will most likely make his NHL debut at home this Saturday night vs. the Montreal Canadians and in my mind, what better way to welcome a rookie into the league than in front of his home crowd.
What You Need To Know
Ryan Strome is the best prospect in the Islanders farm system. He began his pro career in 2009 after begin drafted by the Barrie Colts in the 2009 OHL Priority Selection. He was then traded to the Niagra Icedogs and Dominated during the 2010-11 season tallying 106 points in 65 games. He was then drafted by the Islanders and after finishing his junior career, he started the 2013 season with the Bridgeport Sound Tigers.
In 23 games this season, he scored 33 points and was a plus 9 for his AHL club. But his time has come and the Isles believe he's ready for the NHL.
Strome is ready to make an impact right away. He's a great scorer and has an amazing wrist shot. He is a great skater. He is a great special teams player and will be a great asset on both PP and PK units in New York. He's a responsible defender and will likely see 15+ minutes with the Isles as soon as he's inserted into the line-up. Ryan Strome is a playmaker, and he will help the Isles in all facets of the game.
What I'll Leave You With
Strome is going to help the Isles, but don't think for a second that he's going to single handily save their season. He's very good, but he's got a lot of learning to do; he's only 20 years old. He's no Sidney Crosby. (He's the last of the 2011 Draft's top 10 to make their NHL regular season debut.)
Look for Strome to show up Saturday night on the 2nd or 3rd line and also on the 2nd power play unit. I would anticipate Capuano giving Strome time along side John Tavares; they play very well together and could create offense very quickly. But no matter what, Strome WILL be able to create scoring chances with who ever he plays with.
The Isles did lose their 11th game in 12 tries on Thursday and Coach Capuano was very critical of his defense. If a rookie can come into the line-up and provide an offensive spark along with the assumed return of Evgeni Nabokov, the Islanders could come out very energized Saturday night at home. Believe it or not, the Isles are only 12 points out of a playoff spot and there's still a lot of hockey left to play.
Head over to Twitter and Give me a follow for up-to-date information. @b_isaiah
Happy Holidays
Check out our partners at TiqIQ for the best deals on New York Islanders tickets for all 2013-14 games.
Smith works full time with Rise Against Hunger, a non-profit set on ending world hunger by 2030. He's a hockey enthusiast living in Pittsburgh, PA and formerly covered the Pittsburgh Penguins for THW.
Follow him on twitter @BSmithWV