When the St. Louis Blues decided to move on from their top pending unrestricted free agents before the 2023 Trade Deadline, the public opinion was that the remainder of the season would be that of doom and gloom. Fan expectations for the club were minimal at best and were oftentimes upset if the team did in fact win as it could lower their chances at the first-overall draft choice in the upcoming draft lottery. With three first-round draft picks in the 2023 NHL Entry Draft, this year is set to become a year that could help restock a mediocre prospect pool and help nudge it in the right direction.
Related: 3 Blues Players Who Won't Be Back Next Season
However, the Blues continue to show that they still have life in their lineup after a 3-0 victory over the Winnipeg Jets on Sunday, March 19, a combined shutout victory for goaltenders Joel Hofer and Thomas Greiss. The players brought into the fold after moving on from franchise icons like Ryan O'Reilly and Vladimir Tarasenko flew under the radar with Blues general manager (GM) Doug Armstrong taking a chance on project-type players Jakub Vrána and Kasperi Kapanen, along with a reunion with former Blue, Sammy Blais. So far, his gamble has paid off, providing an opportunity for these players in an effort to accelerate the franchise's rebuilding efforts.
---
Latest News & Highlights
---
Here's a look at some of the new Blues players making a name for themselves in St. Louis over the past few weeks.
Sammy Blais Enjoying Blues Reunion
The reunion with Blais has gone off without a hitch so far this season. After trading him away to the New York Rangers on July 23, 2021, he was reacquired by the Blues in a multi-player trade in exchange for Tarasenko. Since returning to St. Louis, he has found new life scoring six goals and 10 points over 19 games played. He is now only two goals shy of tying a career-high eight goals set in 2020-21 with the Blues over 36 games. Of his return to the team that drafted him 176th overall in 2014, he said:
"It's been really great. Didn't play last year at all (because of knee surgery). And this year didn't get much ice time (in New York). But it's been really good since I've been back here. I'm just finding back my game, my legs, just gotta keep looking forward and play with confidence" (from 'Sammy Blais, the sequel, has been a big hit so far for the Blues,' St. Louis Post-Dispatch, March 18, 2023).
Blais has already seen a substantial increase in his time on ice averaging just over 14 minutes per game in St. Louis, compared to the 11:31 that he was playing with the Rangers. His deployment on the third line alongside Brandon Saad and Brayden Schenn has allowed Blais to play a consistent net-front presence role while he and his linemates all use their size and crash the net. Moving forward, he should continue to play in a third or fourth-line role with an opportunity to play his way up the lineup as needed.
Kapanen and Vrána Earning Another Chance in NHL
Two players that have continued to see an increased role and responsibility each night, Vrána and Kapanen are paying dividends for the Blues thus far. In the case of Kapanen, 26, he was claimed off of waivers by St. Louis after scoring seven goals and 20 points through 43 games with the Pittsburgh Penguins while averaging just over 12 minutes of time on ice per game. Now with the Blues, he has earned time on the first power play unit and second forward line alongside Pavel Buchnevich and Alexei Toropchenko, and 16:20 of time on ice per game. The Finnish forward is earning his keep by averaging 0.6 points per game, or 49 points over a full 82-game season.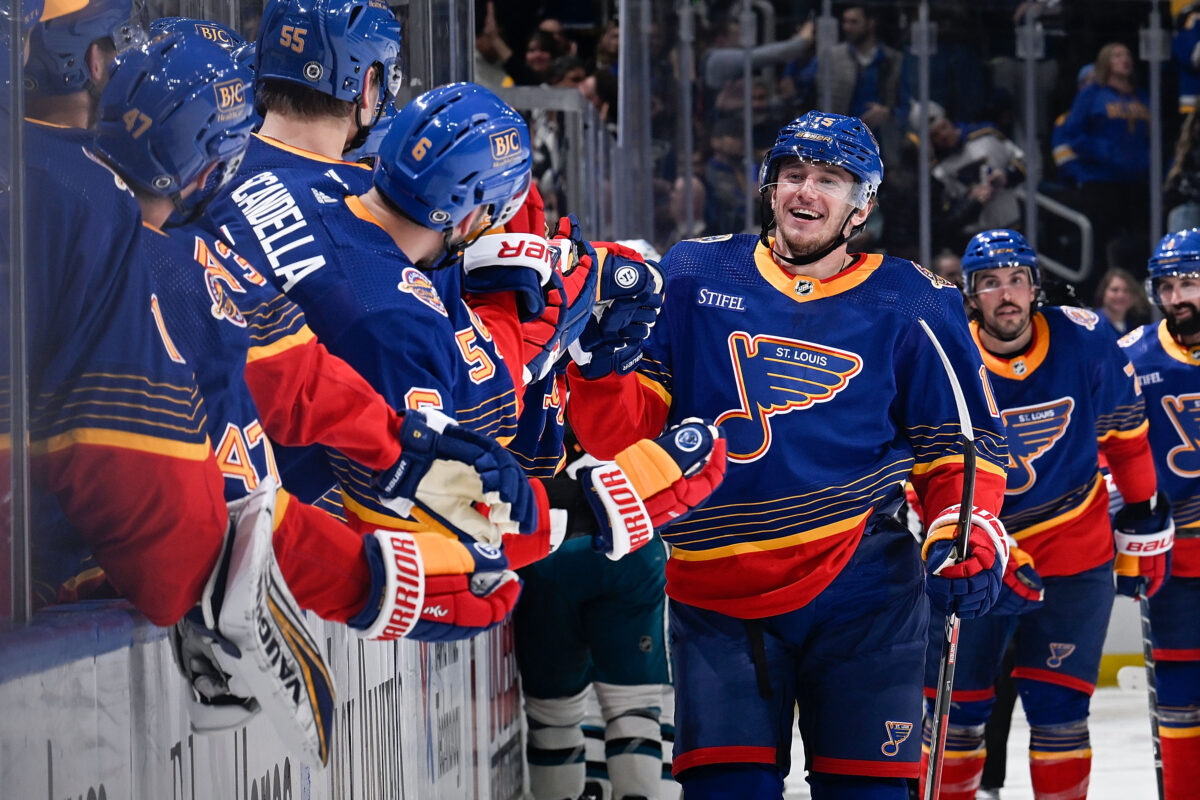 Arguably the most impactful acquisition by Armstrong has come from a low-cost risk taken out on Vrána. The trade exchanged the forward from the Detroit Red Wings for forward Dylan McLaughlin and a seventh-round draft pick in 2025. The GM expressed enthusiasm for his acquisition and the opportunity to provide Vrana with another chance to rediscover his success in the NHL after entering the Player Assistance Program in October 2022, then returning to action and being released from it in December.
"I love the opportunity to give him a second chance, and what he does with that and the opportunity we can provide him to make it the best fit," Armstrong said. "When you look at his skill and talent, he's a Top-6 player or Top-9 player at worst all day long. Now we just have to give him the opportunity to show that."
To date, Vrána has consistently played in the club's top-six and power play unit, while averaging 15 minutes of time on ice each game. Through his eight games with St. Louis, he has scored five goals and six points while registering 28 shots on goal in that timespan. Since joining the Blues, he leads the team in power play goals and points (three), is second to only Jordan Kyrou in shots on goal, and is sixth in total points.
Hofer Showing He's Ready For the NHL
After signing a two-year contract extension with the Blues on Jan. 3, the 22-year-old has shown he is more than capable of holding down a position in the NHL at this point in his career. After being recalled from the Springfield Thunderbirds, the Blues American Hockey League (AHL) affiliate, on an emergency basis due to a two-game suspension to Jordan Binnington, Hofer has made three straight starts to date with a 2-0-1 record through three appearances, stopping 93 of 97 shots on goal. His strong two-game performance during his teammate's suspension earned him an additional start against the Red Wings suffering his first loss of the season. 
While it is unlikely that Hofer continues on a goals-against average (GAA) rate of 1.32 and .959 save percentage (SV%) over the course of a full season, Blues fans have plenty to look forward to with a tandem of Binnington and Hofer beginning in 2023-24. After all, through 40 appearances in the AHL this season, Hofer has posted a 2.50 GAA and .920 SV% with a 22-14-4 record. His 2,371:28 minutes played also rank second among all AHL goaltenders. 
The Blues still have plenty of work to do and prospects to grow before they can consider another playoff push, let alone contend for another Stanley Cup. However, the play they have been receiving from these recent additions to their lineup has been a breath of fresh air and provides hope for the future beyond the current developing prospects.