Slowly but surely New Jersey Devils general manager Ray Shero has continued to piece together his vision for the franchise. Entering the offseason, fans knew the team needed to add secondary scoring but were also hoping that Shero would make a big move, one that would catapult the Devils' offense into another scoring class. Fans more than got their wish when the team traded with the Edmonton Oilers for the former first pick in the 2010 NHL Entry Draft, forward Taylor Hall.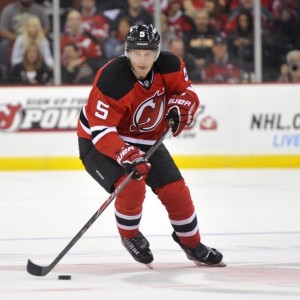 Hall's acquisition began New Jersey's evolution into a balanced team with scoring depth, headlined by a talented top six. However, the deal also meant the departure of defenseman Adam Larsson, who was a critical part of the team's top pairing and overall core. Larsson's absence undoubtedly leaves a big hole. He was groomed and was developing into a strong shut-down player who complimented captain Andy Greene's playing style well. But while Larsson's exit may hurt in the short term, the Devils have the ability to withstand it in the long term.
Potential Pairings
New Jersey's defensive depth is solid and features several young prospects who will be vying for roster spots including Seth Helgeson, Steve Santini and Vojtech Mozik. However, it is safe to assume that none of those prospects will be Greene's new partner. That accolade will likely fall to third-year defenseman Damon Severson, who has played stints with Greene before.
The sophomore slump is a not a myth; many talented players encounter it and Severson was not immune. But that does not take away from his overall skillset and ability to be a top defenseman. Being partnered with Greene and receiving more responsibility as well as more playing time may be one of the best things for Severson coming off of a year with some ups and downs. Greene was instrumental in helping Larsson's play, and should provide the same for Severson, who will be heavily relied upon in Larsson's absence.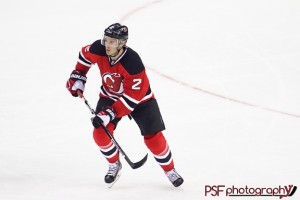 Severson potentially shifting to play alongside Greene means that John Moore will have a new partner this season. Head coach John Hynes could decide to go the safe route and play newly signed veteran Ben Lovejoy, who would round out a solid top-four unit. Nevertheless, Lovejoy playing with Moore would leave the third pairing vulnerable, which is why Hynes could surprise people and put Helgeson with Moore.
Unless he suffers a substantial setback in training camp, Helgeson should be on the Devils' opening night roster. It may not be perfect, or without some bumps, but Helgeson proved last season during his stint with New Jersey that he is reliable and, more importantly, responsible as he made few mistakes.
By Helgeson being paired with Moore, Lovejoy would balance out the third defensive unit, which will likely include Jon Merrill, who needs to have a bounce-back year. However, as time rolls on, Hynes should have options and could rotate either Santini or Mozik into the spot as well; assuming one of the two prospects makes the team. Lovejoy being among the final pairing means that each young player is accompanied by a veteran, which should help stabilize the team, particularly at the start of the season.
Offensive Defensemen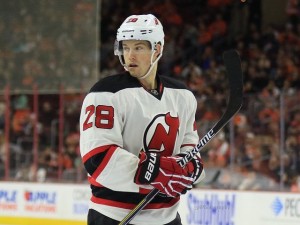 Furthermore, not only would the pairings help balance the defense, each duo has the potential to add scoring from the blue line. Severson has one of the largest offensive upsides among the defensemen. If he is indeed partnered with Greene, Severson may eventually be able to find opportunities to pinch in. However, he will have to identify the right balance as he and Greene will also be facing the opposition's top players and pinching in can be a liability if not timed properly. Additionally, Helgeson and Moore would also offer the potential to add more offense. Moore played an unexpected role in locking up several key victories last year and while he did not score during his stint with the Devils, Helgeson displayed a strong shot.
Nevertheless, while the official defensive pairings will not be confirmed until opening night, there is one guarantee. Goalie Cory Schneider will be in the goal crease, which means New Jersey will always have a chance to win. Furthermore, additional scoring will also relieve some of the pressure off of the defense and several of the Devils' top forwards play a strong two-way game, particularly Travis Zajac and Adam Henrique.
Larsson was a valuable part of the team and he will be sorely missed by the fans who watched him grow into a resilient and skilled defenseman. But while there are some questions about the how the Devils will overcome his absence at the start of the season, Hynes and Shero have proven thus far to have the answers.
Amanda Rosko is an avid hockey fan. This is her second year covering the New Jersey Devils for The Hockey Writers. She graduated with honors from Rutgers University in 2014 with a B.A. in Journalism and Media Studies.