When the Oilers signed defenceman Andrew Ference to a free agent contract in 2013, they promptly named him as captain, before he ever suited up in a regular season game for the team. They had the right idea in mind. Sign an experienced veteran, and give him the leadership mantle until one of the younger players are ready. No offence to Ference, but he was never going to be the right kind of veteran to take on that role. He had a lot of years under his belt, but hardly as a marquee player. The experiment failed miserably, as he was asked to relinquish the captaincy before the 2015-16 season began.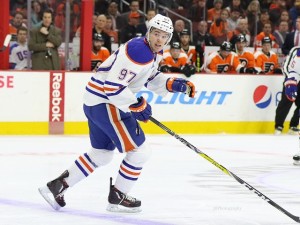 Who Will Be the Oilers Next Captain?
Edmonton didn't have a captain last season, as Ference, Taylor Hall, Jordan Eberle and Ryan Nugent-Hopkins all wore an "A" on their jersey. There was some chatter that Hall could be a possibility to be the next captain, but that was effectively ruled out when he was traded to the New Jersey Devils earlier this summer. But it didn't really make sense to give Hall the "C" with Connor McDavid waiting in the wings. Would they really strip Hall in a couple of years? Either they want him to be the visible leader or they don't. Having a young star be in a holding pattern doesn't make sense, which means guys like Eberle and Nugent-Hopkins likely won't be candidates.
It has to be McDavid, doesn't it? Connor is 19 years old, and would be the youngest captain in NHL history should he be named before this season starts. It makes sense to go another year with just alternates, letting McDavid grow a little more, and hand him the C next year. Makes sense. But that's not what the Oilers are going to do. Head coach Todd McLellan had this to say regarding the captaincy:
"Will we have a captain? Yes we will." [Edmonton Journal]
He didn't give any indication as to who it would be, and that comes as no surprise. If the Oilers went with young McDavid it wouldn't be completely unprecedented. Sidney Crosby, Gabriel Landeskog and Vincent Lecavalier were all named captain at the age of 19. McDavid spoke earlier this month about the possibility.
"If I was ever the captain at any point I think it would be one of the greatest honors and one of the accomplishments that I would definitely take the most seriously. I don't want to comment on it too much, but obviously it would be an unbelievable feeling." [NHL]
Did he already know he was going to be named when he made these quotes? Maybe, maybe not. Perhaps he was told that it eventually would happen but not just yet. Here's what we know. There will be a captain come the start of the season. If it's not McDavid, who will it be? Well, I'd say look no further than the newly acquired Milan Lucic. Although it looks like another Ference situation, Lucic isn't the same player. He's been a star in the NHL, and one of the marquee signings of the summer. He carries a lot more presence in that room. It's also much easier to strip the "C" away from an aging Lucic in a few years than a younger player like Nugent-Hopkins.
Should We Assume It's McDavid?
Connor McDavid is a superstar in waiting. It's largely expected he will become the best player in the world at some point. He was a first overall pick. He's been a leader throughout his time in hockey. He's already shown maturity. I don't want to just assume that the Oilers see McDavid as their future captain, but, he has to be right? Peter Chiarelli said in April that the team will have a captain, and this Sportsnet article assumed it would be McDavid. The Hockey News also believes the writing is on the wall for McDavid to be anointed as Captain. I tend to agree but is it too soon?
There's no reason to rush McDavid into the role. He has one season under his belt, and an injury shortened one at that. The Oilers are still trying to sort out exactly what they are as a team and trying to shake the losing culture that has permeated them for so long. I understand that the captaincy doesn't carry as much weight as it used to, but it's still significant, and it still brings with it a measure of added pressure. I don't doubt he would be able to handle it. But is it fair to ask that of him right now?
Milan Lucic was a target of the Oilers for a long time. They courted him, and they won him. They see him as the perfect veteran presence and someone who can still contribute at a high level. I wouldn't be at all surprised if Lucic is given the C for now in order to allow McDavid more time to grow. We don't know what the Oilers are thinking. His teammates already see him as a leader, and they would respect him even though he's younger. McDavid fits the bill, that's for sure. Whether or not it's wise to hand it to him now, that's up to the Oilers. We'll find out the answer very soon.