"Start over. There's no momentum from year to year. Understand what it will take to be competitive again." That was New Jersey Devils head coach John Hynes' message to his team following their first round exit in five games against the Tampa Bay Lightning. The season was quite the improvement for a team that finished dead last in the Eastern Conference a mere twelve months ago. A lot of things went the Devils' way from the time their miserable 2016-17 season ended, starting with winning the 2017 NHL Lottery and the opportunity to select Nico Hischier with their first-ever, no. 1 overall pick. It continued through the summer as they added a veteran presence in Brian Boyle and another young, budding star in rookie Will Butcher. 
Each month throughout the season a different hero stepped up it seemed. From the first game of the season, a 4-1 victory over the Colorado Avalanche, the Devils were in a playoff spot and never fell out. Whether it was 2016 sixth rounder Jesper Bratt making the team out of training camp as a teenager, or Boyle's dramatic return to the lineup after conquering cancer, or Taylor Hall registering a point in every game for 26 million games in a row – give or take a million, or Keith Kinkaid winning the most games of any NHL goaltender from mid-February until the end of the campaign that saw New Jersey clinch it's first postseason berth since 2012 with a 2-1 home-ice win against Lou Lamoriello's Toronto Maple Leafs.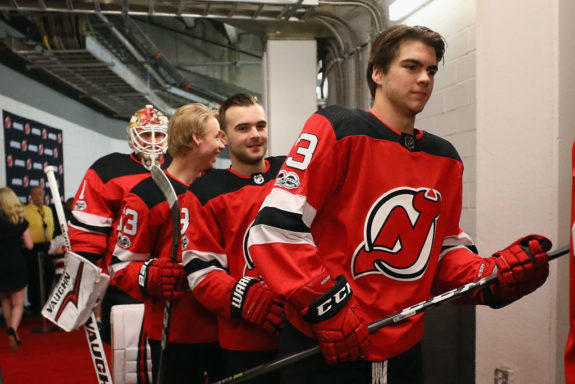 Everyone picked them for dead last in the Metropolitan Division and they finished as the second wild card team with 97 points. The trick now is to get better. Teams will not be underestimating the Devils again when next season starts. They can be proud of what they achieved in laying the foundation for future success, but they need to build off of it and take that next step.
After a few days to gather their thoughts following the five-game ouster at the hands of the East's top team, New Jersey had its final media availability before scattering for the summer. Thanks to a good friend and an old THW teammate we acquired some of the audio and picked out some of the most notable things said by the Devils' players as they end their 2017-18 chapter.
Cory Schneider:
"Clearly we still have work to do. Me personally and us as a team, we have to figure out how to sustain this and take the next step. Not slide backward or undo the good work we did this year. We all saw how much work it took from day one of training camp, even the summer. A lot of guys got challenged and a lot of people were put on notice that we have to come back with a strong year. I think to a man, everyone did that. We still have a lot of work to do ahead of us. Like coach mentioned, we're definitely not satisfied."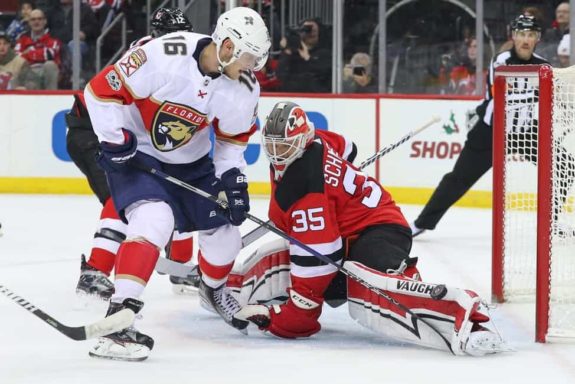 "I never really wavered in terms of my belief or my confidence. It may not have shown in some of the games but I knew once the playoffs came that there's a chance you get called upon. You look around the playoffs and how many teams have used multiple goalies? For me, it was about canceling out that last part of the season, forgetting about it and starting fresh. I wish I could have played at that level sooner and done more for my team. I expect to be that guy. I expect to be the guy that plays the important games and gets us in the playoffs. Keith did a great job stepping up, filling that role, and getting us there. Am I going to let 10-12 games this season define me, define my career? Absolutely not."
Ben Lovejoy:
"This place is awesome. I love being a part of this team and we came a long way this year. We had a long way to come. Coming to the rink every day with this group of people is a pleasure. We have 25 guys in this room that like to work, that are here to go to work every day and to bring our best every day. We're building. We had an awesome year, got better and better as the season went on, and we did that through working every day. In the end, anytime you lose is disappointing. That was a very good Lightning team and I felt like we had a chance, but just couldn't quite do it. The future here is very bright and this place is going to continue to get better and better. I have big expectations for this team."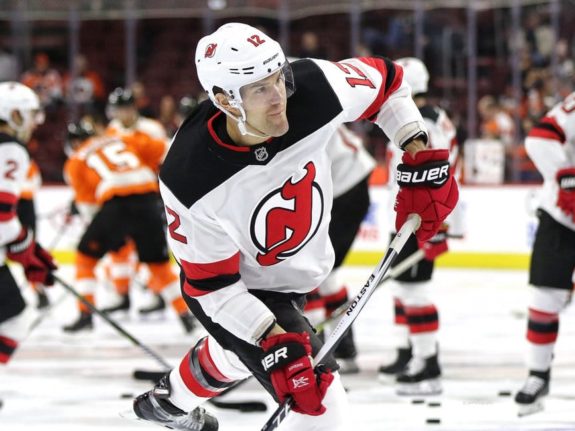 "Will Butcher is such a smart hockey player, his hockey sense is awesome. He's a very good skater and awesome passer. He's got an average shot (grins), maybe even below average. But he puts himself in situations to succeed, always in the right place. Clearly elite offensively, but always in the right place defensively. He was a pleasure to play with. Playing defense in this league is really hard, it's really hard to be consistent. For him to do that the first year out of college was incredibly impressive."
Will Butcher:
"I learned a lot (this season). I think when you play in the best league in the world there are so many things to learn and try to take in (during) your first year. Coach Hynes said it pretty well a couple of days ago when he said 'I'm really proud of what we've done, but not satisfied in the sense of we want to win a Cup.' This organization, this group of guys here really wanted to keep playing. I think it's something to build on for next year and take what I learned to grow with this team and grow with this organization."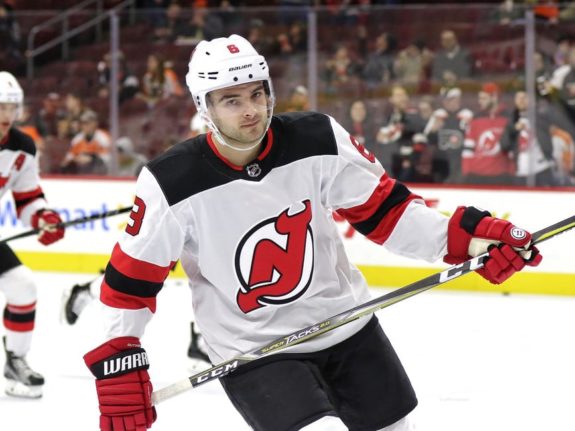 "I'm not going to complain about minutes or anything coming in here as a first-year guy (smiles). The coaching staff was unbelievable with me, management had a plan for me. That's one of the reasons I came here, they had a plan for me and wanted to see me succeed. I'm grateful for every minute I got. You obviously want to be on the ice as much as you can and that's something I want to grow in my game."
Blake Coleman:
"Travis (Zajac) is one of the best two-way players in the game and him being at center makes your job really easy as a winger. You know he's going to be responsible, he's going to turn pucks over and get the puck to you. Noes (Stefan Noesen) really embraced his role as a shutdown guy that can also score around the net. I thought the three of us played against the best players in the NHL during the last month of the season and there weren't many nights where we were disappointed. I thought we were really strong on a lot of nights and I thought we shut down teams pretty well. Obviously, it was a lot more fun when we started scoring there towards the end and helping the team win big games. Hopefully, we'll all be back next year and we can build on that momentum."
#NJDevils forward Blake Coleman just casually drinking out of a pickle jar in the penalty box. pic.twitter.com/JkU6uIJpJN

— Complete Hockey News (@CompleteHkyNews) October 7, 2017
"I think every day, every game you play in the league you're learning something new. For me, it was a little bit of poise around the net, just patience. Understanding how good the goalies are in the league. It wasn't a lack of chances, I thought they were there all year. Whether it was 5-on-5 or on the PK I seemed to get a lot of opportunities. It was nice to see pucks start falling towards the end of the year. My goal is to pick up where I left off and have a strong start to next season."
Marcus Johansson:
"I think we took some big steps in the right direction to where this organization wants to be and unfortunately it ended earlier than we wanted it to, but I think we can be really proud of what we did. We're not happy with it (the result) but we're proud of it and we just have to keep moving in the right direction."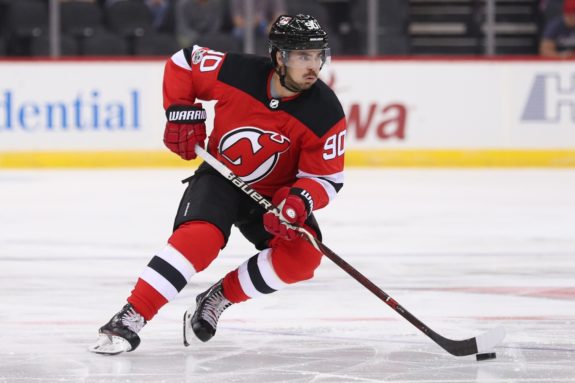 "I think you always are (concerned for your long-term health) when you get hurt, wondering how long it's going to be and what's going to happen. But once you're fine you kind of let that go, you just play again. I'm really happy I got to that point. It took a little longer than I wanted it to but that's the case with head injuries. I'm just glad I could get back out there and play a few games and prove to myself that I could."
Taylor Hall:
"It's a sad day, it's the last time you see everyone, the last day you're at the rink. It was good times in here this year and overall a successful season. It's sad to be leaving, sad to be packing up your gear and heading home (for the summer), but we have a lot to be proud of for sure."
It was a pleasure to play in front of you all season @NJDevils fans! Thank you for your amazing support. See you next year! pic.twitter.com/wP2iYPiQIX

— Taylor Hall (@hallsy09) April 23, 2018
"Not to say I was surprised with Nico's season this year but just how he was able to withstand the rigors of a full season. Being a first-line center and playing against the top players night-in and night-out; how he handled that, I'm so excited. Not only to play with him as a linemate but just to see his growth as a player – the sky is the limit for him. He's got a great work ethic, he loves the game, he plays the right way. You put all of those things together and it's really exciting to see what he can do."
"We won one game in the playoffs, so as much as this year was a success we still have a long ways to go. I think as we start adding more pieces and guys get more experience and improve as players you'll see improvements in the team."