On July 1 one of the first confirmed unrestricted free agents to sign with a new team caught everyone off guard. Brian Boyle is signing with the New Jersey Devils? The Devils finished at the bottom of the East standings last season, why would Boyle – who played in two Cup Finals (New York Rangers, Tampa Bay Lightning) – choose to sign with the basement-dwelling Devils? "At the end of the day, they told me I was needed, which is a great thing," he said after officially signing with New Jersey.
"You don't set out to lose. You have to believe in yourself and you have to believe in the team," Boyle told The Hockey Writers following a win that moved the Devils two points away from a playoff spot being locked up. "There were pieces here, there was enthusiasm here, and I've played against enough of these guys that I know what they can bring. I thought I would fit well into it and we've progressed throughout the year; we've gotten better and it's fun to be a part of it."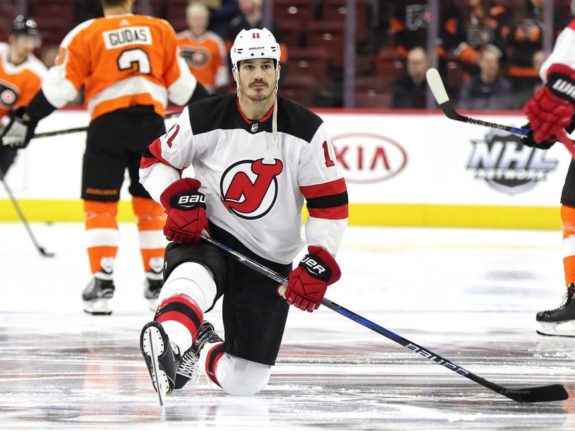 #BoyleStrong
The 33-year-old Boyle has been a participant in the past seven postseasons, so it's a fair question as to why he would choose to sign with New Jersey when there may have been 'more attractive' opportunities to sign elsewhere. All he's done is inspire a fan base while chipping in 23 points in 64 games as the anchor of the Devils' bottom-six group, and he's been among the team's best in the face-off circle all season long.
"I knew where they were as a team. I knew where they finished. I just, for the most part, focused on what the opportunity was – and that's all-encompassing," said the Masterton Trophy nominee for the Devils. "For me, for my family; in July, thinking back that far. What that means, for someone like me – it's no fun losing. You play your best in bigger games when games mean something, I think. That's something that I was confident in, that we'd be able to do. We've been progressing like I said; we've gotten better as the games have gotten bigger and bigger. We've found a way to improve and we're going to continue to do that (going forward)."
Boyle, Stamkos highlight Masterton Trophy nominees https://t.co/qNguOGI5j4 << Info Here pic.twitter.com/dOzOkNluUn

— NHL Now (@_NHLNow) March 27, 2018
Boyle's most significant contributions on the scoreboard came following his return to the ice following treatments for Chronic Myeloid/Myelogenous Leukemia (a largely treatable bone marrow cancer) on November 1. From the end of November until the Christmas break he racked up 14 points (9g-5a) over 15 games — including two game-winning goals. Fittingly, he scored a goal on Hockey Fights Cancer Night at the Rock on November 24.
Playoff Push
"We're all on the same page. We're trying to perform and get better; this is a great sign of trying to improve and tighten things up. We're being challenged to improve," Boyle said after his team's 5-2 win over the Rangers. "We've played some games that we've won where we haven't played necessarily quite as good as we've wanted to in certain areas. We understand big picture that we need to tighten that stuff up. We're a motivated group and it's fun to be a part of."
With only two games left the Devils can almost taste the NHL playoffs, but as Boyle said there is still work to be done before they can feel any sense of accomplishment. Regardless of how it plays out, New Jersey and Boyle have benefited each other in a great partnership in a myriad of ways. Whether it's helping young players like Nico Hischier and Pavel Zacha learn how to take face-offs or if he's scoring a shootout goal to snap Nashville's double-digit win streak, Boyle has been a fantastic fit.
Related: Brian Boyle's Emotional Rollercoaster
"This was a big game against a big rival and we were able to focus on the task at hand," said Boyle of the win over his former team. "There were two points up for grabs, that's all we could get tonight, and we got them. All we can focus on is what we can control.