There was a different atmosphere around the New Jersey Devils this season than those in the past. It could have been the team-bonding trip that preceded the 2017-18 season. It may have been an influx of young, top-end talent that took the next steps in their growth and progression – all at the same time. But maybe it started before all of that. Maybe it started with the embarrassment of the previous season, and the bad taste that it left in everyone that returned for the current one.
"There were days that we were further away than we'd like (from the playoffs), and some years we were a little bit closer," said captain Andy Greene, who is one of two current Devils (Travis Zajac) that were with the team when they last made the playoffs. "We have a lot of trust in this organization; in Ray (Shero) and his team, Fitzy (Tom Fitzgerald), (John) Hynes and the coaching staff. Everybody, right down from the top."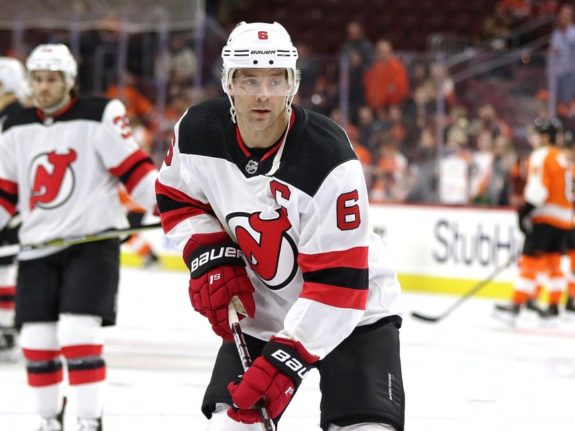 "It takes a lot of trust; it's a process and obviously you want it to happen right away but sometimes you hit some bumps and bruises along the way. Once you get there, it's that much sweeter," added Greene.
New Season, New Devils
On the ice, the team got faster, younger, and added more skill to their lineup, jettisoning out older, slower players that were no longer a fit in the new-era NHL. Taylor Hall (93 points) had his best season as a pro, and one of the most productive seasons that any skater in a Devils uniform ever has. Fellow no. 1 overall pick Nico Hischier (20 goals/52 points) rode shotgun alongside Hall all season long as a rookie and was the only player on New Jersey to play in 82 games. Will Butcher (44 points) missed one game, finished with the most points and the most assists (39) ever for a Devils rookie defenseman, and was tied for third on the team in points.
Marcus Johansson (14 points) only played in 29 games due to various injuries but young players like Jesper Bratt (35 points), Miles Wood (20 goals/32 points), Stefan Noesen (27 points), Blake Coleman (25 points), and Pavel Zacha (25 points) chipped in all season long to offset his loss. Kyle Palmieri racked up 24 goals despite missing time with various injuries, his third 20-goal season in three seasons with the Devils.
"I'm feeling good man, pretty excited. We hung on and we're going dancing," a grinning Blake Coleman told The Hockey Writers after the Devils clinched a playoff spot with their 2-1 win over the Toronto Maple Leafs. "Going into the postseason you need everybody going and you need four lines to score."
Unsung Heroes
Zajac and Brian Boyle were key players at center after each missed the early part of the season – whether it was taking face-offs, killing penalties, or matching up against an opponent's stars, they were invaluable. In addition to Butcher's promise on the blueline, New Jersey was able to flip Adam Henrique to Anaheim for defender Sami Vatanen and the Finn gave them the top-pair d-man they've been craving for a long time. 
"This is the most fun time of the year, you can play the real games now," Vatanen said after the clincher. "This is just the start for us."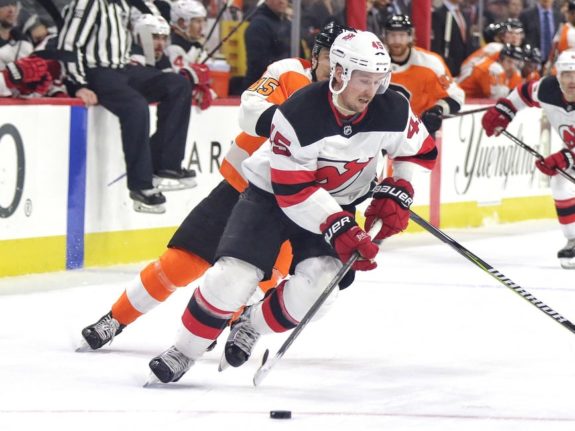 They added more veteran depth to their forward group when they acquired Patrick Maroon (13 points/17 games) and Michael Grabner (5 points/21 games) without sacrificing any major assets, and it also added more of an internal competition amongst players who are vying for playing time. 
In goal Cory Schneider led the Devils to a fantastic record over the season's first three months, racking up 17 wins and once he was felled by an injury Keith Kinkaid stepped in like Tom Brady for Drew Bledsoe and led New Jersey to a playoff spot with a 26-10-3 record in 41 appearances – including 16-3-1 over his last 20 games. Eddie Lack even picked up a win when he made a million saves (48 on 51 shots faced) against the Lightning in Tampa Bay.
In Kinkaid We Trust
"It's all of the guys in this locker room, whether you're in the lineup or out of the lineup," Kinkaid humbly said after the Devils punched their ticket to the NHL playoffs. "Everyone's been so great with everything (this season). The fans were into it. That's an unreal atmosphere out there, you heard how loud they were. Everyone is doing all of the little things and when we do that, we're a hard team to play against."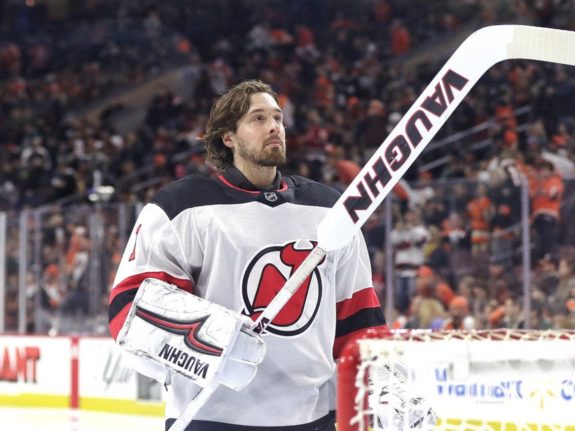 Vatanen admitted he didn't know anything about Kinkaid before he was traded to New Jersey from Anaheim. "No, not really," he said. But he knows with a hot goalie comes the all-important M-word once the 'real games' start. "We have the momentum right now. I think it's just the start for us; we just focus on the next game and that's it. We go game by game, I think we have a talented group here and I think we showed everybody we can play (with anyone)." 
Everyone that played a game with the Devils this season, all 34 of them, from Hischier in all 82 to Kevin Rooney who only played in one, they all played a part in this team reaching the postseason for the first time since 2012. They believed in each other when no one else did. They were picked to finish last again, Hall is a bad teammate, blah blah blah. They heard it all, and they didn't care about it anymore. All they cared about was each other, getting the best out of one another and giving their all every night.
NJD vs. Everybody
"We can play with anyone. We can battle with anyone. It doesn't matter where, or what team," added Kinkaid. "We've gone into some tough buildings and dominated the play. Playoffs will be a different atmosphere and everyone ramps up their game but I think we'll have no problem with that. We have a lot of assets on this team."
No one saw it coming. We did. #NowWeRise https://t.co/eiALmXb5jK

— New Jersey Devils (@NJDevils) April 6, 2018
"Confidence goes a long way, and it's been a fun ride," the 28-year-old Kinkaid concluded with a smile.
There were very few games during the 2017-18 season that the Devils didn't have a chance in, whether it was bad bounces, or an opponent playing at the top of their game. You could probably go through the schedule and count them on both hands, which was a far cry from the previous seasons.