Successful NHL teams need that minutes-muncher on defense. Someone that can play in all situations, can change the outcome of a game with a shot, or a block, or by extinguishing a potential scoring chance. The New Jersey Devils finally got one of those ever-elusive d-men when they acquired Sami Vatanen from the Anaheim Ducks over three months ago.
But to get something, you have to give up something and in this case, the something they gave up was fan-favorite Adam Henrique. There were other aspects to the deal (draft picks, Joe Blandisi) but the meat of the deal was a top-9 forward for a top-pair defenseman. After a somewhat rocky start, Vatanen has fit like a glove with the Devils' up-tempo style that has them gunning for their first playoff appearance since 2012.
Both teams got what they needed in the deal. The Ducks had a surplus of defenders and couldn't pay them all, while the Devils have had an influx of young, rising talent that GM Ray Shero has acquired one way or another and Henrique simply became expendable because he was playing third-line minutes and making a decent chunk of change.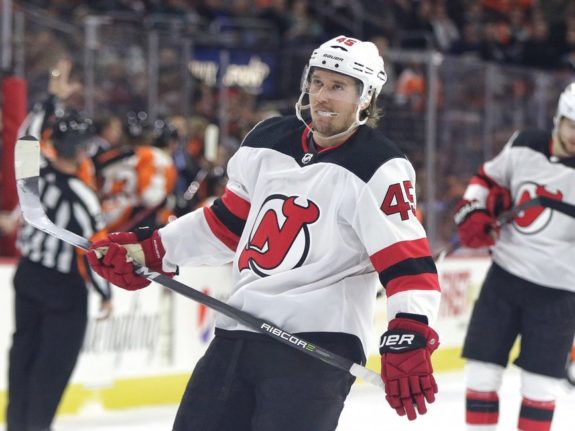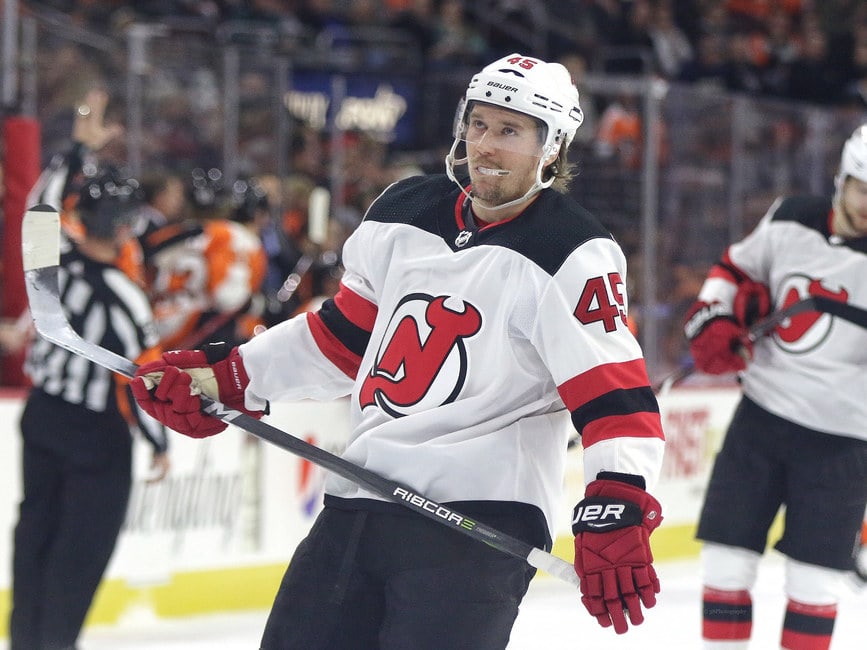 Vatman Begins
Henrique was the White Knight in New Jersey. He could do no wrong after his overtime goal in Game 6 of the 2012 Eastern Conference Final sent the Devils to the next round and their biggest rivals, the New York Rangers, home for the summer. He was in some ways the face of the franchise since the departures of players like Zach Parise, Ilya Kovalchuk, and Martin Brodeur. Sure Patrik Elias was still around, but Henrique was more front and center, be it on social media or charitable events or posing for pictures with fans that had already taken pictures with him numerous times over the years.
The backlash from some fans was loud. Loud enough to see and hear whether you are a fan, writer, or team employee. Vatanen wasn't the hero the fans wanted, but he was the one that they didn't know that they needed. He was taking the unwarranted blame from some supporters because he hasn't scored 20 goals yet and Henrique scored in a bunch of games in a row on the West Coast. He is the Dark Knight because he can take it all. He can absorb all of the hits, on and off the ice, and he can keep on going.
Power Play Goal by Sami Vatanen (3) with assists by Patrick Maroon and Taylor Hall#VegasBorn 1#NJDevils 1#NJDvsVGK pic.twitter.com/MMnihOepUt

— TRSN Vegas (@TRSNLasVegas) March 4, 2018
"I think he's gotten more and more comfortable each game and practice around the guys. To get traded in the middle of a season and come into a new situation, fortunately for him he knew a few guys here that he played with before (in Anaheim) and that helps him a little bit," Devils captain Andy Greene told The Hockey Writers about Vatanen joining the team on the fly. "You just try to make him feel comfortable, welcome, and obviously he's a great player; that part takes care of itself."
Vatanen has often been paired alongside Greene and his play has allowed the coaching staff to ease off of Greene's minutes, therefore making him more effective since December. "It's been working very well for us. We've played together for a little while now so we know where each other is and he's very good at playing defense. He looks so calm on the ice, sometimes I'm not sure if he's sweating or not in the games, you know?," one of the newest Devils said with a chuckle. "He just plays in the right spots and he's always there; you can count on him."
The Dark Knight Rises
The 26-year-old Finn now has 26 points (3g-23a) over his first 46 games with New Jersey to go along with the four points (1g-3a) he had in fifteen contests with Anaheim. *In 47 games with the Ducks Henrique has 28 points (16g-12a). But as he nears his return to The Pond he knows he can be better, and just imagine how much better he will be when he goes through a full training camp with the Devils.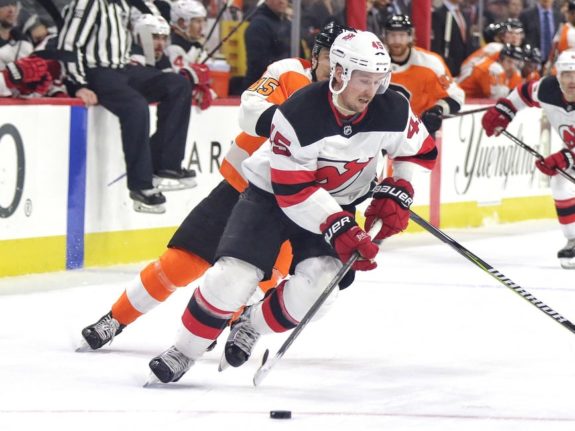 "Last year wasn't a very good year for me, nor was the start of the year this season," Vatanen told THW. "I have much more expectations for myself than what I was producing there, and even starting here. But you know, after you get a couple of points and a couple of wins with the team – your confidence is going up and you just start to play the game again."
His career-high of 38 points (2015-16) would likely have been surpassed this season if he was healthier at the start, but there is no doubt that the future is bright in New Jersey for Vatanen. With 13 points (2g-11a) over his past 13 games and at least one shot on goal in each of the past 12 games, you could say that the Devils have gotten exactly what they wanted when they made the trade for the Dark Knight.
"You always try to be better than yesterday regardless, and that's always been my goal. It's been going well right now but it takes hard work to keep it going and it's always a long season," he said following the last home game before the team embarked on a monster, six-game road trip. "I can't wait for this last push, it's the best time of the year to play hockey. Every point matters and we want to be in the playoffs, there's nothing better than that."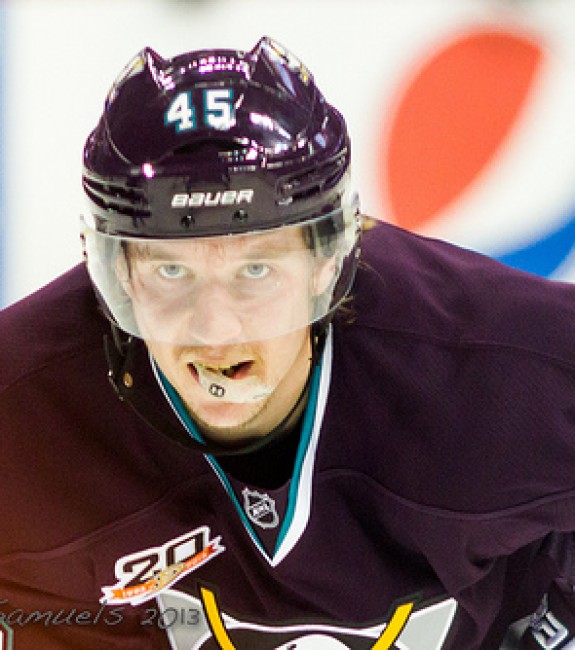 Goin' Back to Cali…
We're now at the part of the Devils playoff push that rolls through California, and the second stop there is back in Vatanen's old stomping grounds in SoCal. "Of course I have a lot of friends there so it's really exciting. I'm looking forward to going back there and see the boys who I played with. Just to play (again) at that rink, it's going to be very exciting. Of course, after this week's weather and what happened here today it will be very fun to go back to the sun again," he said with a smirk, referencing the winter storm that dumped a foot of snow on parts of New Jersey.
In December, weeks after the trade, the Ducks and Devils faced-off at the Prudential Center. Henrique had a highlight reel goal and Vatanen picked up an assist and the all-important win. "I have to say it was actually pretty fun last time (a 5-3 Devils win in December) when we played here," Vatanen told us. "Of course it's a little bit more excitement, but you know they're your good old friends and it's always fun to have a little competition with your friends."
#MondayMotivation "The night is darkest just before the dawn. And I promise you, the dawn is coming." The Dark Knight (dir, Christopher Nolan, 2008) 🎬 pic.twitter.com/f2yxlLHO22

— Danny Kilbride (@ThinkingFilm) February 12, 2018
It's always darkest right before the dawn, or something like that. After a dark period, the Devils have surprised many this season, and appear to have turned the corner towards being a contender again. But first things first, making the postseason is on deck and the Dark Knight is happy to be a part of this group that could have more surprises in store if they do indeed clinch a playoff spot over the next month.
"We have a couple of young guys here who are in their first year and playing unreal hockey right now," a smiling Vatanen said. "We have a good group of guys – veterans and younger guys – so I think we have a bright future here, and we're doing pretty well right now."