It has been five seasons since the New Jersey Devils qualified for the NHL playoffs but it has felt much longer than that. The reason is partly because that Stanley Cup appearance in 2012 was the Devils' lone meaningful playoff run in the past 14 years, since their 2003 Stanley Cup victory.
Between then and now fans have seen four first-round exits, two second-round exits and only five series won in total. It has been a tough stretch, to say the least. The Devils were elite for a decade and have been the opposite ever since. Fortunately, they finally seem to be turning a corner. So let's take a look at how they were able to do this after such a long period of time.
Passing of the Torch
Lou Lamoriello built several incredible rosters over his long tenure with the Devils. With him in charge Jersey's team went from a laughingstock to a perennial powerhouse. Three Stanley Cups in four appearances over nine years is certainly dynasty-worthy and deserves praise. Unfortunately, it all seemed to go downhill after 2003.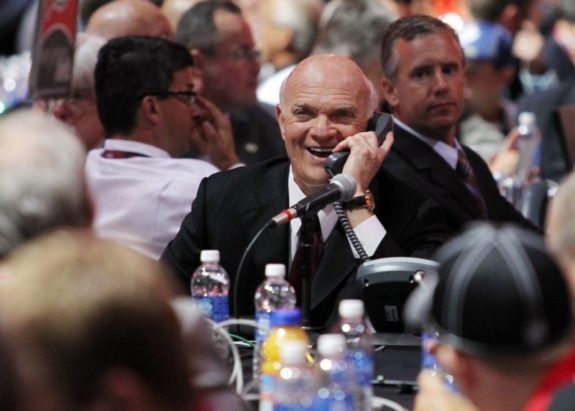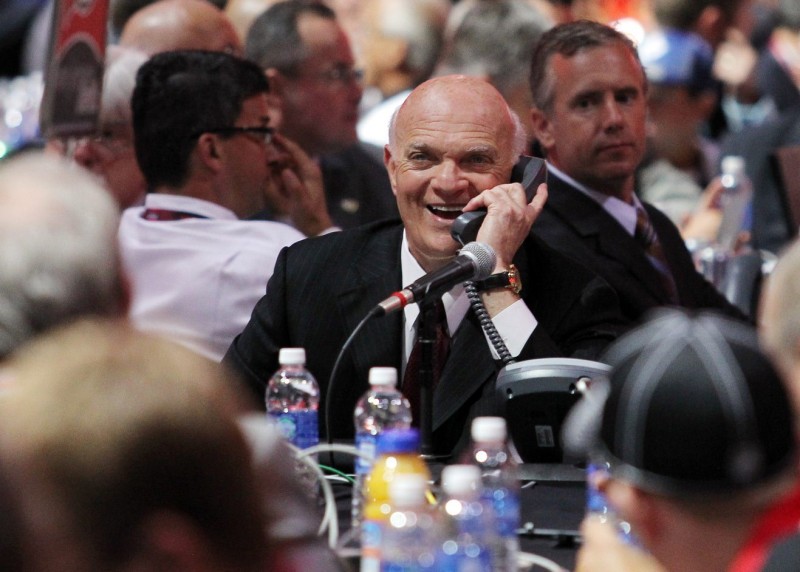 It seemed to be the same story every year. The Devils would draft poorly, make several less-than-stellar free-agent signings and would have trouble retaining their stars. The reasoning behind this was simple. Lamoriello would have to sign veteran players long past their prime to be difference-makers because the Devils had no prospects to take the place of stars who were continually leaving. It was an almost comical circle of life in New Jersey.
There were some bright spots during this period. The Ilya Kovalchuk acquisition was a masterclass in how to trade, as the Devils gave up almost nothing in hindsight. The same could be said for the Cory Schneider trade.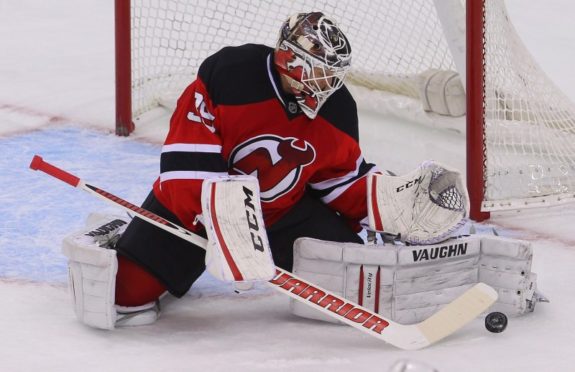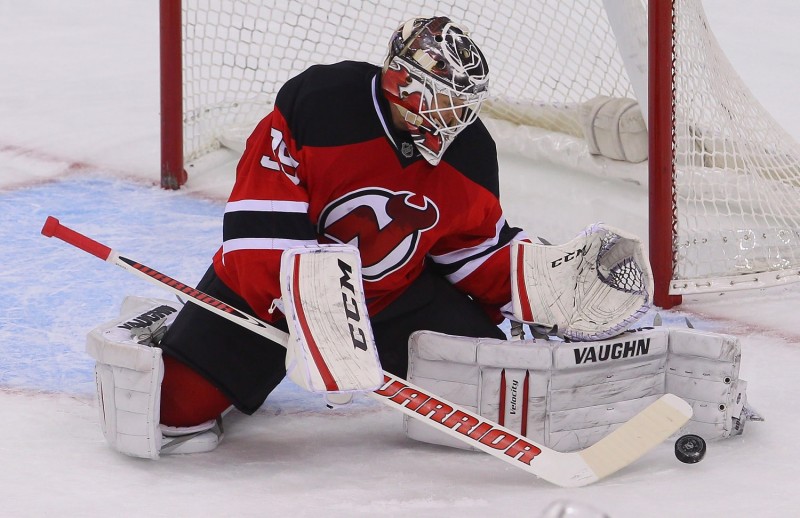 However, these moves were not enough to save a sinking ship. With Zach Parise, David Clarkson and Kovalchuk bolting home in a two-season span and Patrik Elias, Petr Sykora and Martin Brodeur all nearing the end of their careers, the Devils were stripped of all the major pieces that took them to the Cup in 2012. The team's future was bleak. The same formula was clearly not working for Lou and the Devils. A new direction was needed and it came in the form of Ray Shero.
Shero's Quick Turnaround
It is crazy to think how quickly Shero was able to transform this roster. If you had given me two seasons on NHL 15 and told me to acquire Taylor Hall, Kyle Palmieri, Marcus Johansson, Mirco Mueller, and Brian Boyle with the Devils' assets, I would have told you it was impossible, even if it was on easy mode. Shockingly, that is what Shero has done. A former first-overall pick, two top-six forwards, a promising young defenseman and a proven, veteran center are all great gets in such a short span.
The best part? They all fit what the team is trying to do. Shero did not overpay for any of these players, they are all young (besides Boyle) and they are all locked up for at least another year. No more veterans that do not pan out—youth is the name of the game now. Combine them with the young talent added in the last three drafts and you have a team on the rise.
Hischier Leads Young Talent
Nico Hischier, the new face of the Devils, leads the way for the talented prospects the Devils have nabbed over the past three years. The Swiss center was incredibly impressive throughout the 2016-17 season and beat out Nolan Patrick for the top spot.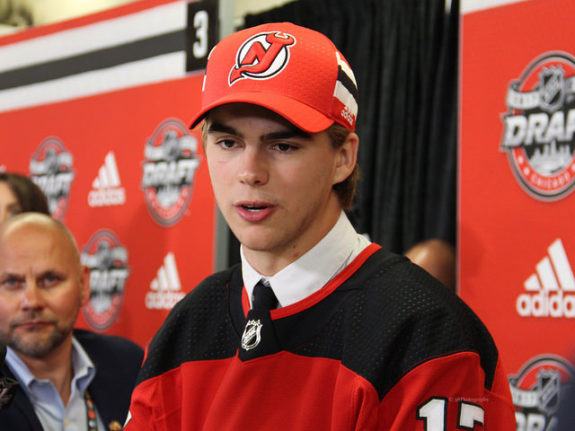 I am not going to say it was Shero's presence that made the Devils lucky enough to land the first pick; I think that credit goes to Hall.
Officially adding "NHL lottery ball specialist" to my hockey resume.

— Taylor Hall (@hallsy09) April 30, 2017
Either way, luck has returned to this team after seemingly abandoning it in 2012. Shero has taken this luck and has used it to build from within. All of the great teams in the NHL drafted most of their talent and the Devils have begun to do the same. Pavel Zacha is poised for a breakout year, Hischier should make the opening roster, and Mike McLeod and Blake Speers will battle for roster spots in September.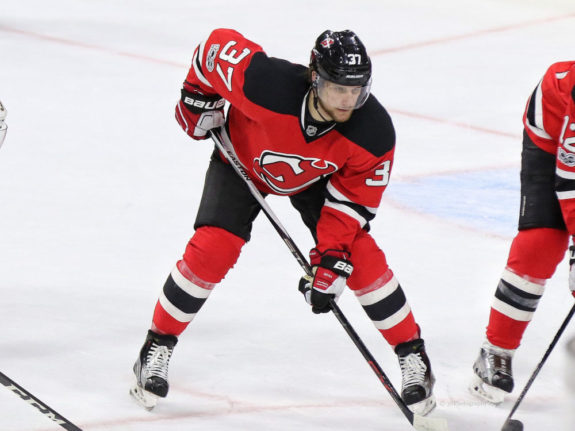 Other promising prospects include John Quenneville, Jesper Boqvist, Nikita Popugaev, Yegor Rykov, Nathan Bastian, Joey Anderson etc. Don't just take my word for it, take it from assistant general manager Tom Fitzgerald. With all the young talent in the system, it makes sense to get excited about the future.
Exciting Times in Newark
I am not sure if the Devils will make the playoffs next season, as the Metropolitan division is still insanely good. What I am sure of is that they will be a much more exciting team than in the past few years. There is skill throughout the team and several intriguing roster battles that will go on during training camp and the preseason.
Obviously, there is still work to be done. The defense still needs improvements but with Shero at the helm, I have faith it'll be addressed. Thanks to him, the Devils' long road to relevance (is it tacky to actually say the title in the finished product? Movies do it all the time, so I am going to say no) is finally coming to an end. Get ready for an exciting year, Devils fans, you have waited long enough.
I am a graduating senior at Marist College where I majored in sports communication. I played hockey for 13 years and have been an avid fan all of my life. I am honored and excited to write for the hockey writers!