This article was originally published in October 2014, and recently updated.
Since the New Jersey Devils' inception back in 1982-83, two players have earned the Calder Trophy honors. While a rookie skater hasn't won the award since 1999-00, the Devils have had rookies shine in recent memory.
Let's revisit the Devils top 12 rookie seasons.
Martin Brodeur, 1993-94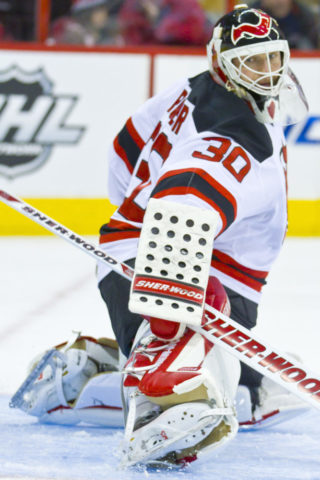 The most obvious choice for an impressive rookie season. Martin Brodeur became the first Devils rookie to capture the Calder Trophy, besting future teammate Jason Arnott in the process. Across 47 contests, Brodeur recorded a ledger of 27-11-8, a goals against average (GAA) of 2.40 and a save percentage of .915. He also registered three shutouts. His legend would only grow in the Stanley Cup playoffs, posting a 1.95 GAA while backstopping the Devils to within five wins of their first title.
Scott Gomez, 1999-00
I do own an old Albany River Rats program which features Scott Gomez. However, he would never spend a day in "the A." He became the first Devils forward to earn the Calder Trophy and helped New Jersey win its second Stanley Cup. Suiting up for all 82 regular-season contests, he beat out Brad Stuart for the honor.
That season, Gomez was quite the playmaker, collecting 19 goals and 70 points in all, a franchise-best for most points by a rookie. Teaming up with Alexander Mogilny in the playoffs, Gomez recorded another 10 points and netted a pair of game-winners against the Florida Panthers and Toronto Maple Leafs for New Jersey.
Nico Hischier, 2017-18
After winning the 2017 NHL Draft Lottery, the Devils were awarded a first-overall selection for the first time in team history. New Jersey and then-general manager Ray Shero didn't disappoint with the coveted pick when they selected forward Nico Hischier.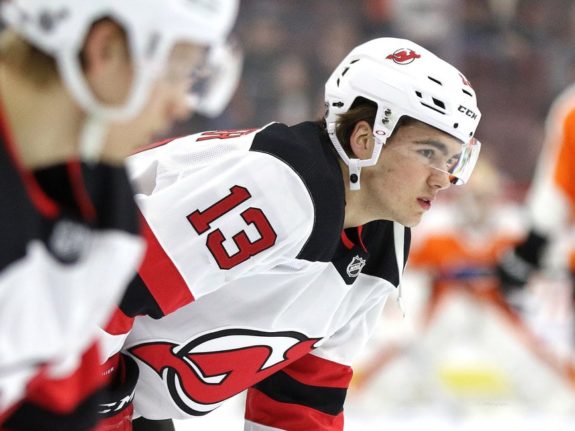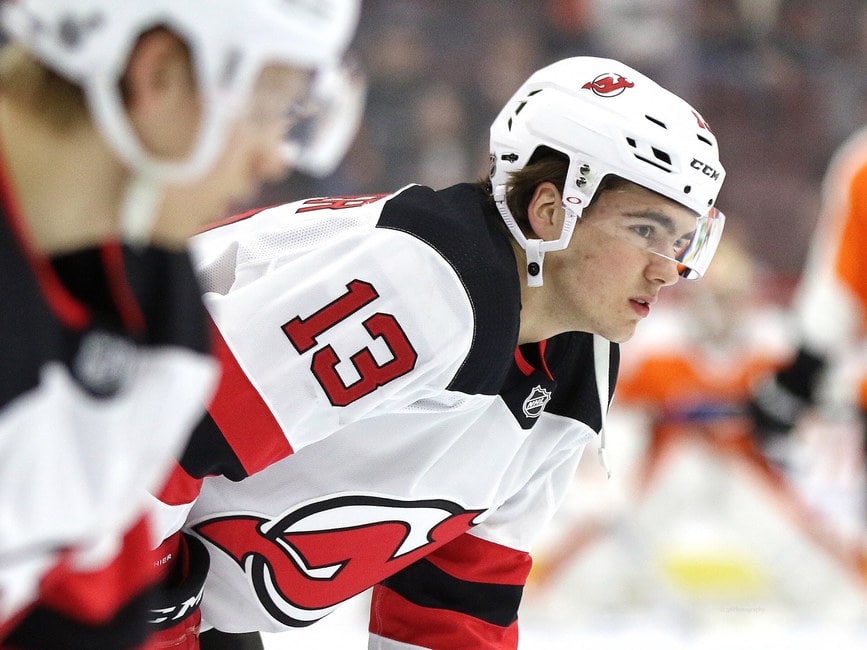 The Switzerland-native dressed in all 82 regular season games in 2017-18 and was a key reason why New Jersey clinched a berth in the Stanley Cup Playoffs for the first time since the 2011-12 Stanley Cup Final run. Hischier's 52 points were the most by a Devils rookie since Gomez's 1999-00 campaign, and his 20 goals tied Pat Verbeek for second-most for freshman skaters.
Adam Henrique, 2011-12
It was a special year filled with clutch heroics for the rookie Henrique. Playing 74 games, he potted 16 goals and 51 points in all. Finishing third behind Gabriel Landeskog and Ryan Nugent-Hopkins in Calder Trophy voting, Henrique led the NHL with four shorthanded goals and added three game-winning tallies.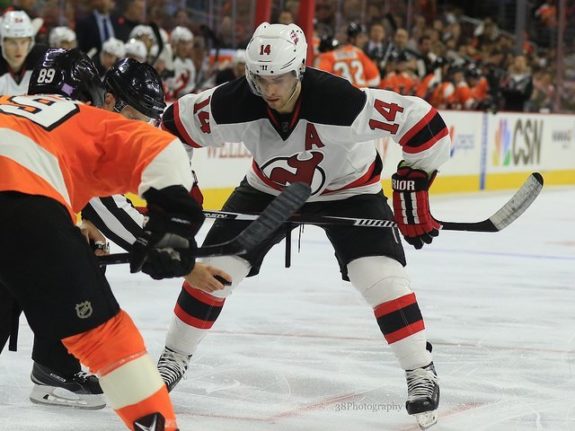 The game winners would keep coming in the playoffs, as he netted three in his second NHL season as well. Along with 5 goals and 13 points in the postseason, Henrique also netted a series-capping goal in overtime of Game 7 against the Panthers in the opening round and an overtime goal in Game 6 of the Eastern Conference Final against the New York Rangers, sending the Devils to the Stanley Cup Final.
MacKenzie Blackwood, 2019-20
New Jersey hadn't relied on a young rookie netminder to take over the crease full-time since Brodeur in 1993-94. MacKenzie Blackwood shined during his rookie campaign in 2019-20, and was earning consideration as a potential 2020 Calder Trophy candidate prior to the season's pause.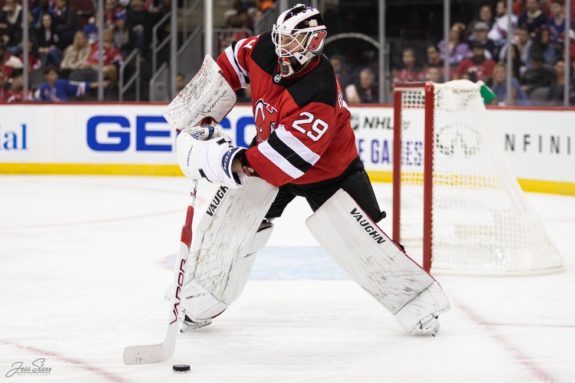 The 2015 second-round draft pick recorded 22 wins and was on pace to break Brodeur's rookie record of 27 victories. After the team's play in front of No. 29 struggled all season, Blackwood arguably carried the Devils, and his performance in the net consistently kept them from getting blown out more often than not. His three shutouts also tied Brodeur and Sean Burke for the team's rookie record. The future is bright between the pipes in New Jersey.
Brian Rafalski, 1999-00
A bit of a late bloomer and a non-drafted free agent, Rafalski was quite the find for Lou Lamoriello and New Jersey. Perhaps discounted because of his size, Rafalski came up big time for the Devils blue line. Across 75 games, he netted 5 goals and 32 points, including 7 on the power play.
The puck rushing defenceman finished 11th in Calder voting. Helping the Devils to their second Stanley Cup, he recorded eight points, two goals, including one game-winner against the Panthers.
John Madden, 1999-00
Like Rafalski, John Madden was another non-drafted gem out of a Big Ten school. A year after notching an Albany AHL franchise-record 98 points, Mad Dog showcased his two-way play for New Jersey. Finishing 17th for the Calder and 13th for the Selke Trophy, he paced the NHL with a franchise-record six shorthanded tallies. In 74 games, he netted 16 goals, along with three game-winners. Assisting the Devils in the run to their second Stanley Cup, Madden registered three goals, seven points and was a shutdown forward. During those playoffs, he also scored a pair of game-winners, one against the Maple Leafs and the other in Game 4 of the Stanley Cup Final against the Dallas Stars.
Patrik Elias, 1997-98
Having gotten a few cups of coffee with the Devils, Elias emerged as a fixture in the lineup for good. Finishing third for the Calder Trophy, behind Sergei Samsonov and Mattias Ohlund, Elias was a boon to the Devils offense. In 74 contests, Elias scored 18 goals, 6 of which were game-winners.
While the Czech Republic native skated with Hockey Hall of Famers in his freshman season such as Dave Andreychuk, Doug Gilmour and Scott Niedermayer, Elias did finish sixth on the team with 37 points and his 18 tallies were good for third-most.
Kirk Muller, 1984-85
No, he wasn't Mario Lemieux but Muller did have a very representative rookie season. Finishing sixth in Calder Trophy voting, Muller played in all 80 regular-season games, netting 17 goals and 54 points. Nine of those goals came on the power play.
Muller's 54 points also ranked fourth on the squad and only three shy of Aaron Broten for second. Let's not forget that his 37 helpers were a rookie record for the Devils until Kevin Todd passed the feat in 1991-92. What was arguably most impressive about Muller's rookie campaign were his 30 points on the road (9 goals, 21 assists), which again, stood as a team record until Todd surpassed it.
Petr Sykora (1995-96)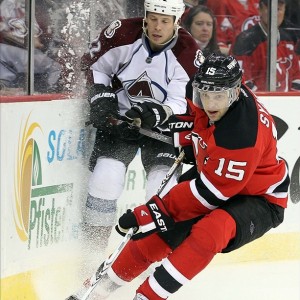 Sykora was a bright spot for the Devils that season. In Calder Trophy voting, he was seventh, behind eventual winner Daniel Alfredsson. Across 63 games, Sykora netted 18 markers, including 8 on the power play, and totaled 42 points.
The Czech Republic-native provided a sense of confidence for a Devils team that struggled to score goals that season and failed to clinch a berth in the postseason. New Jersey finished in second to last for goals for with 215. But with Sykora now in the mix full-time, the future seemed bright on the offensive side of the puck. The winger was also just three goals shy of tying New Jersey's rookie record which is still currently owned by Todd.
Colin White, 2000-01
While White was a member of the 1999-00 Stanley Cup-winning team, he was officially a rookie the following season. In his first full season, he played all 82 games on the blue line for the Devils, posting a career-best plus/minus rating of plus-32. He logged 20 points and his one goal was a game-winner. He also racked up a career-high 155 penalty minutes. In Calder Trophy voting, he finished sixth, behind Evgeni Nabokov. That season, White and the Devils finished one win shy of a Stanley Cup title.
Scott Niedermayer, 1992-93
I could've taken Pat Verbeek and his 20-goal rookie campaign, but I'll go with Niedermayer here. As a 19-year-old rookie blueliner, Niedermayer was a plus-eight and registered 40 points in 80 games, including 11 goals. He also helped out immensely on the power play, with 5 goals and 14 helpers with the extra attacker.
The eventual 2003-04 Norris Trophy winner's 14 power-play assists ranked third on the Devils, while his plus-eight rating was good for fifth on Jersey's team. No. 27 seemed to have created time and space for his fellow teammates with his blazing speed and abilities to move the puck up ice. The future Hockey Hall of Famer was a pleasant surprise on defense for a team that lacked finesse skaters prior to this campaign
It seemed that most rookie skaters who recorded notable seasons with the Devils all won at least one Stanley Cup with New Jersey. That should bode well for the Devils' future considering the team has all-star potential down the middle of the ice with Hischier at center and Blackwood between the pipes.