The Pittsburgh Penguins are fresh off of a disappointing first round playoff exit where their goal scoring, uncharacteristically, dried up. It was later revealed that forward Evgeni Malkin had an ankle injury, David Perron had a rib injury and Patric Hornqvist was playing with a fully broken rib. Add on to that missing four of their top six defenders — Kris Letang, Christian Ehrhoff, Derrick Pouliot and Olli Maatta — and it's a miracle the Penguins even made the playoffs.
To make matters worse, Pittsburgh is projected to lose defenders Paul Martin and Ehrhoff to free agency. Ending the season the Penguins were older, slower and less productive than ever before.
First-year general manager Jim Rutherford has already acknowledged that the impending free agent class is quite weak, but the Penguins still need a top six forward, or two.
That means the Penguins will have to continue their active trade practices and make an offseason move or two.
The first potential team the Pens could negotiate with is the Edmonton Oilers. They already have the top pick in the draft locked up and will be able to select the dynamic playmaker Connor McDavid.
With this potential new addition, there has been speculation that the Oilers might try and trade some of their other young talent.
Taylor Hall to the Penguins?
Out of the two players I'll be discussing forward Taylor Hall is less likely to be acquired by the Penguins. Whether or not Edmonton would consider trading away one of their most productive players is yet to be seen, but it has not stopped the rumor mill from starting up.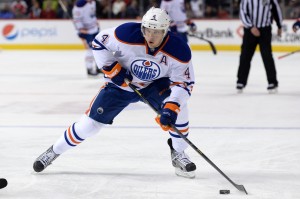 The 2010 first overall draft selection has played in 299 games, scored 106 goals, assisted on 157 more and is a career -11 skater.
2014-2015 stats: 53 games played, 14 goals, 24 assists, 38 points, -1 skater, 40 PIM, 3 powerplay goals, 8.9% shooting percentage
Just imagining Taylor Hall skating alongside Sidney Crosby is tantalizing. Adding a player like Hall would finally give Crosby a wing that actually matched his skill level.
Additionally, the line of Hall, Crosby and Jordan Eberle has been dominant at the IIHF World Championships, which shows that Hall could thrive alongside the "difficult" to play with Crosby. The trio has accounted for 23 points for team Canada and from all reports, Hall has enjoyed playing alongside Crosby.
What would Edmonton charge for Hall?
You can bet they would ask for more than the Penguins sent for David Perron (1st round draft pick and forward Rob Klinkhammer).
However, after the 23 year-old's rough season, his trade value might have fallen and this would be a blockbuster trade that Pittsburgh would not regret.
Hall has averaged over 20 goals per season on the offensively devoid Oilers. Like Patric Hornqvist before him, Hall's production most certainly would skyrocket given a full time opportunity alongside Crosby.
Concerns:
Taylor Hall is a great player and very few people would argue with that, but he has not proven to be durable throughout his career. In five seasons, Hall's most complete season was only 75 games played. With Pittsburgh's mysterious injury issues that occur almost every single season, should they add another player with known durability problems?
The other drawback of adding Hall would be the price the Penguins would have to pay and his contract. On the positive side, Hall is locked up through the 2019-2020 season, but it is at $6 million per season.
Outlook:
If by some miracle the Oilers would accept a first and third round picks, along with a goaltender prospect (Matt Murray or Tristan Jarry) I think the Penguins should take the trade, Hall's upside is too phenomenal to pass up.
AUTHORS NOTE 5/12/2015: I apologize and realize the mistake I made with the hypothetical trade offer, it is well below Hall's actual value. The focus of the article is not on the trade offer, but what each player could bring to the Penguins.
What about Nail Yakupov?
While Taylor Hall is a proven commodity, Nail Yakupov is not. Despite being the first overall pick in the 2012 entry draft, Yapukov has failed to consistently produce in the NHL.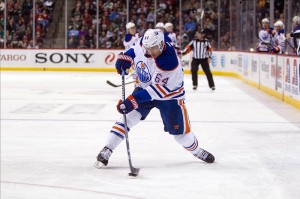 In 192 career games played, Nail has scored 42 goals, assisted on 46 more for a total of 88 points and is frightening -72 skater.
2014-2015 stats: 81 games played, 14 goals, 19 assists, 33 points, -35 skater, 18 PIM, 5 powerplay goals, 7.3% shooting percentage
If the Penguins were to acquire Yakupov he would most certainly play on the second line, alongside star center Evgeni Malkin. He is a skilled player who just has not transitioned very well, but there is still hope for the 21 year-old forward. The addition of Yakupov would finally give the Penguins a skilled wing to play with Malkin and he's a fellow Russian.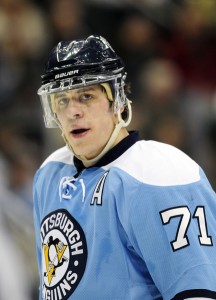 Yesterday on ESPN Pittsburgh (970 AM) the legendary Stan Savran brought Pittsburgh Tribune-Review Penguins beat reporter Jason Mackey on to talk hockey. The biggest takeaway from the show was that Mackey and Savran agree with the belief I've had for a while, the Pens need to acquire a Russian forward for Malkin.
Not just on the ice, but off the ice, someone Malkin can confide in and feel comfortable with because despite what the public thinks, the 28 year-old Russian center is not fully comfortable in America and has felt isolated at times.
What would Edmonton charge for Yakupov?
It's hard to gauge his trade value without actually talking to someone inside the Oilers organization. He is a player with the talent to succeed, but has consistently failed to deliver.
The bottom line is that trading for Nail would be very cheap for the Penguins and could potentially have a huge impact.
Yakupov recently re-signed with the Oilers on a two-year/$5 million dollar deal with an annual cap hit of $2.5 million.
Concerns:
What if Yakupov never pans out for the Penguins? The good news is they would not have had to pay much to acquire him.
He has a reputation of playing a weak defensive game, as evidenced by his career -72 rating and 2014-2015 rating of -35.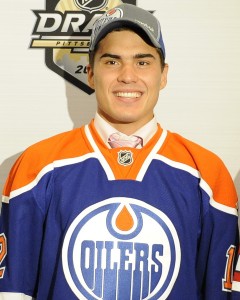 Frankly, Nail might need to see a sports psychologist like Penguins goaltender Marc-Andre Fleury did. From studying his game, he does not play a soft two-way game, but he's wildly inconsistent and mentally fragile.
Perhaps part of the problem is the Oilers have a .35 win percentage since his arrival and professional athletes hate to lose.
Outlook:
Unlike Hall, Yakupov would be a lost cost-high upside addition for the Penguins. He's effective on the powerplay, as he was second on the Oilers with 5 goals last season.
With the value the Penguins have traded away for rental players like Douglas Murray, Jarome Iginla and Daniel Winnik, it's hard to imagine them being unwilling to negotiate for him.
Summary:
Both of the mentioned players would aid in bolstering the Penguins forward depth and would easily fit given their salary cap constrictions. Hall is a high cost-high upside player and Yakupov is a low cost-high upside player, it is now time for Pittsburgh to decide what type of top-six forward they want.
An added benefit of adding either Hall or Nail is they both have experience playing with forward David Perron.
Pittsburgh might not execute trades to acquire either of these players, but it would be well worth their while to evaluate their trade values.
Stay tuned for Part 2 of Penguins offseason trade options.
Michael Pityk is an analyst who has written for numerous sites since beginning his professional career. He's acted as a credentialed member of the media for the Philadelphia Phillies, Philadelphia Flyers, Pittsburgh Pirates and the Pittsburgh Penguins. His work has been featured in Sports Illustrated, The Sports Journal, MSN, PensLabyrinth, Montreal Hockey Talk, ESPN Pittsburgh, The Hockey Writers, Todays SlapShot and The Bleacher Report. He formerly was the editor of Pens Labyrinth and an analyst for The Sports Journal. Michael presently acts as an NHL Analyst for The Hockey Writers