The Tampa Bay Lightning received some disappointing news Monday evening as their star forward, Ryan Callahan, underwent emergency appendectomy surgery.
Erik Erlendsson, the Lightning beat writer from the Tampa Bay Tribune reported Callahan's predicament.
Callahan reported pain/discomfort late this afternoon and was sent to Tampa General Hospital for testing where he was diagnosed wtih –>

— Lightning Insider (@Erik_Erlendsson) May 12, 2015
acute appendicitis and was immediately admitted for an appendectomy, went in to surgery around 9 p.m. and got out shortly after 10 p.m.

— Lightning Insider (@Erik_Erlendsson) May 12, 2015
For Bolts fans this is a major blow. Many cannot imagine Jonathan Druoin playing with anybody besides Callahan. The news of who will replace Callahan will more than likely come sometime today.
As of right now, it is being said that Callahan will be out indefinitely and miss the playoffs, but that could change. In the 2008 Nick Schultz had to have the same surgery when he was playing with Minnesota. He ended up missing only five games before he was back out the ice. One year later Jonathan Ericsson played a mere three days after his appendectomy surgery. Erlendsson himself said that he was sore for about three weeks before he was ready to be playing sports again. He added that he is the opposite of the highly tuned professional that Ryan Callahan is.
We have seen many amazing feats from hockey players from pulling out their teeth and returning to the game to Rich Peverley collapsing on the bench only to wake up and want to get back in the game. The playoffs are a time that add a lot of fire to a player's game, especially when the Lightning could possibly win the series tonight when they take on the Canadiens at home.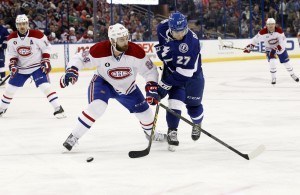 In the playoffs Callahan has three assists and is a team-high plus-7 in 12 games. He also had 24 goals and 30 assists in 77 regular-season games. Seeing him out will definitely put a damper in the team's plan to take it all tonight.
The Lightning will play tonight at 7:30PM on NBCSN and will hope to have this kind of celebration as the buzzer sounds to end the game.
Waking up on the morning of a game day ⚡️ pic.twitter.com/HvMRfYZ5Ue

— Tampa Bay Lightning (@TBLightning) May 12, 2015
UPDATE:
Several players have been named who may take Callahan's position. Those being named are Jonathan Marchessault, Mike Angelidis, Slater Koekkoek, and Luke Witkowski.
Lightning coach Jon Cooper did not rule Callahan out completely for tonight's game saying, "crazier things have happened,' but the return is still extremely doubtful. It still would be no surprise to see him play in the next game whether that be in Montreal against the Canadiens or against the winner of the Capitals/Rangers series.
On her previous stint with The Hockey Writers, Casey covered the Tampa Bay Lightning, but she has returned to take on the Carolina Hurricanes. Even though she is Steel City born, a former season ticker member with the Lightning, and lives in Orlando, the Canes have always been her favourite team. She started her hockey career as Keeper of Time for the California University of Pennsylvania Vulcan Hockey Club while going to school for Sport Management. She hopes to one day work with Hockey Ministries International as a team chaplain. You can usually find her tweeting about hockey or posting pictures on Instagram.