It's not that Edmonton Oilers forward Taylor Hall is expendable following the team's draft lottery victory last Saturday (in order to presumably draft Connor McDavid). It's that, if (and it's a big if) the Oilers opt to move one of their higher-end young stars in order to shore up the team's goaltending/defense, Hall alone possesses the unique combination of:
A huge salary/ salary-cap hit ($6 million)
A hugely disappointing last season (38 points in 2014-15)
A huge amount of marquee value and top-end skill
Needless to say, any deal involving Hall would be huge as well.
In fact, any deal involving any one of him, Nail Yakupov, Jordan Eberle, or Ryan Nugent-Hopkins would make for a blockbuster. However, Yakupov's value on the trade market would arguably not be high. Eberle is just coming off a stretch during which he scored 12 goals and 22 assists his final 33 games. And Nugent-Hopkins has arguably been more consistent over his career than Hall.
So, if general manager Craig MacTavish (assuming he ends up still being the GM), is looking to turn this ship around in a hurry (well, if nine non-playoff seasons constitutes a hurry), he may be able to rationalize moving Hall for a premier goalie. That is of course assuming that is deemed to be the more pressing need relative to the team's defense, with the Oilers having allowed 30 shots per game this season (20th best), but 3.37 goals against (the worst).
Without a blue-chip prospect in the pipeline and neither Ben Scrivens (.890 save percentage) nor pending-UFA Viktor Fasth (.888 save percentage) getting the job done, there is at least a reason to consider it, however fantastical trading a star like Hall may be.
If the Oilers wisely decide not to go the former-backup-with-another-team route again and don't land Boston University goalie Matt O'Connor (who is developing a reputation of letting in bad goals at worse times), here are three hypothetical trade scenarios that might end up working, in increasing order of likelihood:
Taylor Hall to New York Rangers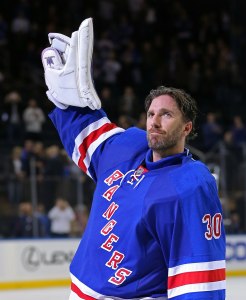 There are arguably only three teams in the league with a legitimate starting goaltender to "burn" so to speak. One is the New York Rangers, who arguably boast the biggest name of the bunch in Henrik Lundqvist.
With backup Cam Talbot shining in Lundqvist's absence late this season (21-9-4, .926 save percentage and 2.21 goals-against average) with a seventh of the cap hit, New York might decide that Talbot is not only a cheaper but better option and worthy of the starter's role and a long-term contract (UFA after next season)
To Edmonton: Henrik Lundqvist
To New York Rangers: Taylor Hall
Why it would work: The two teams are in opposite conferences and Lundqvist would immediately stabilize Edmonton's goaltending situation, only three years removed from a Vezina Trophy victory.
Why it wouldn't work: Lundqvist is three years removed from a Vezina Trophy and isn't getting any younger. He is 33 and that's usually around the age at which goalies start to decline. His save percentage has gone down from .930 in 2011-12 to .920 last year (it was .922 this year, but over just 46 games played). Lundqvist may very well be the goalie Edmonton needs, but for how long?
Lundqvist also has a no-movement clause, and as exciting as the prospect of playing behind Connor McDavid may be, the Oilers will probably be a few years away from competing seriously for the Stanley Cup (or at all, as it's far from a guarantee). Lundqvist probably wants to stay with a winner for however much time he has left. That's New York.
Yeah, it's also New York.
Taylor Hall to Tampa Bay Lightning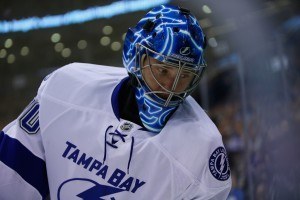 Tampa Bay Lightning starter Ben Bishop got nominated for the Vezina last year and is "just" 28. He also doesn't have one of those pesky no-trade clauses. And everyone has just about appointed backup Andrei Vasilevskiy the title of the next big thing (despite being just 6'3").
Admittedly, Bishop's .916 save percentage and 2.32 goals-against average leave a little bit to be desired, but last year he did post ones of .924 and 2.23 respectively. At 6'7", 209 pounds, he also covers a lot of the net. And who out there doesn't want to see a line featuring both Hall and Steven Stamkos (aside from Oilers fans, of course… and fans of every other team besides Tampa)?
To Edmonton: Ben Bishop
To Tampa Bay Lightning: Taylor Hall
Why it would work: The opposite conference argument again holds at least some water and both players have similar cap hits.
Why it wouldn't work: There is simply too much variance in Bishop's stats year to year to warrant giving up as much as a first-line player like Hall for him. It may be tough, especially for Edmonton, to get a legitimate starter in this league, but Bishop was traded for just a second-round pick in 2012 and ultimately to the Lightning for bust Cory Conacher (and a pick).
If Bishop were legitimately available, the Oilers should theoretically be able to get him for much less than Hall (Yakupov, maybe?) or have the Lightning throw in one of their umpteen ready-for-primetime prospects. And even then that's assuming Bishop would be able to step right in like he did in Tampa and dominate. Giving up Hall may not be worth taking the risk that lightning ends up striking twice.
Taylor Hall to Anaheim Ducks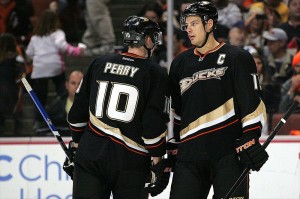 While Frederik Andersen is Anaheim's No. 1 goalie for now, he's almost on borrowed time with 21-year-old blue-chipper John Gibson chomping at the bit for a go. Andersen is no doubt a very good starter, but Gibson could very well be an elite goalie. The general consensus is it's not a matter of "if" but "when", and maybe "why not somewhere else."
Plus there's that whole elephant in the room of a potential Taylor Hall-Ryan Getzlaf-Corey Perry line combination. If Hall playing with Stamkos would be a sight to see, Hall playing with Getzlaf and Perry just might blind some people.
Anaheim has been looking for the perfect fit for its two stars for some time. Hall would fit in anywhere. It's not rocket science.
To Edmonton: John Gibson and Francois Beauchemin (limited no-movement clause) + a first-round pick or one of Sami Vatanen or Hampus Lindholm
To Anaheim Ducks: Taylor Hall
Why it would work: Even though the two teams aren't just in the same conference but the same Pacific Division, they have a history of blockbuster trades (see Pronger, Chris).
Why it wouldn't work: Again, these two teams have a history together (see Schultz, Justin). Even if you were to argue that the Pronger deal worked out well for both sides (Edmonton did get Eberle out of it), the Schultz signing should serve as a cautionary tale in regard to how blue-chip prospects are never a sure thing.
It's not like Schultz is a bad player or anything, but the hype surrounding him at the time he became an unrestricted free agent and got signed by Edmonton in 2012 was such that he was the defenseman that would single-handedly turn around the team's defense. There's a similar hype surrounding Gibson.
Even though, in such a deal, Edmonton could likely command a top-end defenseman from Anaheim as well, like the aging (pending-UFA) Francois Beauchemin (who finished fourth in Norris Memorial Trophy voting in 2013) or even one of the Ducks' younger, impressive studs in Hampus Lindholm or Sami Vatanen, there are still a lot of question marks here.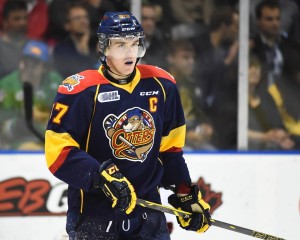 If Schultz wasn't the answer on an Edmonton team that has multiple holes that need filling, Gibson would likely just struggle as well, risking his development in the process with that much more pressure on him. It makes one wonder how McDavid would fare as well.
Wait and see, maybe. In regard to Hall as well. That's probably the best (and likeliest) solution out there. If McDavid is as good as everyone says, he can probably end up suiting up in net too. But, again… no pressure or anything. He would probably do just fine feeding Hall and vice versa.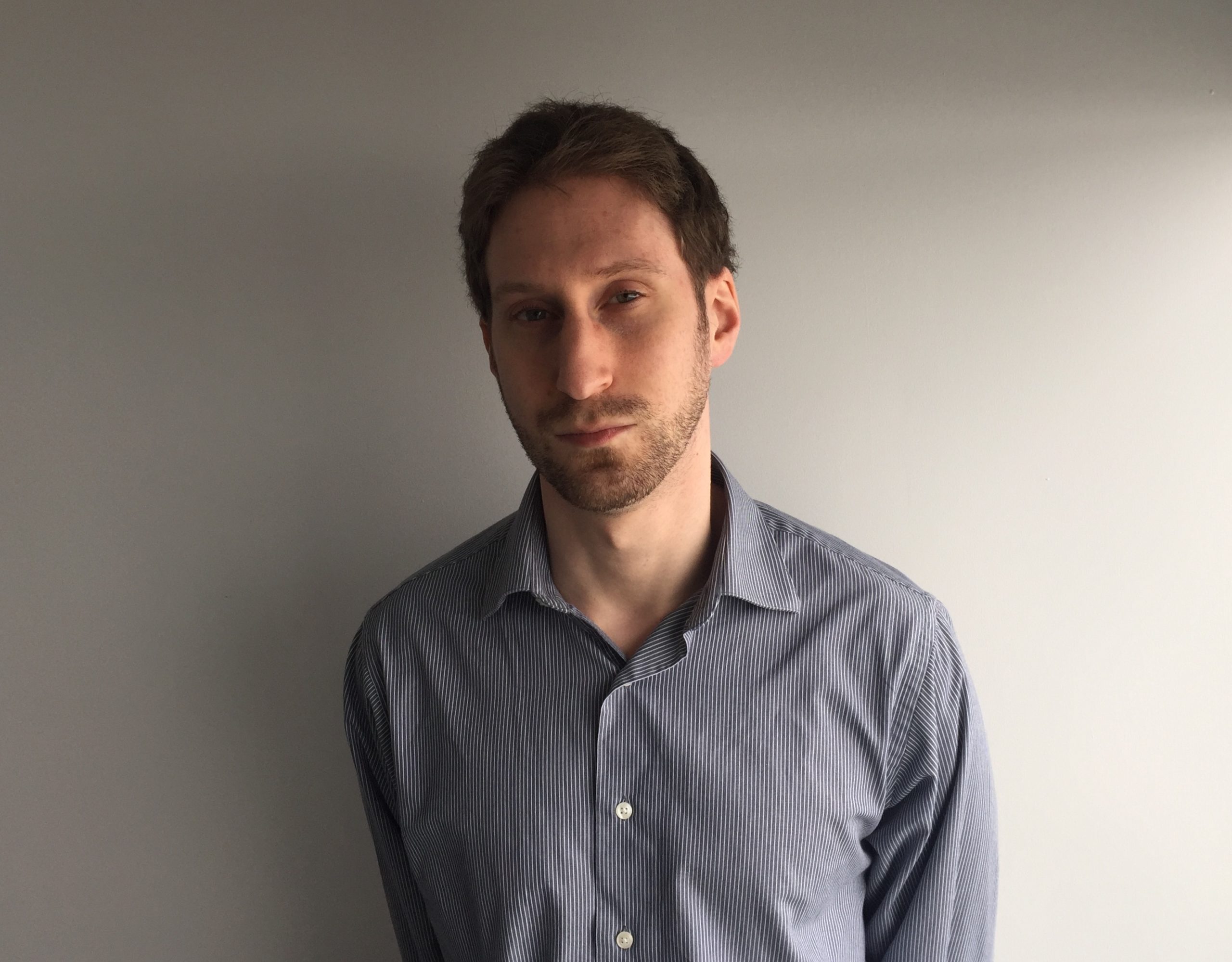 After 10 years of writing hockey, Ryan decided it was as good a time as any to actually join The Hockey Writers for the 2014-15 season. Having appeared as a guest on such programs as CBC Radio One's Daybreak, Ryan has also written for the Montreal Gazette and Bleacher Report and worked for the NHL itself and his hometown Montreal Canadiens. He currently writes about all things Habs for THW, with it being a career highlight for him to have covered the 2021 Stanley Cup Final as a credentialed member of the press.