The first two rounds of the 2013 NHL Draft were painful for Gordie Clark, the Rangers' Director of Player Personnel.  "I just never sat there and watched so much talent just walk through the tables to get to the podium," he said. "Even in the second [round], there were a lot of real good names."
Unfortunately, none of those names would be called out by the Rangers.   Thanks to Glen Sather's wheeling and dealing, New York had to hold off until the third round to finally step up to the mic.
So, what did the Rangers do when they finally had the chance to make a selection?
New York Rangers 2013 Draft Picks
#65 – Adam Tambellini – Surrey Eagles, BCHL
Tambellini hopes to follows in his family's footsteps to the NHL.  His father Steve and brother Jeff spent some time in the league, both suiting up for the crosstown-rival Islanders.   Gordie Clark likes the kid… and his family bloodlines.  From Newsday:
"I think a lot of Steve Tambellini. I remember watching his other son. He was shorter and faster, this one taller and more of a playmaker. Both of them have Steve's shot. They have NHL shots. He needs to put a little weight on and he'll have time to do that at North Dakota."

"It's kind of like [Carl] Hagelin. We projected he might be there four years, and he came out all right. North Dakota's put a bunch of players in the NHL."
Tambellini spoke about what he can bring to the table. From BlueshirtsUnited:
"I think I'm an offensive centerman, and I feel that I can contribute with that," said Tambellini, who has committed to attend the University of North Dakota in the fall. "Hopefully I can help fill out a top six (forward) spot in the future. The Rangers have developed a lot of young guys, which is great for me as I head off to college and then hopefully jump in to the organization."
THW's Chris Wassel took a long, hard look at Tambellini before the draft:
Whomever drafts the Surrey forward will get a player that is ready to work. His sniping ability is well understood but that slight frame is driving a few scouts to be rather hesitant about his position in the 2013 NHL Draft.
#75 – Pavel Buchnevich – Severstal Cherepovets, KHL
Buchnevich has a ton of talent and a boatload of potential.  The biggest question is whether that will be put on display in the NHL, or whether Buchnevich will opt to remain closer to home in the KHL.  He played 18 games this past season (12 regular season and six in the playoffs, posting a goal and assist) in the KHL as a 17-year-old and is committed to the league for the next two years.
THW's Shawn Reznik scoped out Buchnevich's prospects going into the draft:
Based on offensive skill, Pavel Buchnevich would be a 1st or 2nd round pick. However, given his lack of drive and effort, coupled with "The Russian Factor", he may see himself fall farther than he'd like in the draft."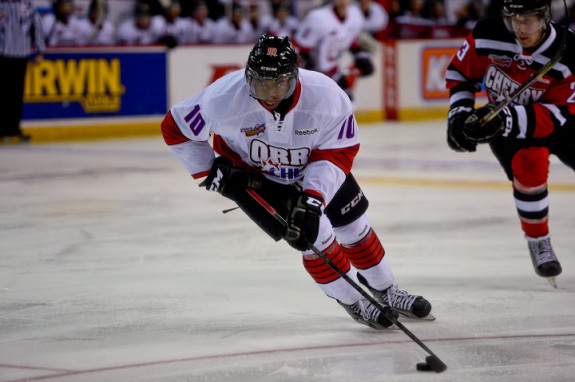 #80 – Anthony Duclair – Quebec Remparts, QMJHL
Once touted as a possible first-round pick, the speedy winger watched his stock fall this season.  One benefit of that slide is that he fell far enough that the Rangers had a chance to select him — something Duclair's dad was happy about:
Anthony Duclair says his father is a big #NYR fan and was thrilled his son was selected by the Blueshirts tonight!

— New York Rangers (@NYRangers) July 1, 2013
THW's Shawn Reznik scouted out Duclair prior to the draft:
It's been an up and down season for Quebec's Anthony Duclair. From an ankle injury early in the season, to getting suspended a few games by GM Patrick Roy, to being selected to the Top Prospects Game, to finishing the season 4th in scoring on the team, Duclair has been through adversity all season.
#110 – Ryan Graves – P.E.I. Rocket, QMJHL
The physical defenseman just finished his sophomore season with the P.E.I. Rocket – now the Charlottetown Islanders – where he posted three goals and 13 assists in 68 games.  At 6'4", 220lbs., he'll definitely bring some size to the blueline.  Prospect Park's Jess Rubenstein compares him to current Ranger prospect Sam Noreau, who also plays in the Q.
A big shut down defender who just turned 18 and has 2 years under his belt in the QMJHL. I use Noreau as a comparison because Graves is on the same kind of learning curve as a big kid in the QMJHL. I would love to see Graves be able to spend some time this summer working with Jeff Beukeboom and Adam Graves so he can work on his footwork and on ice vision. He is a project that is for sure but the Rangers do have the right kind of teachers for the job.
"I just hope to get drafted," Graves said in an interview with the Yarmouth Vanguard, saying in the end it wouldn't matter to him what team he would get the opportunity to play for. Graves, ranked 116th overall among North American skaters, told the Vanguard that he's worked hard both on and off the ice, putting a lot of work in his off-ice conditioning in addition to his play on the ice.
Gordie Clark, the team's director of player personnel, comented on the selection.  "After the third round you're looking for things that stand out. Ryan Graves, he's a big 6'4" defenseman from Prince Edward Island and I would say he had an average first half and then the second half of the year his play just went up hill."
#170– Mackenzie Skapski – Kootenay Ice, WHL
Watching the draft at home on television, Skapski waited, hoping to hear his name.  It never happened.  When his name was called, TSN had cut to commercial. From the Abby News:
"My dad got a text from somebody, and I got three or four texts. Everyone here kind of just exploded. I'm still kind of in shock, and I really don't know what to think right now. We're just soaking in the moment."

"I'm thrilled, really thrilled. The spotlight's on [in New York], and I love performing under the spotlight."
In 65 games, the Abbotsford native posted solid numbers – a record of 34-25-1-0 along with a 2.78 goals-against average and a .910 save percentage.  His seven shutouts were tied for the league lead.
Jess Rubenstein of the Prospect Park has been keeping a close eye on the Kootenay netminder :
"[Skapski] had a great 2nd half in the 2012-13 season including Goalie of the Month for February as he went 22-7-1 to help Kootenay earn a playoff spot. Skapski was a workhorse playing in 65 out of the 72 Ice games plus 5 more in the playoffs. Needs to work on his positioning more than anything else. I like him better than I do the other goalies that the Rangers have in the system."
With only five picks in the 2013 draft, where did those other Ranger draft picks go?
Rangers Draft Picks Traded Away
First Round:  The Rangers 2013 first round pick went to Columbus as part of the deal that finally brought Rick Nash to New York. The Blue Jackets selected Kerby Rychel.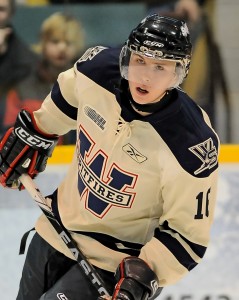 Second Round: The Blueshirts sent their second-round pick to San Jose in order to acquire Ryane Clowe at the trade deadline.  The Sharks used the pick to select Gabryel Paquin-Boudreau.  New York also gave up a third-rounder in the deal that ultimately made its way to Phoenix, where the Coyotes used it to select Yan-Pavel Laplante.  That's not all.  There's one more pick headed to San Jose. If Clowe re-signs, it's a 2014 second-round pick.  If not, the Rangers lose a fifth-rounder in 2014.
While there's never any guarantee that draft picks will pan out, it still feels like the Clowe acquisition wasn't worth it.  That's three draft picks gone the other way for a guy who was nothing more than a damaged rental.  He posted eight points in 12 games to help the Rangers reach the playoffs.  Injuries limited him to just two playoff appearances and just one postseason assist.   If the Clowe deal doesn't make you crazy enough, just look at some of the player-for-pick movements coming out of Chicago on draft day:
Dave Bolland only cost the Leafs a second and two fourth round picks.  Bolland has one more year on his contract before becoming a UFA.

Michael Frolik cost the Jets one third- and one fifth-round picks. Frolik will become an RFA after next season.
Fifth Round:  The Rangers gave up their 2013 fifth round pick in last year's draft, when they traded their 2013 fifth-rounder to Nashville in return for the Preds' fifth-round selection in 2012. (The Rangers drafted Thomas Spelling with that selection.)
Seventh Round:  This pick went to the Minnesota Wild along with Erik Christensen in the trade that brought Casey Wellman to the Rangers' AHL squad in Connecticut.  Last year, they flipped Wellman to Florida for a fifth-rounder in 2014.
Other Draft Day Moves
The Rangers didn't limit their action to just the picks on the board.  They also made a few other moves on Draft Day:
Justin Falk Acquired from Minnesota
The Blueshirts picked up Falk from the Wild for a sixth-rounder and pending RFA Benn Ferriero.  I have no issue with the team taking a shot with a large, young defenseman – Falk is just 24 – especially at the low cost of a late-round pick.  (Ferriero, apparently not in the Rangers' plans going forward, was included to keep the club under the 50-contract limit.)
Falk played 36 games for the Wild last season, picking up 3 assists and 40 penalty minutes. He was held scoreless in four playoff appearances.   In 108 career NHL games, the Manitoba native has one goal, 14 assists, and 100 penalty minutes.
Ulf Samuelsson Returns
While the Rangers could use some of Ulfie's grit on the ice, at least they'll have him behind the bench.  The former defenseman will join new head coach Alain Vigneault as an assistant coach handling the defensemen and the penalty kill.  The Rangers hope to improve on their 15th-ranked penalty kill, which was fifth-best in the league one season prior.   Samuelsson spent last year as the head coach of Modo in the Swedish Elite League.  He was previously an assistant coach with the Phoenix Coyotes.  Samuelsson got his coaching start with the Rangers' AHL affiliate, the Hartford Wolf Pack, where he worked with Dan Girardi and Marc Staal.
---
Follow Josh on Twitter – @joshsmith29
---
Josh is a life-long hockey fan. He grew up as a fan of the New York Rangers, but thanks to their general mismanagement and years of mediocrity, has developed a great appreciation for every team across the league.
He's been writing about hockey on various sites since 1995. In addition to his work at The Hockey Writers, he also keeps tabs on the referees over at ScoutingTheRefs.com.