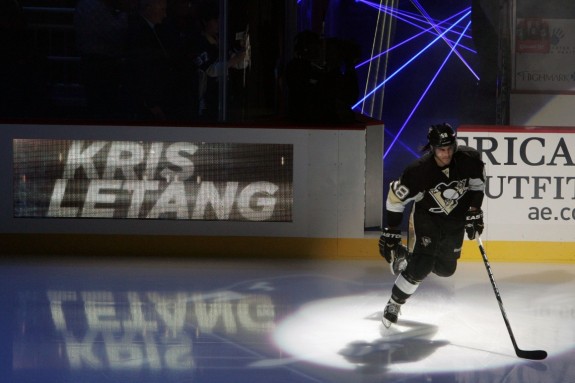 After all of the hype, all of the speculation and rumor-mongering leading up to Sunday's 2013 NHL Entry Draft in Newark, NJ, it sure was a dud of a news day.
Sure, we saw the Vancouver Canucks ship goalie Cory Schneider off to New Jersey to step in as the heir-apparent to Martin Brodeur. Also, Stanley Cup-winning goal scorer Dave Bolland was sent to Toronto in exchange for a couple of draft picks, and Michael Frolik was shipped up to Winnipeg.
Penguins GM Ray Shero made a few small moves on draft day. Starting with trading winger Tyler Kennedy to the San Jose Sharks for a second-round draft pick. Then coupling that pick with the Pens' third-round selection, and sending those to Columbus in exchange for the Blue Jackets' second round pick, which Shero used on Edmonton Oil Kings' goalie Tristan Jarry.
Center Jake Guentzel (Sioux City, USHL), defensemen Ryan Segalla (Salisbury Prep, HS) and Dane Birks (Merritt, BCHL), center Blaine Byron (Smiths FA, BCHL) and left-winger Troy Josephs (St. Michael's, OJHL) make up the Pittsburgh Penguins draft class of 2013.
But the major story of the day surrounding the Pens continued to be the contract extension talks between the team and defenseman Kris Letang. Shero was quoted Sunday night after the draft had concluded that "it's simpler enough to say that we're just not done yet."
The Letang Saga Continues…
Details of the deal started leaking out early Sunday afternoon right around the same time of the Kennedy trade to San Jose. Reports have the deal coming in at $58 million/8 years for an average annual value of $7.25 million. That's about $750,000 more than many originally expected the Penguins to go.
I, for one, would not be stunned if Letang goes for this extension. The only thing holding up the deal being announced (remember, this deal, just like Evgeni Malkin's extension, cannot be signed until Friday, July 5) is most likely the language on a no-movement clause. Letang and his agent Kent Hughes are seeking a full no-movement clause from the Penguins; and considering their considerable obligations to star centers Sidney Crosby and the aforementioned Malkin, both of whom possess the full no-movement clauses, then you can understand Shero's reluctancy to commit the Penguins to nearly $25.5 million in contracts for the next eight seasons with no out.
Allow me to define for you, in layman's terms, the no-movement clause. Essentially, a player possessing the clause in his contract cannot be moved in any capacity (trade, demotion, waivers) unless said player agrees to the movement. Case in point, Jarome Iginla had the clause in his contract with the Calgary Flames this past season. In order for Calgary to trade him, Iginla had to agree to the team to which he was being traded. With these clauses in their contracts, players essentially hold the hammer in terms of where they can be moved.
With the limited no-movement clause, however, it does help the team keep a bit of the power. My best guess on this particular no-movement clause will have something to do with when and where Kris Letang could potentially be traded, should the Penguins ever want to do so.
Many, including myself, thought that the Penguins would max out Letang at $7 million a year. Supposedly Letang turned down that very offer (8 years/$56 million) on Saturday afternoon. Details of a no-movement clause, if any, were not made public, so it's impossible to say if that played a role in his denial of the contract.
While I am not surprised by the Tyler Kennedy trade, it is interesting to note that it will free up $2 million in cap space for the Penguins this upcoming season. And it just so happens that the Penguins upped their offer to Letang by exactly $2 million.
One thing to keep in mind here is that like Malkin's extension, Letang's extension (should he, of course, sign one here) will not kick in until the 2014-15 season, when the salary cap figures to go back up. So for 2013-14, the Penguins have committed $21 million to Crosby, Malkin (both at $8.7 million) and Letang ($3.5 million). Should Letang sign the extension, then the Pens would be committed to $25.45 million for just three players starting in 2014. Do the math: that's $4.5 million more from this upcoming season to next. But it's likely thinking here that Shero and assistant GM Jason Botterill figure that the extra $250,000 in the Letang extension will work itself out over the course of the next 2-3 years with the salary cap again rising.
In Other News
I fully expect to hear within the next two days that the Letang deal is done. If Shero senses that it's as close as many, including himself, are saying that it is, then he'll work to get it done and clear his plate of one less task to accomplish. Keep in mind that the Penguins entered into negotiations with wingers Pascal Dupuis, Matt Cooke, and Craig Adams last week or the week before. Adams is the only player who I am right now confused about because he hasn't signed. Dupuis and Cooke figure to get significant raises on their current salaries. But Adams is a guy who most likely knows his role (for any team, he's a 4th line grinder and penalty killer) and it really shouldn't be this difficult, unless he is looking for more term than the Pens are willing to give.
Of the three players that I just mentioned, Cooke is the guy I figure to be gone. The Letang extension shouldn't have much bearing on Dupuis' upcoming contract, should it be in Pittsburgh. Brian Bickell just agreed to a 4-year/$16 million deal to stay in Chicago, and although he is younger than Dupuis, Dupuis was far more productive during the regular season. On the open market, sure there is some team crazy enough and willing to pay Dupuis $25-$30 million over five years. But here in Pittsburgh, Dupuis can probably expect only $3-$3.5 million over 3-4 years, and that fourth year is really iffy. As for Adams, he's most likely asking for a 2nd year on the contract, and Shero is unwilling to give a 36 year-old 4th-liner a 2-year deal.
There has been some speculation that the Penguins are also looking at an extension for defenseman and fan favorite Brooks Orpik. Just throwing that little tidbit out there.
Come Wednesday, July 3rd, players can "scout" prospective new teams. In other words, they can visit cities and team facilities, even have preliminary discussions on a contract. The official opening of free agency doesn't begin until Friday July 5th at high noon ET. Bottom line, this should be a very interesting week in terms of Pittsburgh hockey, and how this team will begin to take shape for the 2013-14 season.
For more good stuff on the Letang negotiations, please be sure to check out Mike Colligan's articles: The Kris Letang Negotiations Pts 1 & 2.
Also, for the most in-depth coverage of Sunday's entry draft, be sure to check out all of Chris Ralph's material. Start with the series entitled "The Next Ones" then move on to each team's "war room" for the draft. Awesome stuff by both guys.

Pittsburgh, Pa. Class of 2000 graduate from Robert Morris University with a B.A. in Mass Communications. Full-time objective sports fan.