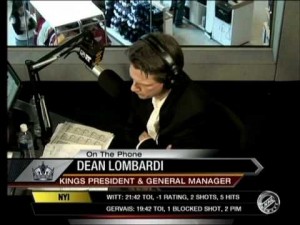 A building has integrity just like a man. And just as seldom — Ayn Rand
Since he took office, Los Angeles Kings General Manager Dean Lombardi has been a master at stockpiling draft picks, particularly those of the middle-round variety. Although the odds of success with those picks are markedly lower than in the first round or two, they make excellent trade fodder to strategically move up as the situation warrants, a strategy Lombardi is quite adept at employing.
Thus, when the Kings sent picks number 57, 88 and 96 to the Edmonton Oilers in a draft-day trade for the #37 overall selection, it was classic Lombardi: start with a high number of picks (10), then deal strategically to help fulfill a core philosophy. In this case, the vision includes building a large-statured, physically-imposing team capable of controlling the puck in the offensive zone while dominating defensively. Holding true to that vision ultimately resulted in the most successful era in franchise history, including hoisting the Stanley Cup one year ago.
The Kings' 2013 draft selections
With a number of previous Lombardi selections now on the big club (Drew Doughty, Alec Martinez, Slava Voynov, Dwight King, Trevor Lewis, Tyler Toffoli, Jordan Nolan, Kyle Clifford) and still others having been liquidated in favor of key contributors such as Jeff Carter and Mike Richards, the L.A. farm system needed a bit of restocking. Alas, the Kings did not have a first round selection, but were able to nab what many consider a first-round talent with the aforementioned deal for Valentin Zykov. A closer look at the seven L.A. selections in the 2013 draft is as follows:
Valentin Zykov — #37
This 18-year old winger out of St. Petersburgh, Russia may be the best puck-protecting forward in the entire draft, an essential trait in head coach Darryl Sutter's offense. At 5'11" and a stout 209 pounds, he plays both wings and was the Canadian Major Junior rookie of the year last season, amassing 40 goals and 75 points in 67 games. Showing no dropoff during the playoffs (a sign of big game capabilities), he tallied 10 goals and 19 points in 19 games. He was listed #25 in TSN's final pre-draft rankings, so the Kings undoubtedly believe they got a steal at #37. The Los Angeles Times' take on the trade that netted them Zykov can be seen here.
Unafraid to drive the net, a great highlight reel of Zykov's work is shown below:
Justin Auger — #103
When we said the Kings liked bigger players, we weren't kidding. This guy is a veritable behemoth at 6'6″, 224 pounds and played for the Guelph Storm the past two seasons, posting 33 points in 35 games during 2012-13. Still just 19, he may still be growing, a scary thought for opponents if he develops as the Kings hope. Clearly a project (as most large players with sub-par skating tend to be), he doesn't appear to use his physicality quite like he should. Still, he has something that cannot be taught, and that clearly attracted him to the Kings' brain trust in this draft.
He may be years away, but check out this sweet goal while we all bide our time waiting for his overall abilities to catch up to his massive frame:
Hudson Fasching — #118
Surprise! Another big winger. Fasching tops the charts at 6'2″ and 213 pounds and scored 11 points for Team USA in the USHL last season. He faded as the year went along, lowering his draft stock from (some speculate) near first-round status to where he finally ended up in the fourth. He, too, has to work on his skating, and he also isn't the most physical 213-pound player out there. Still, he's got a solid set of tools and plenty of potential.
Despite being queried by what sounds like a nine-year old, Hudson comes across as poised and intelligent on camera. Check out this quick interview:
Patrik Bartosak — #146
After having dealt Jonathan Bernier a few weeks ago, the Kings needed another goalie in the system. Thus, at #146, they selected WHL standout Patrik Bartosak, a 20-year old native of Novy Jicin, Czech Republic, who posted a 33-14-5 record with Red Deer last season, along with a 2.26/.935 stat line. The 2013 CHL goaltender of the year, Bartosak had a final ranking of #10 among North American goaltenders.
A nice profile of Bartosak can be seen here:
Jonny Brodzinski — #148
Back to offense, and back to size with the 148th overall selection in this year's draft. Brodzinski sounds like an NFL linebacker name, and yet at 6'0″ and 202 pounds, he's better suited for the ice. Brodzinski scored 22 goals in 42 games at St. Cloud State, and at 20 years old, may be closer to the NHL than a typical fifth-rounder given his combination of size and shooting prowess. He has inconsistency within his game, however, which must be mastered if he expects to skate at the Staples Center one day.
At the 2012 Fargo Force skills competition, Brodzinski won the shooting accuracy crown, as seen here:
Zachary Leslie — #178
The Kings have a relatively young defense locked up for years, so the focus in this year's draft clearly leaned toward the offense. However, the team selected Leslie in the sixth round, a 6′, 168-pound offensive defenseman who played for Guelph the past two seasons. He scored 12 goals and 40 points in 68 games last year, showing off his hard shot and excellent speed in the process. According to Storm coach Scott Walker, Leslie is "a very smart hockey player and is working harder than he ever has. He's winning battles".
Dominik Kubalik — #191
With their final selection in the 2013 entry draft, Los Angeles picked up toughness with the selection of Dominik Kubalik. Although not large at 6'1″ and 181 pounds, the 17-year old Czech Republic native was sixth on his Sudbury Wolves' squad in goals (17) and seventh in total points (34) in 2012-13. Moreover, he's a tough son-of-a-gun, as evidenced by this clip:
http://www.youtube.com/watch?v=JviO04DNAeY