As we enter the New Year, a few free agents from last summer's class are already making an impact with their 2016-17 team.
After big names like Steven Stamkos, Kyle Okposo, and Frans Nielsen landed new contracts, quite a few players were left without guaranteed jobs, as most teams opted to keep roster spots open for up-and-coming prospects. A majority of the leftover players did not sign long-term contacts, but took the best offer they were going to receive — often times a one-year, "show me" contract.
Sam Gagner of the Columbus Blue Jackets, the New York Rangers' Michael Grabner, and the Florida Panthers' Jonathan Marchessault are three players who come to mind. Gagner has been a key contributor to Columbus' first-ranked power play and Grabner has already surpassed last season's goal total, with 14 already (he had nine last season with the Toronto Maple Leafs). Marchessault stepped in admirably on Florida's top line with Jonathan Hubredeau out.
Let's take a look at five players who could become next summer's Gagner, Grabner or Marchessault — the NHL equivalent of finding a rare, holographic Pokémon card at a community yard sale when you were a kid.
[irp]
Patrick Eaves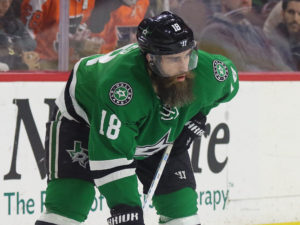 Out west, Patrick Eaves has been quietly tearing it up for the Dallas Stars. After signing a one-year deal to stay in Dallas this offseason, Eaves has produced 20 points in 34 games for the Stars, including 12 goals.
With a blistering right-handed shot, Eaves has made good on his promotion to the top line with Jamie Benn and Tyler Seguin. At 32 years-old (33 in May), Eaves may not attract a multi-year contract offer this offseason, but could pay huge dividends for a team offering him a one-year deal to play in their bottom-six next season.
Patrik Berglund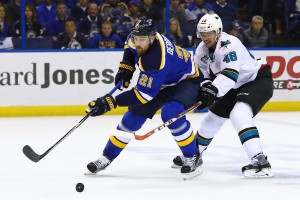 After dealing with injuries last season, Patrik Berglund is finally healthy for the St. Louis Blues. He's also in the last year of a three-year, $11.1 million contract and will likely be looking for a new home this summer — St. Louis has a few higher priorities to re-sign and not a lot of cap space.
Hailing from the same hometown as Nicklas Lidstrom, Berglund has spent his entire career with the Blues. He produced 52 points for the Blues back during the 2010-11 season and has averaged nearly 30 points per season since.
With only 11 points in 35 games this season, Berglund may not earn a multi-year contract this offseason, despite being a second-line center with size. This would make him a prime candidate to sign a short-term contract somewhere and earn a long-term contract the summer after.
Brendan Smith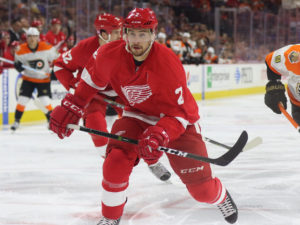 A 2007 first round pick of the Detroit Red Wings, Brendan Smith has never really developed into the puck-rushing defenseman they projected him to be. That's not all Smith's fault though — Detroit never really put him in a position to succeed. Often times, Smith was placed on the third-pairing with a less-than-adequate defender.
At his best, Smith is a great skater who, if paired with a solid defensive partner, could contribute 30 points from the blue line. He likes to jump into the play and has gotten better in recent years at defending in his own zone.
Justin Williams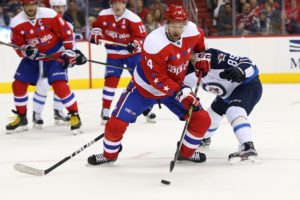 Signed to help the deliver a Stanley Cup to D.C., Justin Williams helped the Washington Capitals to the President's Trophy last season with a 52-point season split between Washington's second and third lines. After earning the "Mr. Game 7" nickname in Los Angeles, Williams is the perfect veteran addition to help a contending team reach the next level.
This offseason, the 35-year-old Williams will likely receive only one-year offers from teams looking to add a complimentary piece. Teams like the Chicago Blackhawks, San Jose Sharks, Pittsburgh Penguins, and Philadelphia Flyers could sign him to play on their third line and power play, giving Williams the opportunity to produce a high ROI on a low-risk contract.
[irp]
Patrick Sharp
Now in Dallas, the three-time Stanley Cup champion is not the player he once was with the Chicago Blackhawks. Today, Patrick Sharp is a middle-six, veteran forward with big game experience.
Sharp has dealt with the injury bug for most of the 2016-17 season, but can still contribute. If healthy, he can still produce 30-40 points in a second- or third-line role. Perhaps a Cup-contending team will take a chance on the veteran who has been there before.
Which pending free agent would you add to your team? Comment below with your choice.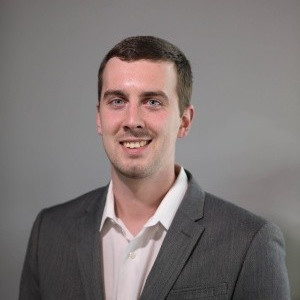 Tony Wolak is based in the Washington D.C. area and covers the Detroit Red Wings for THW. As a former junior and college hockey player, Tony has a unique perspective on Red Wings topics.