When I look back, what is striking is how very quietly EA Sports debuted its popular NHL hockey video game series.
Before each year's date of release, choice of cover photo and results of the season's simulation generated annual headlines, "NHL Hockey" was just the latest entry in the hockey video game market.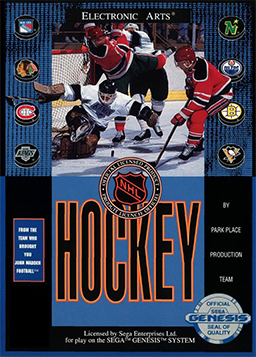 Granted, no one really knows how well a brand new game will sell when it is first released, but EA Sports executives must have had a feeling they had lightning in a bottle with not just the best gameplay in a hockey video game to that point, but also the fact it was the first one to feature NHL team names and actual players' jersey numbers.
Based on personal experience, the word of this game's arrival seemed to spread very slowly. For one, this was not only before social media, it was before the internet. Secondly, this particular game was released for just the one console, the Sega Genesis. Finally, the game seemed to be marketed mainly to the gaming crowd and not the hockey community. I say this because while I never once saw an ad for this game during a hockey broadcast or in a hockey publication, I did learn about it from a coming releases flyer at a local video store.
NHL 91 Uncharted Territory
I remember very clearly seeing those images of the cover and the gameplay for the first time. Quite simply, I knew I had to have it. The quality of the graphics (while primitive by today's standards) was well beyond any existing hockey video game at the time. However, the promise of finally playing a game with actual NHL teams and players was what prompted me to buy the game and console sight unseen.
I wasn't disappointed. The decision by the game's creators to provide a view from directly overhead of the ice surface instead of from the side was a good one. Even little touches like the sounds of the puck off the boards or the crowd reactions were way ahead of what a typical hockey video game offered at the time. (When playing other sports video games back then, it was normal to hear what sounded like the ocean through someone's ham radio before realizing it was an attempt at crowd noise.)
Of course, this game bore almost no resemblance to the modern versions of the EA Sports NHL franchise. Graphics and gameplay aside, there was no music, no running play-by-play commentary, no ability to make trades or create players, and not even an option to view the individual player rankings. For me, part of the charm of the game was discovering through actually playing it that its creators had generally got the ratings right. There were a few minor errors, such as making the Oilers' Steve Smith a right-shooting defenceman, but those were rare.
A quirk of this particular game was the players were identified by their jersey numbers and not their names. It sounds crazy to describe this, but it meant finding a hockey annual that had the jersey numbers listed next to the stats to discover who belonged to some of the more unfamiliar numbers.
A History of Violence
Another limitation of NHL 91 was there was no ability to change the starting lineups.  So in order to see players other than the starters, you had to use "Line Changes On" mode. The problem with that was the skaters would lose steam pretty fast. If you wanted to see players other than the starters at their full capacity, you had to use the "Penalties On" setting and take penalties like there was no tomorrow to get the depth players in the game. I hope I'm not the only one who would tear through teams' lineups by picking fights with everyone just to get the chance to put Dave Manson, Bob Probert, Dave Brown or Marty McSorley out there (so I could fight even more).
As an aside, the makers of the game cobbled together a roster of San Jose Sharks from the previous summer's expansion draft. The novelty of playing this new team with the beautiful, teal jerseys soon wore off when you realized they were terrible at hockey. Eventually, I would only play San Jose just to fight my way to get Link Gaetz on the ice.
Without question, I played this game an unhealthy amount of times for someone in university. Naturally, I preferred the Oilers. While it was possible to win with the Kings, Penguins or Blues, you really wanted to be the Blackhawks or Flames if you were ever in a tournament just for their sheer speed.
Game Changer
You can count me among those who never really got over this initial version of the EA Sports' NHL hockey franchise. Subsequent entries were similar and usually featured improvements, but there was just something about this game.
Perhaps it was because the season it was released (1991-92), my team had just completed an overhaul that saw longtime Oilers Mark Messier, Glenn Anderson, Grant Fuhr, Steve Smith, Adam Graves and Jeff Beukeboom end up in other jerseys. So as long as I played this game, I could pretend this very significant remnant of the teams' dynasty years was still part of the Oilers. As they say, nostalgia is the most powerful drug of them all. For fans of the Oilers, this game had it in spades.
Much has been written about how responsible "NHL '94" was for the exploding popularity of this video game series. It certainly was a step up from the first two versions of the franchise. However, considering the quality of hockey video games prior to its arrival, there is a solid argument that NHL 91 or "NHL Hockey" was the true game changer.
Kelly is one of the newest members of The Hockey Writers team. He has been a fan of the Edmonton Oilers since 1983, and is now covering his favorite NHL club for THW as a contributor. Kelly has written extensively about Canadian Junior A hockey, particularly the Saskatchewan Junior Hockey League. He is the long-time news director of Saskatchewan's Aboriginal radio network, Missinipi Broadcasting Corporation (MBC Network Radio).