Another day, another goalie. After acquiring Ben Bishop's rights from the Los Angeles Kings, the Dallas Stars signed him to a six-year, $29.5 million contract.
"This is the Stars' first move in our goal of having a full roster of 23 goalies by training camp," said Dallas Stars general manager Jim Nill.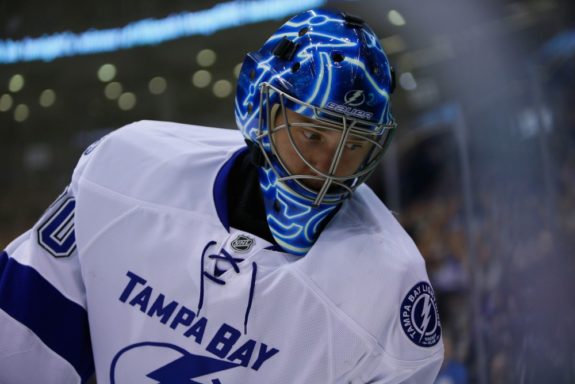 The Stars now have three goalies: Bishop, Kari Lehtonen and Antti Niemi. By the draft, they hope to have another half dozen goalies signed to multi-million dollar contracts, well past their prime.
"This league is all about defense," said Stars new head coach Ken Hitchcock, back for a second stint with the team. "We now have a goalie-first mentality. Actually, more of a goalie first, second, third, fourth mentality," he trailed on.
Missing Out on Darling
"Some general managers build around goalies. We're building a team full of them," Nill said, as if he'd just discovered a secret path to winning the Stanley Cup.
Nill added that the Stars were planning to go after Scott Darling, who recently signed a four-year, $16.6 million deal with the Carolina Hurricanes. The deal is almost identical to the one Cam Talbot got from Edmonton last year.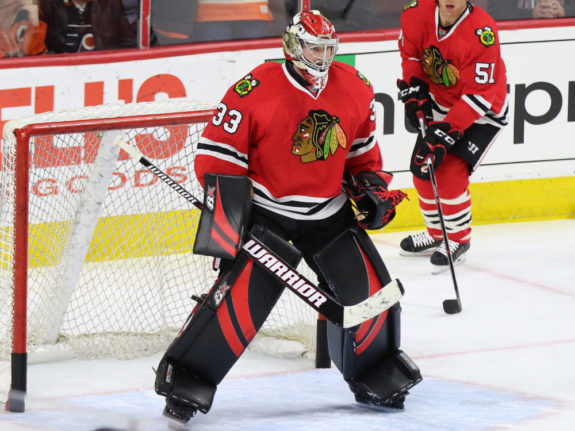 "Unfortunately, Darling jumped early at the chance and signed with Carolina," said Nill. "Our offer, more than double what he signed for, wasn't ready. I mean, who would've thought a player would actually choose to play in Carolina?"
(Swiss) Finnish Cheese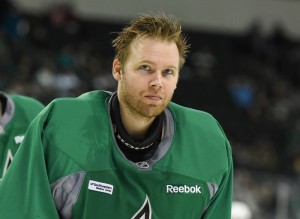 The duo of Lehtonen and Niemi split netminding duties last season, both having less-than-stellar seasons. Only the Colorado Avalanche allowed more goals than Dallas last year.
Lehtonen, also known as 'Let-one-in' by fans, posted a 22-25-7 record, with a 2.85 goals against average. Niemi was 12-12-4 with a 3.30 goals against.
They're both signed through 2018. Lehtonen carries a $5.9 million cap hit while Niemi's is $4.5 million.
The tandem sieves in crease, an albatross the team couldn't overcome, led to head coach Lindy Ruff getting canned. It also inspired the new idea of building from the crease out – a team of goalies.
Up and Down & Side to Side
Bishop is six-foot, seven inches while in the butterfly position. Standing erect, he's a touch over eight feet tall.
"Signing an elite goaltender was a tall order," continued Nill. "So we scoured the league and found the tallest one we could find."
Bishop is very good straight on, but his extra-long, gangly appendages make him easy pickings when you get him moving side to side.
In fact, players often call him 'Ariana' as in singer Ariana Grande. The pop singer has a pop hit called "Side to Side" that was on the Billboard Hot 100 chart for months. Nicki Minaj also collaborated on the hit single.
Having missed the playoffs yet again, the Stars have taken a non-traditional approach to fill the net. Literally. They're also considering bringing in a Yokozuna, or Grand Champion, Sumo to block shots. A wrestler known as Kisenosato is the first Japanese Yokozuna in 20 years.
Other Targets
Look for the Stars to make a move for Brian Elliott. Having ended on a low note in Calgary, the 32-year-old still has a lot of potential. Like Dallas, Calgary has their fair share of rodeos and ten-gallon hats. Elliott's collection would still get plenty of use.
Another piece of the puzzle, likely more in a mentorship role is 36-year-old Ryan Miller who just played out his contract in Vancouver. Though he would likely prefer to stay out west to be near his wife (actress Noureen DeWulf), don't be surprised if he lands in Dallas.
Roster Changes Planned
Known for his conservative approach, expect coach Hitchcock to convert both team points leader Tyler Seguin and team captain Jamie Benn into goalies.
"We need to be stronger in net," said husky Hitch. "These fellas pride themselves on playing a 200-foot game. We'll have them hyperfocus on the back fifteen or twenty feet."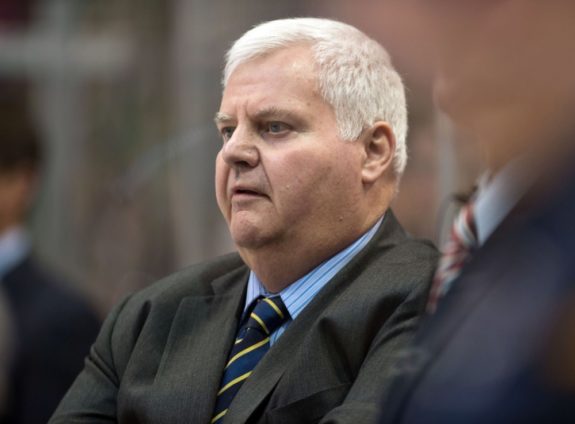 Outlook
To bolster the Stars' goal of an entire goalie-driven roster, Nill and Hitch plan to add no less than seven goalies at the draft in June.
"It's possible we make a few deals for RFA goalies as well," said Nill. "Our 23-goalie roster will take shape sooner than later."
*** This story is somewhat fictional.