---
When the calendar flips to June, it becomes crunch time for scouts and NHL teams in terms of finalizing their rankings for the upcoming draft.
The month starts with the annual combine, where 100-plus prospects are poked in interviews and prodded in a variety of fitness tests. With no on-ice component, it is debatable how much those results impact the rankings.
However, there was still hockey being played throughout the month of May — most notably in the CHL playoffs, culminating with the Memorial Cup, and at the men's world championship where a select few draft-eligibles were representing their countries. There was also the lesser-known Black Sea Cup in Russia and some lower-level junior leagues wrapping up across North America.
Rest assured, the scouts stayed busy in May to make sure they were prepared for June.
Myself included, and with my final Top 100 rankings recently publishing, here are 10 of my biggest fallers over the last month:
RELATED: 10 Risers From Fisher's Final Top 100
1) Ryan Merkley (RHD, Canada, Guelph OHL)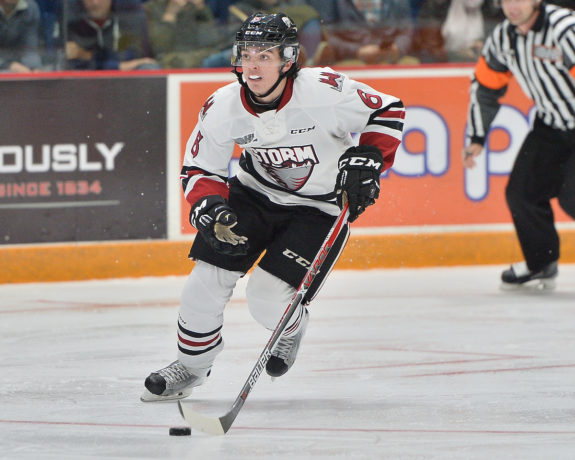 JUNE RANKING: 16
MAY RANKING: 12
VARIATION: -4
ANALYSIS: Merkley didn't drop all that much in my rankings — based on career potential, more so than likelihood to reach that ceiling — but he's projected to be the biggest faller on draft day and thus a fitting start to this list. Everybody loves Merkley's offensive instincts, puck skills, skating and passing abilities, and his power-play quarterbacking prowess. A case can still be made for Merkley as a top-10 offensive talent in the 2018 draft class. However, there are also red flags on and off the ice with Merkley, ranging from his defensive deficiencies to character issues. Some of the other less-flattering adjectives used to describe Merkley's game include carelessness in his decision-making and even recklessness with the puck on his stick. Therefore, the bust concerns are very real and the comparisons to Ryan Murphy coming out of junior are certainly accurate in a lot of ways. I still like Merkley — and I have him ranked higher than most, even as a faller to No. 16 — but if my job was on the line, I don't think I'd recommend picking him in the teens. Some mocks have Merkley falling out of the first round, but with so many teams owning multiple picks in the top 31, I feel somebody will take that risk in the 20s, which is where Merkley went in my recently published seven-round mock.
From our @LarryFisher_KDC – '7th Annual NHL Mock Draft: 2018, Round 1' https://t.co/SVmjmBlHeo #THW #NHLDraft #NHLProspects #NHL pic.twitter.com/c3SXe2AxVP

— The Hockey Writers (@TheHockeyWriter) June 11, 2018
2) Ryan McLeod (C/LW, Canada, Mississauga OHL)
JUNE RANKING: 37
MAY RANKING: 27
VARIATION: -10
ANALYSIS: I may as well get the two Ryans out of the way right off the top. McLeod is a "safer" prospect than Merkley as far as his chances of becoming an NHL player. He's got the size — measuring a little over 6-foot-2 and weighing 206 pounds at the combine — and the skating to make it as a pro, but I question McLeod's upside as an offensive producer at the next level. I could see McLeod developing into a Travis Zajac type, a solid middle-six forward but not a true top-liner. Zajac was still a first-rounder back in 2004, selected 20th overall by New Jersey, but he's become a career 45-point player after twice topping 60 points in his early seasons. I could see a similar trajectory for McLeod, who could also be a first-round pick despite dropping all the way to the Islanders at No. 41 in my mock. That spot does seem low for McLeod and it sounds like the California teams could be targeting him in the early 20s, so he'll probably go somewhere in that range for my "consensus last-minute mock" that is in the works for next week.
3) Adam Samuelsson (LHD, USA/Sweden, NTDP U18)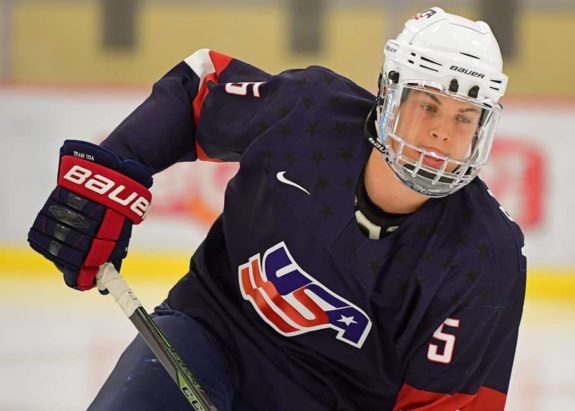 JUNE RANKING: Not Ranked (outside the top 100)
MAY RANKING: 77
VARIATION: -24
ANALYSIS: Samuelsson is a hulking specimen — listed at 6-foot-5 and 240 pounds — but with that size comes some mobility concerns. The game is only getting faster, so Samuelsson is at risk of getting left in the dust by speedy forwards. Samuelsson's puck skills are adequate for his size, but his smarts, awareness and vision have also been called into question over the course of his draft year. You can't simply be big in today's game, you've got to be able to skate and keep up. And you've got to be able to think the game at a high level, processing several split-second decisions on every shift. So while Samuelsson may be a chip off the old block from his father, former NHLer Ulf, he may not be as effective in a world with obstruction rules that prohibit clutch-and-grab defending. I see a bit of Griffin Reinhart in Adam Samuelsson, though he hasn't shown as much offence as Reinhart did in his junior days. I say Reinhart since Samuelsson isn't as mean as his dad was or as somebody like Derian Hatcher or even Brooks Orpik. In saying all that, I think I have Samuelsson slotted fairly in my mock at No. 129, in the fifth round to his dad's old Penguins. Those bloodlines will likely help Samuelsson stay in the top 150, but he's got a lot of work ahead of him.
4) Bo Groulx (C, Canada, Halifax QMJHL)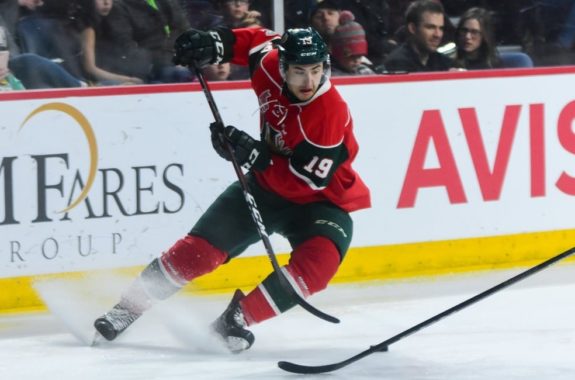 JUNE RANKING: 64
MAY RANKING: 38
VARIATION: -26
ANALYSIS: Groulx also comes from a good hockey family — his dad Benoit coaches Tampa Bay's farm team in Syracuse — and there's no questioning Bo's hockey sense. That is one of Groulx's strong points — his hockey IQ — but, like McLeod, it's a perceived limited offensive upside that made Groulx a faller for my final rankings and for my mock, where he landed in the 50s. Yet, I see Groulx as an even safer pick than McLeod since Groulx has already shown plenty of two-way tools. It is easy to make the comparison to Max Talbot and that might be the ceiling for Groulx. Still a nice player, with a long career ahead.
5) Adam Ginning (LHD, Sweden, Linkoping J20)
JUNE RANKING: 55
MAY RANKING: 43
VARIATION: -12
ANALYSIS: A riser for most, including Central Scouting, I'm still not sold on Ginning's all-around game. I know he's big and that he can defend, but I'm not buying the comparisons to Adam Larsson and Niklas Hjalmarsson. I don't think Ginning is on that level — I compare him more to Philadelphia's Robert Hagg — so I wouldn't take Ginning in the first round or even the top 50 in such a deep draft, but some team will likely covet his shutdown abilities. Another safe prospect, but that one-dimensional skill-set is the reason for Ginning appearing on my list of fallers.
6) Serron Noel (RW, Canada, Oshawa OHL)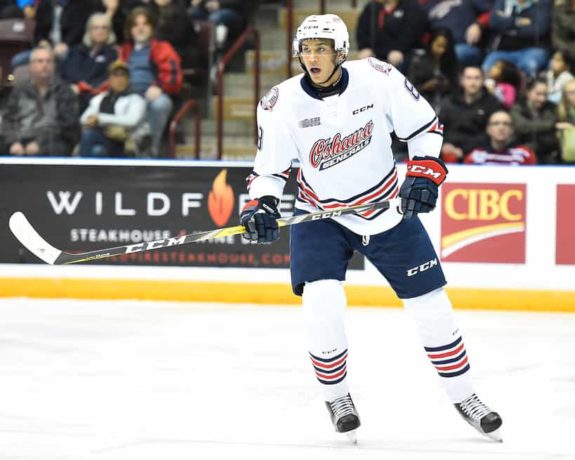 JUNE RANKING: 35
MAY RANKING: 28
VARIATION: -7
ANALYSIS: Another riser for most and a lock for the first round in the majority of mocks — he'll be a first-rounder for my consensus mock — Noel hasn't won me over during his up-and-down draft year, even if the upside is more evident with him. Perhaps junior just isn't challenging enough for Noel, given he's a man among boys at his size (6-5, 204), but you'd like to see him dominate on a more consistent basis and take over games with his physical advantages. By and large, everybody is bigger and faster in the pro ranks, so Noel will have a tougher time imposing his will in the NHL. There are some similarities to Detroit's Anthony Mantha, but Noel isn't a clone by any means. He isn't that kind of sniper — Mantha's shot was lethal in junior and still is — and I don't think Noel's offensive instincts are on the same level either. I question Noel's offensive upside and think Benoit Pouliot is a better comparison for what he'll become as a pro. Therefore, Noel became a faller in my rankings for much the same reason as McLeod and Groulx.
7) Lukas Dostal (G, Czech Republic, Kometa Brno U20)
JUNE RANKING: 99
MAY RANKING: 53
VARIATION: -46
ANALYSIS: Dostal is technically my biggest faller from May to June in terms of variation, but goalies have been all over the map for me and he's still ranked second at his position. I've gone back and forth between the two Czech netminders for top spot — ultimately going with Jakub Skarek at No. 71 — but Dostal dropping down to No. 99 is telling that 2018 isn't a good draft year for goalies in general. That freefall wasn't meant to be a slight against Dostal as much as it was a lack of confidence in this crop of crease-patrollers. I don't think Dostal, nor Skarek, will be the second-coming of Dominik Hasek, but they are the best of this year's bunch, along with QMJHLer Olivier Rodrigue, who also fell eight spots — from No. 92 to No. 100 — for my final rankings. It'll be very interesting to see where those three go in the draft and whether they will be the first three goalies off the board.
8) Toni Utunen (LHD, Finland, Tappara Liiga)
JUNE RANKING: 79
MAY RANKING: 61
VARIATION: -18
ANALYSIS: Utunen is still a riser over the course of his draft year, but he landed on this list as a faller for me simply because I had him ranked too high in May when he was coming off captaining Finland to gold at the world under-18 tournament. Utunen isn't the biggest defender and he's not the most fleet of foot, but he's efficient in the defensive zone and seems to be improving on the offensive side. There could be some untapped upside with Utunen, but I don't think he'll develop into another Sami Vatanen or Sami Niku, this season's AHL defenceman of the year. I don't think that's really his game, but Utunen reminds me a bit of Tobias Enstrom — a Swede rather than a Finn — in terms of his smoothness and calmness at both ends of the ice. I do think NHL teams will like the fact Utunen had that 'C' on his chest for Finland, so expect him to go somewhere in the top 100 and perhaps closer to 60 than 80.
9) Ryan O'Reilly (C, USA, Madison USHL)
JUNE RANKING: 83
MAY RANKING: 56
VARIATION: -27
ANALYSIS: O'Reilly is another overall riser who winds up on this list through no fault of his own. Like Utunen, I had O'Reilly too high as a debutant in my May rankings after being an omission from my April rankings, and it was just a matter of finding the right spot for them. Based on feedback from my USHL sources and further networking, I essentially split the difference on O'Reilly for my final rankings in June. O'Reilly also got a nice bump up from this ranking in my mock, so I'm still a fan of what I've been seeing and hearing about O'Reilly ahead of the 2018 draft. There is a lot to like about this under-the-radar prospect who missed time with mono in the second half and also had to overcome a foot infection prior to Christmas. Ironically both O'Reilly and Utunen were featured among my May risers, which goes to show I've been struggling to gauge where they belong as late additions to my top 100.
Texas native and DU-bound Ryan O'Reilly, right, with Ryan O'Reilly of the #Avalanche back in the day. The younger ROR, 18, is a lanky right shot F who will be selected in upcoming NHL draft. Played for Junior Stars and USHL's Madison Capitols pic.twitter.com/3PuMxnNS9L

— Mike Chambers (@MikeChambers) June 11, 2018
10) Jacob Tortora (LW, USA, Boston College NCAA, over-ager)
JUNE RANKING: 94
MAY RANKING: 81
VARIATION: -13
ANALYSIS: Tortora probably won't appear in anybody else's top 100, but he was one of my boys for 2018, along with Samuel Fagemo, who I reluctantly dropped out of my final rankings since I could no longer justify his inclusion after a quiet and unproductive showing at the U18s. Some will say there is no justifying Tortora either, since another draft-eligible over-ager, Logan Hutsko, led Boston College in scoring and more than doubled Tortora's stat-line. That's fair, but I can't get over how Tortora dominated Toronto's development camp as an undrafted invitee last summer and I've had him pegged as a mid-round pick for the Leafs ever since. Tortora is a flashy player, somewhat similar to Leafs' prospect Jeremy Bracco, but I foresee Tortora developing into a Conor Sheary type and that's still worthy of being a top-100 pick in my opinion. Nevertheless, I had to make Tortora a faller for my final rankings and acknowledge him on this list.
RELATED: THW Guide to 2018 NHL Entry Draft
Honourable Mentions
NOTE: Here are some more prospects who made a notable fall in my final rankings, listed from highest to lowest variation.
Michal Kvasnica (C/RW, Czech Republic, Trinec U20)
JUNE RANKING: NR
MAY RANKING: 67
VARIATION: -34
Ruslan Iskhakov (C/W, Russia, Krasnaya Armiya MHL)
JUNE RANKING: 97
MAY RANKING: 71
VARIATION: -26
Sean Durzi (RHD, Canada, Owen Sound OHL, over-ager)
JUNE RANKING: NR
MAY RANKING: 80
VARIATION: -21
Jan Jenik (LW, Czech Republic, Liberec U20)
JUNE RANKING: 72
MAY RANKING: 52
VARIATION: -20
Curtis Hall (C, USA, Youngstown USHL)
JUNE RANKING: 74
MAY RANKING: 55
VARIATION: -19
Blade Jenkins (C, Canada, Saginaw OHL)
JUNE RANKING: 84
MAY RANKING: 66
VARIATION: -18
Oskar Back (C/W, Sweden, Farjestad J20)
JUNE RANKING: 82
MAY RANKING: 68
VARIATION: -14
Oliver Okuliar (LW, Slovakia, U20 national team)
JUNE RANKING: NR
MAY RANKING: 88
VARIATION: -13
Blake McLaughlin (C, USA, Chicago USHL)
JUNE RANKING: 47
MAY RANKING: 35
VARIATION: -12
Jack Drury (C, USA, Waterloo USHL)
JUNE RANKING: 48
MAY RANKING: 36
VARIATION: -12
Jake Pivonka (C, USA/Czech Republic, NTDP U18)
JUNE RANKING: NR
MAY RANKING: 89
VARIATION: -12
Albin Eriksson (LW, Sweden, Skelleftea J20)
JUNE RANKING: 98
MAY RANKING: 87
VARIATION: -11
Filip Hallander (C/W, Sweden, Timra)
JUNE RANKING: 41
MAY RANKING: 32
VARIATION: -9
Jacob Olofsson (C, Sweden, Timra)
JUNE RANKING: 34
MAY RANKING: 26
VARIATION: -8
Samuel Harvey (G, Canada, Rouyn-Noranda QMJHL, over-ager)
JUNE RANKING: NR
MAY RANKING: 93
VARIATION: -8
Kevin Bahl (LHD, Canada, Ottawa OHL)
JUNE RANKING: 56
MAY RANKING: 49
VARIATION: -7
Allan McShane (C, Canada, Oshawa OHL)
JUNE RANKING: 65
MAY RANKING: 58
VARIATION: -7
Niklas Nordgren (RW, Finland, HIFK Liiga)
JUNE RANKING: 39
MAY RANKING: 33
VARIATION: -6
Grigori Denisenko (LW, Russia, Loko Yaroslavl MHL)
JUNE RANKING: 22
MAY RANKING: 17
VARIATION: -5
Rasmus Kupari (C, Finland, Karpat)
JUNE RANKING: 23
MAY RANKING: 18
VARIATION: -5
Isac Lundestrom (C/LW, Sweden, Lulea SHL)
JUNE RANKING: 24
MAY RANKING: 19
VARIATION: -5
Alexander Khovanov (C, Russia, Moncton QMJHL)
JUNE RANKING: 59
MAY RANKING: 54
VARIATION: -5
Nils Lundkvist (RHD, Sweden, Lulea SHL)
JUNE RANKING: 26
MAY RANKING: 22
VARIATION: -4
Brady Tkachuk (LW, USA, Boston University NCAA)
JUNE RANKING: 9
MAY RANKING: 7
VARIATION: -2