Last week, we looked at under-the-radar prospects from the Ontario Hockey League.
Now, let's take a look at five Western Hockey League prospects who aren't yet household names, but are looking forward to hearing their name called on June 30 in New Jersey.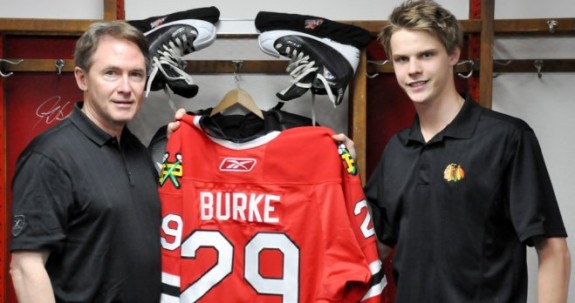 Brendan Burke
Brendan Burke is the son of longtime NHL goalie Sean Burke. Clearly, the bloodlines are there.
Burke was sort of hidden behind Mac Carruth on a Portland Winterhawks team that won the WHL championship this season. But National Hockey League potential with Burke is plentiful. With Carruth moving on to bigger and better things next year, Burke is prepared be the boss between Portland's pipes.
"I like his progression," Winterhawks interim head coach Travis Green told the Portland Tribune. "Every month he's taking another step and looking a lot more solid. For a young goalie, we really like the way he's progressing."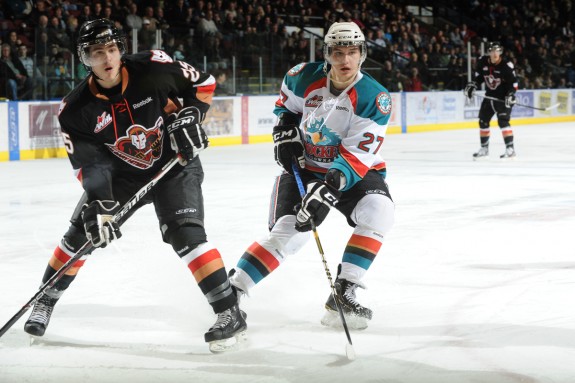 Greg Chase
Greg Chase is also family of a former NHLer. This time, the former pro is an uncle: Kelly Chase played ten seasons in the NHL, and is most commonly remembered as a St. Louis Blues enforcer.
The young Chase isn't the same player his uncle was, but he still gets under his opponents' skin.
"When his game is on and he's doing the work of the foot soldier [Chase] is a pretty effective player, but he's got to decide what kind of player he wants to be," a scout for an Eastern Conference team told the Edmonton Sun.
The Hockey Writers' Ryan Pike has compared the Calgary Hitmen agitator to New York Rangers forward Carl Hagelin.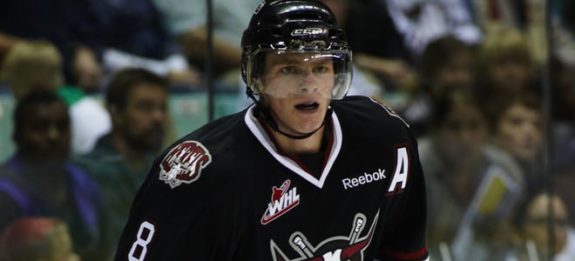 Kayle Doetzel
Kayle Doetzel is becoming more of a hot topic as the draft nears.
Scouts have known about him for a long time, but the Hitmen defender is slowly starting to spread his name outside of the WHL's borders.
Future Considerations' Zenon Herasymiuk sees Doetzel as a major draft sleeper.
"Doetzel isn't the biggest, fastest, or strongest player in the draft class, but he is certainly one of the most consistent defenseman in his age group," Herasymiuk wrote. "Every time he steps on the ice you know you are getting 45 seconds of shutdown. I call his game "politely mean". He doesn't go out of his way looking for trouble, but when given the opportunity to eliminate an opposing threat he will willingly paste someone to the boards with a strong, clean check. When [Doetzel is] able to pull it all together, he will be a scary defenseman and true gem for an NHL team."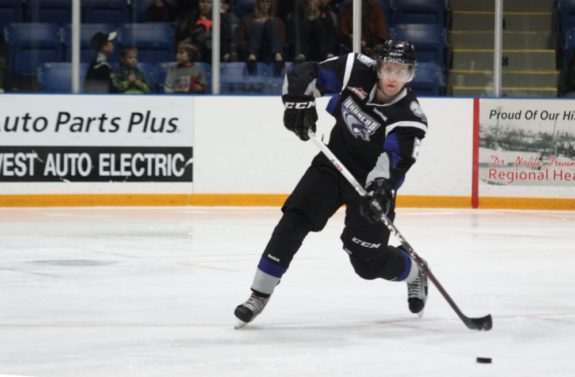 Dillon Heatherington
Dillon Heatherington has a chance at being selected in the NHL draft's first round.
But for some reason, he isn't a big name just yet.
Keep in mind that the Swift Current Broncos blueliner's chances aren't great, but Heatherington is one of the best defensive prospects in the 'Dub.
"Heatherington is a big body and a great skater," wrote WHL From Above's Cody Nickolet. "He is very mobile and has excellent footwork.  He's hardly ever out of position defensively and while I would definitely consider him to be a defensive defender, he makes a good outlet pass and has a good shot.  He's got very good stick work and loves to play physical.  To go along with his skating and physical play, his decisions with the puck are excellent and has great poise against the forecheck.  I don't think he'll ever have a ton of offensive potential, but his passing is above average in this prospect class."
Marc Staal is seen as an NHL-comparable defenceman.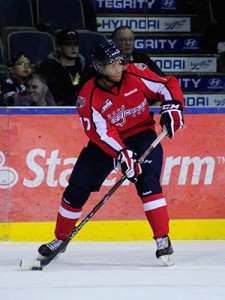 Jamal Watson
Jamal Watson is fast. And when we say fast, we're talking about possibly the fastest wheels in the WHL.
"The big thing that has always stood out with Jamal is his speed," said Lethbridge Hurricanes general manager Brad Robson. "He's probably one of the best skaters in this years draft from the WHL."
And International Scouting Service's Ross MacLean sees a power forward in the Calgary, Alberta native.
"He's got that power-forward potential," MacLean said. "He's the kind of guy how can play in a variety of different ways and fill a variety of roles. He got that grittiness and he's the guy you want fore-checking in the corner because he can bang and crash."
At six-foot, 175 pounds, Watson doesn't sound like the prototypical power forward. But not everyone is Milan Lucic.
Instead, Watson likes to model his game after Evander Kane, a former WHL standout himself.
________________________________________
David O'Connor is a managing editor with the Sunbelt Hockey Journal. His writing has been on the Los Angeles Times' website, among other places. O'Connor also does some scouting work for the local Junior B hockey club. Please feel free to contact him at davidoconnorhockey@gmail.com.