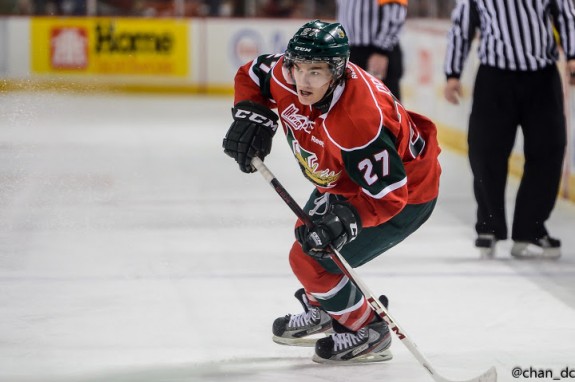 by Eldon MacDonald
Potential
Tampa Bay
Lightning Picks
The purpose of this article is to give readers a feel for what the Tampa Bay Lightning might be looking for in the upcoming 2013 NHL Draft in New Jersey and to provide some idea as to who may be available and picked with each draft selection. To give the reader a fairly wide range of information, we have provided the following:
Major Needs
Likely Draft Positions and Potential Picks
The Major Team Decision Makers
The Big Club – Current Roster
Top 10 Prospects
The Last Three Drafts
Join the #TBLightning Girls & @ThunderBugTBL for an #NHLDraft Watch Party on Sunday, June 30th @Champps! Details: http://t.co/EdacQrcIPz

— Tampa Bay Lightning (@TBLightning) June 18, 2013
Other Posts in This Series (THW's War Room Final Rankings)
You can use these posts to get more information on a player ranked 1 to 120 including the following on most prospects:
Nicknames
Audio
Video
Quotes
Twitter
Stats
Major Needs
1 – Replacement for Martin St.Louis – No, Martin is not out of the picture yet but you want someone else in place when he finally slows down. It usually takes even a high-end  draftee two to three years to be ready to take over. You don't want to keep Steven Stamkos waiting.
2 – Shutdown defenseman with grit – Other than the occasional big hit from Radko Gudas, it is pretty tame on the back end.
3 –Grit on the front-end – Yes, TampaBay has offense but they need some sandpaper up front to make the offense more effective at even strength.
4 – Best player available – Best player available is always a good pick. However, when there are many players of similar value, it is usually the one who has the qualities your team values the most that comes out on top.
Likely Draft Positions and Potential Picks
"We know we're getting a good player at the top of the draft. We think there are 5 elite guys & we're going to get one of them." -Al Murray

— Tampa Bay Lightning (@TBLightning) June 11, 2013
Round 1; pick 3 (The numbers in brackets are my rankings)
Preference 1 – Jonathan Drouin (#3)
Preference 2 – Valeri Nichushkin (#5)
Preference 3 – Aleksander Barkov (#4)
Since Jones and MacKinnon are likely gone to Colorado and Florida, TampaBay is likely stuck with the perfect pick for them even if the other two were available. Sure Stevie Y likes his Russians and will likely consider Valeri Nichushkin, it is still inconceivable to me that he will bypass Jonathan Drouin and the 50, 60, 70 goals a year that he could set up Steven Stamkos for over the next 10 to 15 years.
2013 NHL Draft: Seth Jones may be available to Lightning after all http://t.co/SEHzC3xOvc

— 2020 Stanley Cup Champions Raw Charge (@RawCharge) June 19, 2013
Watch Now: #TBLightning scouts preview the top 5 players available in this year's #NHLDraft [VIDEO] http://t.co/VQsn9evE5K

— Tampa Bay Lightning (@TBLightning) June 18, 2013
Round 2: Pick 33 – Historical success rate = 33%
Preference 1 – JT Compher(#38)
Preference 2 – Dillon Heatherington (#43)
Preference 3 – Ian McCoshen (#36)
Potentially available starting at 27 and ending at 38 are: Madison Bowey, Mirco Mueller, Chris Bigras, Morgan Klimchuk, Robert Hagg, Shea Theodore, Zach Fucale, Ian McCoshen, Justin Bailey and JT Compher – also Dillon Heatherington at 43. There is quite a bit of talent in this group and a team would be lucky with any one of them. However, JT Compher, a small but gritty center, or Dillon Heatherington, a 6'4 maybe 6'5 hard to play against d-man, would be my first choices for Tampa Bay in this group.
Name to watch for No. 33: MT @Jerome_Berube: NHL draft tracker: William Carrier | Buzzing The Net – Yahoo! Sports http://t.co/sZYZTqqKXE

— Bolt Prospects (@BoltProspects) June 18, 2013
Round 5: Pick 124 – Historical success rate = 11%
Potentially available starting at 121 and ending at 129 are: Carter Verhaeghe, Tyler Lewington, Alexandre Coulombe, Marcus Högberg, Connor Rankin, Cole Cassels, Spencer Jensen, Luke Johnson and Ben Harpur.  At 124, you have a one in ten chance of hitting oil. Personally, at this stage I would go for the gusher and select the 6'5 Ben Harpur. Carter Verhaeghe, however, is a safer choice and he will get big time minutes next year in Niagara Falls with Ryan Strome gone – played very good at times in the playoffs this year.
Round 6: Pick 154 – Historical success rate = 9%
Round 7: Pick 184 – Historical success rate = 10%
Round 7: Pick 186 – Historical success rate = 10%
Me 90 – NHL 156 – Matt Murphy
Me 97 – NHL 211 – Peter Trainor (3rd time available)
Me 109 – NHL NR – Jesse Lees
Me 114 – NHL 230 – Miro Aaltonen (3rd time available)
Me 119 – NHL >290 – Markus Søberg
Me 124 – NHL 200 – Marcus Högberg
Me 125 – NHL 165 – Cole Cassels
Me 131 – NHL 175 – Steven Harpur
Me unranked – NHL Unranked – Albert Yarullin (3rd time available)
Me unranked – NHL Unranked – Mitchell Theoret (re-entry prospect)
It is virtually impossible to tell who might be available from 154 on  so what I did was list those personnel who I have ranked in the 3rd and 4th rounds which the NHL has ranked greater than 154that still have a decent chance of still being available. As this is as good time as any to make sure you take the best player available, I have listed the prospects in ranking order. I have also added Albert Yarullin, Nikita Nesterov's(148 – 2011) usual defense partner on Russian international teams, who has a big shot on the power play and Mitchell Theoret (6'2, 212) who looked very good for Barrie in the OHL playoffs.
The Major Team Decision Makers
1 – General Manager: Steve Yzerman
2 – Head Scout: Al Murray
3 – Coach: Jon Cooper
The Big Club – Current Roster
| | | | |
| --- | --- | --- | --- |
| No. | Left Wing | Centre | Right Wing |
| 1 | Ryan Malone | Steven Stamkos | Martin St. Louis |
| 2 | Benoit Pouliot | Vincent Lecavalier | Teddy Purcell |
| 3 | Alex Killorn | Nate Thompson | Brett Connolly |
| 4 | Richard Panik | Tom Pyatt | BJ Crombeen |
| 5 | Pierre-Cedric Labrie | Dana Tyrell | |
|   | Prospect | Prospect | Prospect |
| 1 | Nikita Kucherov | Vladislav Namestnikov | Brian Hart |
| 2 | | Tyler Johnson |   |
| | | | |
| --- | --- | --- | --- |
| No. | Defense | Defense | Goal |
| 1 | MattiasOhlund | Victor Hedman | Ben Bishop |
| 2 | Eric Brewer | Sami Salo | Anders Lindback |
| 3 | Keith Aulie | Matthew Carle | Mathieu Garon |
| 4 | | RadkoGudas |   |
|   | Prospect | Prospect | Prospect |
| 1 | Nikita Nesterov | Slater Koekkoek | Andrei Vasilevsky |
| 2 | Mark Barberio | Dylan Blujus | Jaroslav Janus |
Top 10 Prospects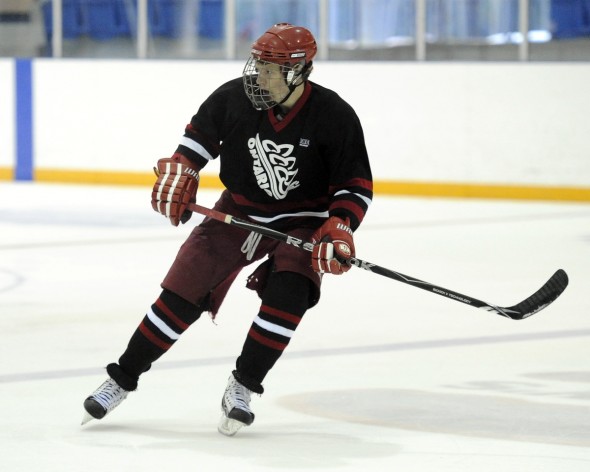 1 – 2011 – 058 – Nikita Kucherov
2 – 2012 – 010 – Slater Koekkoek
3 – 2012 – 019 – Andrei Vasilevsky
4 – 2009 – 027 – Vladislav Namestnikov
5 – 2011 – 148 – Nikita Nesterov
6 – 2009 – 162 – Jaroslav Janus
7 – 2008 – 152 – Mark Barberio
8 – 2008 – FA – Tyler Johnson
9– 2012 – 40 – Dylan Blujus
10 – 2012 – 52 – Brian Hart
The Last Three Drafts
| | | | |
| --- | --- | --- | --- |
| No | 2012 | 2011 | 2010 |
| 1 | 010 Slater Koekkoek | 027 Vlad Namestnikov | 006 Brett Connolly |
| 2 | 019 Andrei Vasilevsky | 058 Nikita Kucherov | 063 Brock Beukeboom |
| 3 | 040 Dylan Blujus | 148 Nikita Nesterov | 066 RadkoGudas |
| 4 | 053 Brian Hart | 178 Adam Wilcox | 072 Adam Janosik |
| 5 | 071 Tanner Richard | 201 Matthew Peca | 096 Geoffrey Schemitsch |
| 6 | 101 Cedric Paquette | 208 OndrejPalat | 156 Brendan O'Donnell |
| 7 | 161 Jake Dotchin | | 189 Teigan Zahn |
| 8 | 202 Nikita Gusev | | |
Chris is THW's senior draft/prospect analyst and a Managing Editor. Watch for "The Next Ones" Prospect Profile series, exclusive rankings, mock drafts, as well as the annual THW NHL Entry Draft Guide. Follow @ChrisRalphYQ on Twitter as he infiltrates, dissects and analyzes all happenings of hockey prospects and the NHL entry draft. Email: cralph[at]thehockeywriters[dot]com