The NHL 2013 season is just about ready to kick off. The Eastern conference has been dominated by the Atlantic division over the past couple of seasons, though the Boston Bruins did win the Stanley Cup in 2011, the likelihood of that Atlantic dominance continuing looks likely at the moment. The East may be a story of parity this season, but realistically there appear to be six teams with enough talent and depth to make a run through the conference to the Stanley Cup finals. This article breaks those six teams down.
Carolina Hurricanes
The Hurricanes will start the 2013 as major outsiders despite their headline grabbing offseason moves. The additions of Jordan Staal and Alexander Semin alone cannot transform Carolina from a team that miss the postseason altogether in 2011-12 into a Cup contender. However, they can be a part of a team that has tremendous opportunity for improvement.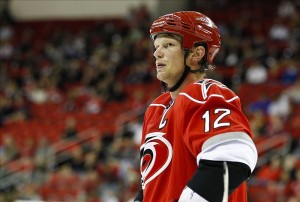 Jordan Staal cost GM Jim Rutherford a lot in terms of the trade and the eventual contract that he signed. Rutherford clearly believes that Staal can comfortably beat his current career high of 50 points, while still bringing an excellent two-way game. There's little doubt that the 24-year old has that potential, and now that he is on a team where he is the official #2 center with a winger like Jeff Skinner set to line up alongside him, he definitely has the opportunity to reach his potential.
Semin joins this team after scoring just 21 goals and 54 points and a reputation of even being a locker-room 'cancer', Still, the 28-year old enters the season with plenty of motivation. He will want a long-term deal in the NHL next season, and he needs more than the 54 points he has scored in each of the past two seasons. He will get to play alongside one of the league's top centers, and he has a point to prove after being dumped by Washington and not being highly sought after in the offseason.
Eric Staal will need to improve his play after a disappointing overall campaign last season. Skinner is a superbly talented offensive player who should improve on a sophomore campaign disrupted by a concussion. In fact, it is hard to find a forward on this team that isn't likely to improve his production. Jussi Jokinen scored just 12 goals and 46 points after a couple of reasonably productive seasons. This is a team that shouldn't have trouble scoring goals and they have some intriguing young talent suiting up for them as well including Zach Boychuk, Drayson Bowman and Zac Dalpe.
The defense won't improve because of any offseason additions. However, goaltender Cam Ward will be expected to improve behind a defense that should be better. Joni Pitkanen and Tim Gleason continue to be the top two on the blue-line, while veteran Joe Corvo starts the season with Carolina after a previously successful stint. Jamie McBain is a player who has gradually established himself at NHL level, and could be a player worth tipping to succeed. The big improvement could come at the bottom of the defensive corps with Bobby Sanguinetti expected to start in the top six, while Justin Faulk could be a significant contributor in 2013.
A lot has to come together for Carolina to make a serious Cup challenge and they will remain deserved outsiders, but this a roster that has the depth and talent to make a serious run.
Philadelphia Flyers
The expected absence of Chris Pronger, who is still dealing with post-concussion symptoms, makes the Flyers pretty distant outsiders to make a serious run, and puts the weight of that run on the shoulders of Ilya Bryzgalov. The 32-year old didn't have a ton of success in the playoffs even while building his reputations as the MVP of the Phoenix Coyotes. Bryzgalov would probably settle for regular season success after the disappointment he endured in 2011-12. He will be the key man if this team is going to succeed.
The blue-line will look to Kimmo Timonen as the experienced leader, while Braydon Coburn and Niklas Grossman form a solid shutdown pair. Luke Schenn gets a fresh start and has a skill set that could make him very popular in Philadelphia. Andrej Meszaros also returns and has really solified his reputation as a solid two-way blue-liner. The Flyers have depth in youth as well with Marc-Andre Bourdon (when healthy) and Erik Gustafsson both looking like good talents and both having had the chance to gain some NHL experience.
The obvious strength of this line-up is a forward group that will be very hard to contain even with the departure of Jaromir Jagr. Claude Giroux and Scott Hartnell return after a superb 2011-12 campaign playing alongside one another. Brayden Schenn looks set to complete that line. Schenn could be the most offensively talented player on this roster and should enjoy a big season in 2013. Meanwhile, Sean Couturier moves up to the second line center position and should increase his own production after a solid rookie campaign. Danny Briere will be an important offensive player when he returns from injury, while Jakub Voracek, Matt Read, Wayne Simmonds and Ruslan Fedotenko give this team depth to be envied.
If Bryzgalov produces the sort of form that saw him earn a huge contract from the Flyers, then this team could make a serious playoff run.
Washington Capitals
The feel good Washington and Alex Ovechkin story that had dominated headlines since the 2005-06 lockout finally came to an end in 2011-12. Early playoff exits combined with decreasing production from Ovechkin led to a tumultuous year in the nation's capital where the franchise changed coaches, changed playing styles, battled hard to make the postseason, but ultimately fell short in the second round of the playoffs yet again.
They enter 2013 with another enforced makeover after Dale Hunter decided not to return behind the bench. Adam Oates is likely to look for a more open style compared to Hunter, but he will demand more defensive responsibility than in Bruce Boudreau's early years. The jury is still very much out on a new coach who has had little time to prepare and a team that lost its identity last season.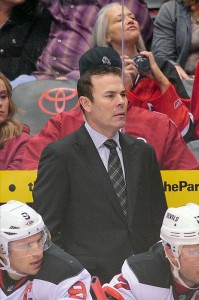 However, the pieces are still here for the Capitals to make a serious run. Ovechkin, Nicklas Backstrom and Mike Ribeiro head a talented offense, which also includes some useful young players like Mathieu Perreault and Marcus Johansson. This team also has a very strong blue-line headed by a very solid young pair John Carlson and Karl Alzner. Mike Green will hope to stay healthy and boost the offense, while Jeff Schultz, Roman Hamrlik, John Erskine and Dmitry Orlov make it a pretty deep group.
The goal crease might be as solid as it has ever been as 24-year old Michal Neuvirth and 23-year old Braden Holtby share time in net. They are both in contract years, have useful NHL experience and have the talent to be top goaltenders in this league. The chances are that the Capitals should have a good blue-line and should get good goaltending. Washington could be a team to watch out for again in 2013.
Boston Bruins
The 2011 champions have been a pretty popular pick in the preseason. The roster from that 2011 success remains pretty much intact. A shortened NHL season shouldn't hamper a team that has a lot of chemistry and is reportedly a tight knit group. The Bruins have a balanced roster with lots of playoff experience. The biggest question is arguably in net where Tuukka Rask will take over the duties after Tim Thomas decided to sit out the season. Rask has quality NHL experience and has owned the #1 tag before, but Boston management will be watching carefully over the first few weeks. Back-up Anton Khubodin shouldn't be forgotten here either, the Russian looks like a very good prospect at NHL level as well.
The key to this line-up is still top defenseman Zdeno Chara. The 35-year old might have enjoyed the extra rest and should be fired up for a serious Stanley Cup run knowing that his window of opportunity for a second championship might be closing. His blue-line has a similar look to previous seasons with Johnny Boychuk, Andrew Ference, Dennis Seidenberg and Adam McQuaid all apart of the top six. Dougie Hamilton rounds out the top six. Hamilton will probably experience some growing pains, but if he is able to adapt to the professional game, he could add the key offensive balance that GM Peter Chiarelli has been hunting for in recent seasons.
David Krejci, Patrice Bergeron and Chris Kelly return for this team down the middle, while Nathan Horton's return from concussion boosts a returning group of wingers. Milan Lucic, Rich Peverley and Brad Marchand are all also back. Tyler Seguin will be expected to lead the offense again. He is the team's game-breaking offensive talent and a step up to point per game production could make all the difference for Boston in 2013.
The Bruins are a known commodity. That can be a bad thing, but this is a proven formula, and a roster with great chemistry, expect them to be a tough out in the postseason.
New York Rangers
The Rangers were the regular season champions of the Eastern conference and were not far away in the Eastern conference finals against the Devils. It stands to reason that the major offseason addition of Rick Nash could push this team over the edge. The Rangers have three forwards in Brad Richards, Marian Gaborik and Nash all making in excess of $6.5 million. Expectation is very high for this team to win a Stanley Cup.
The strength of this team remains from the goal out. Henrik Lundqvist won a Vezina Trophy last season after a spell of six or seven seasons where he was arguably the most consistent netminder in the league. Lundqvist plays behind one of the strongest defenses in the league. Marc Staal starts the season fully healthy and ready to lead a defense that includes Ryan McDonagh, Dan Girardi and Michael Del Zotto. There's depth to this group as well and John Tortorella will have his whole team playing strong defense.
Nash, Gaborik and Richards give the Rangers a 'big three' of offensive players, but the performances of Ryan Callahan, Derek Stepan, Chris Kreider and Carl Hagelin. While the 'big three' are not likely to play on the same line, New York will need to find a way to generate at least two lines of scoring. It will be interesting to see whether Taylor Pyatt, Mike Rupp and Brian Boyle can add any depth scoring.
The Rangers have earned their status as Eastern conference favorites, but assuming that this team will mesh easily could be dangerous and depth scoring might be a concern.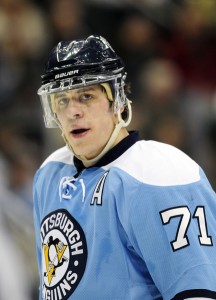 Pittsburgh Penguins
Sidney Crosby is back and along with Evgeni Malkin should give Pittsburgh the most potent attack in the NHL. Crosby and Malkin haven't found consistent form and stayed healthy since the Penguins last Cup, and the two of them producing could be the key to this team enjoying 2013 success. James Neal returns after a brilliant season on Malkin's wing. Eric Tangradi is expected to complete that line, while Crosby partners familiar line mates Chris Kunitz and Pascal Dupuis.
Brandon Sutter was an unheralded pick up in the trade that sent Jordan Staal to Carolina. Matt Cooke and Tyler Kennedy add offensive depth and grit, while Dustin Jeffrey is another young player who could make a difference to this roster. Another unheralded offseason addition by GM Ray Shero was the pick-up of Tomas Vokoun. The veteran goaltender should help keep Marc-Andre Fleury fresh and could be a useful back-up option if Fleury melts down in the postseason again.
The defense is coming under the most scrutiny after under-achieving in 2011-12 and then losing Zbynek Michalek in the offseason. Paul Martin should have a better season in 2013 after struggling mightily last year. Meanwhile, Kris Letang, Brooks Orpik and Matt Niskanen should fill out a pretty strong top four. There are some good young players battling for ice time on this defense with Roberto Bortuzzo, Ben Lovejoy and Simon Despres all likely to see significant time during the season.
The Penguins should be hungry for success with a healthy roster and their most recent Stanley Cup success gradually becoming a distant memory. This franchise will know that there is no excuse for not winning multiple cups with Crosby and Malkin on the roster.