There is no professional league that is more generous than the National Hockey League. Throughout the decades, there have been many charities that would not have accomplished its goals without the full support of the organization, its players, and its teams. You can't help but wonder what would happen if there was no support in place for sick kids, cancer patients, and others that need help.
For example, the Edmonton Oilers in the 1980s were synonymous with helping the local community through major fundraising efforts such as the United Way and the Christmas Bureau of Edmonton to name a few. The Vancouver Canucks support children with life threatening illnesses through Canuck Place. The first Winnipeg Jets had an initiative called Goals For Kids, and its purpose was to raise money for children's charities and causes within Manitoba. At present, all 30 teams run their own charity foundations that continue to help local communities.
Even the league itself is involved in it's own initiative called Hockey Fights Cancer. It was founded in 1998 as an outgrowth of a similar program instituted by the Tampa Bay Lightning after former player John Cullen attempted a brief NHL comeback following a battle with Non-Hodgkin lymphoma.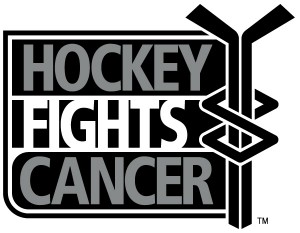 Since the advent of social media, there have been plenty of feel good stories involving the NHL's active participation with children's charities as seen on youtube, nhl.com and other high-traffic sites. One of the bigger charity orgs that has been garnering positive exposure recently is the Children's Make-A-Wish Foundation. There have been two great instances where the NHL helped make two special people's wish come true.
Meet four year old Nicholas Skretkowski from Milton, Ontario. He has a medical condition called Wilms' tumor. He got his wish: to practice with Jonathan Toews of the Chicago Blackhawks at the Stadium Series:
Next, meet eight year old Braden Nienaber who suffers from Langerhans cell histiocytosis, a disease that's similar to cancer. He met with Lloydminster's Braden Holtby and his Washington Capitals teammates, and later was part of the infamous ceremonial puck drop:
This third wish may make you tear up…
Meet eighteen year old Sam Tageson. A lifelong San Jose Sharks fan, Sam a life-threatening heart condition (hypoplastic left heart syndrome), got what he wished for: A one-day contract with the Sharks, a morning practice session with the team, and took part in the starting lineup prior to the puck drop. Afterward, Sam was given a heartfelt standing ovation from the Sharks fans.
Kudos to the National Hockey League for helping make charities' dreams a reality. This league is one big feel good story.