As the truncated 2020-21 NHL season continues to move forward some NHL backup goaltenders are getting a higher percentage of ice-time, earlier in the season than they would typically experience. With several teams, backup goaltenders are playing well enough to make fans wonder if the backup should become the starter.
RELATED: NHL Goalie Controversies: The Hot List
In a previous installment, I talked about some of the hottest goalie controversies brewing in the league. I rate these controversies on a one-to-five scale and after each rating, I'll provide analysis. The higher the rating, the more volatile a goalie controversy is. Lower ratings mean there is no controversy or there's another explanation for the happenings with that given team. In part two of this two-part series, I'll take a look at the teams where it might seem that controversy is brewing, and discuss whether or not there's any substance to it.
Vegas Golden Knights: Fleury vs Lehner
2/5: A Spark But Little Else
The optics surrounding this crease controversy are basically the only things fueling it. Fleury rebounded in his final year with Pittsburgh only to see himself taken by Vegas in the expansion draft. He seemed to embrace his new team, and became arguably its first star player. The 2017-18 season saw him post the best statistical year of his career and the expansion Golden Knights push all the way to a Stanley Cup Final appearance. The following year he was still very good. Last year his play slipped a little bit, and at the trade deadline, the Golden Knights acquired an interesting partner for him to tandem with.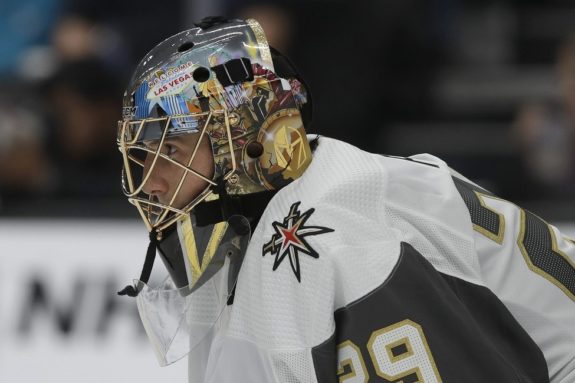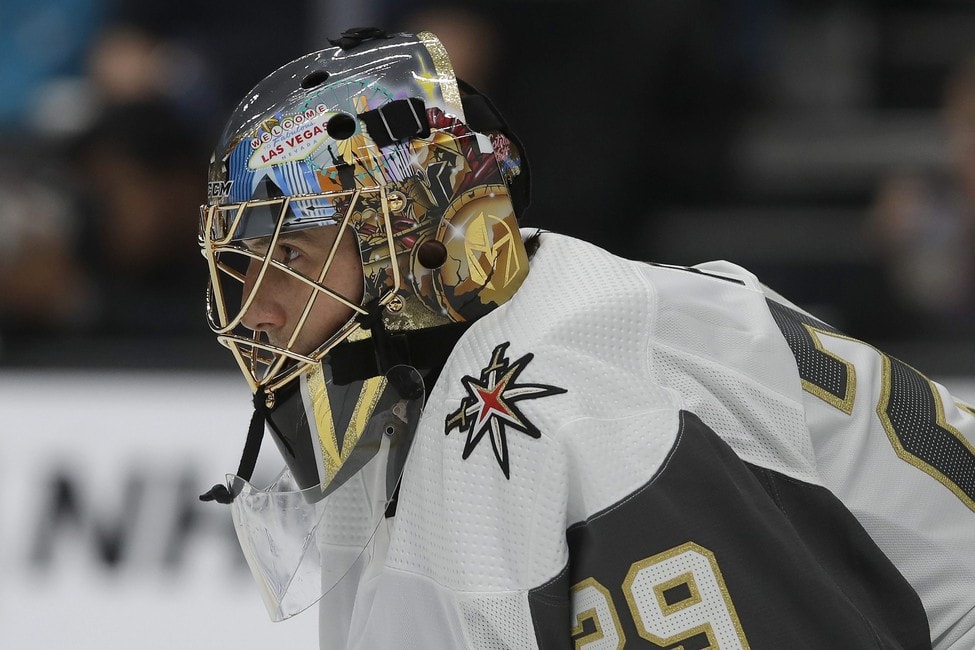 They brought Robin Lehner in from Chicago in a deadline deal that sent Malcolm Subban, Slava Demin, and a 2020 second-round pick to the Blackhawks. The Golden Knights then signed Lehner to a contract extension worth $25 million over the next five seasons. This puts the team in the rare situation where "starting goaltender money" is being paid to both goaltenders. The Golden Knights' investment into their goaltending uses up a tremendous amount of salary-cap space. Their combined salaries account for 14.7% of the team's available salary cap. That puts them second in the league behind Montreal.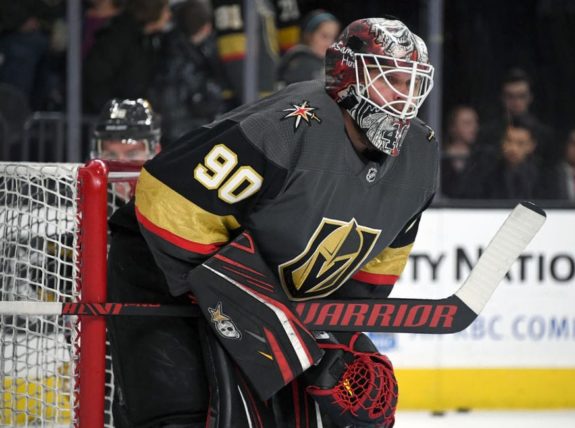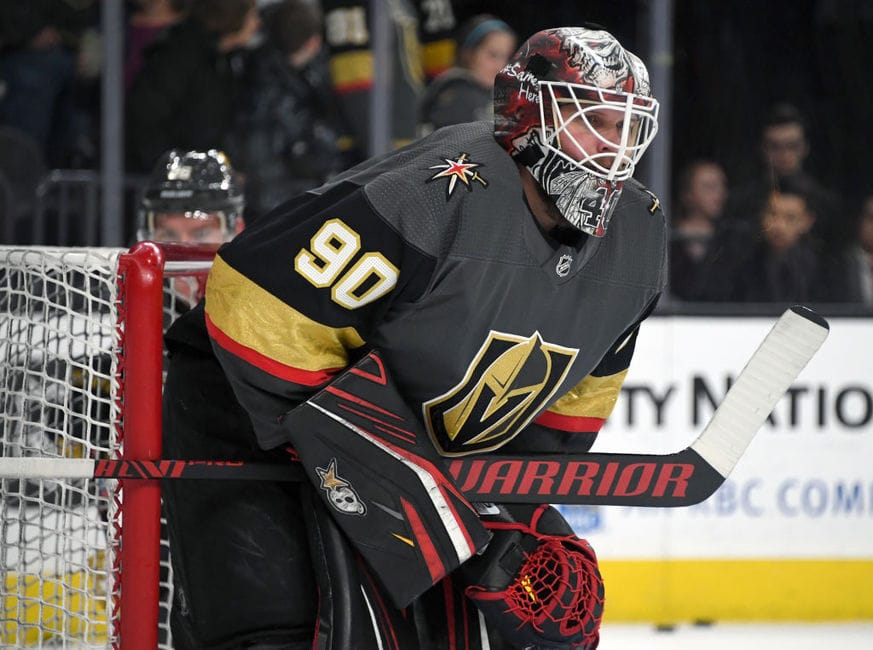 After this season, Fleury has one year remaining on the three-year extension he signed in July of 2018. Considering Lehner's lucrative five-year contract, it seems obvious that he is seen as the future for the franchise. The Golden Knights are exempt from the expansion draft so Fleury isn't Seattle bound. The team could possibly use some upgrades in other spots on their roster. The salary cap is supposed to remain flat for two more seasons after this one. In order to free up $7 million dollars in salary cap space, they might try to trade Fleury in the offseason.
If there are no upgrades they are interested in, then it's possible that Fleury is back for 2021-22 to finish out his contract. Until any of that happens, the status quo in Vegas will be the second most expensive tandem switching off as their coach deems necessary. As long as the team continues to win games, I'm not sure anybody in the organization is concerned about which goaltender is in net for them.
Los Angeles Kings: Petersen vs Quick
3/5: Simmering
Jonathan Quick has seen his play deteriorate substantially in recent years. This season is no exception. From 2008-2018 Quick was one of the most reliable starting goaltenders in the game statistically. Since the start of the 2018-19 season though, it has been a downhill slide for the aging netminder.
| | | | | |
| --- | --- | --- | --- | --- |
| Jonathan Quick Career Numbers | Win % | Goals Against Average | Save % | Quality Start % |
| 2008-2018 | .540 | 2.27 | .917 | .561 |
| 2018-2020 | .364 | 3.09 | .896 | .455 |
| This Season to Date of Publish | .500 | 3.19 | .889 | .500 |
Stats Provided by Hockey-Reference.com
Quick's deteriorating play would be a great cause for alarm if the Kings were not still in the process of a full rebuild. General manager, Rob Blake has taken great care to stockpile draft picks and prospects for his team without expending assets to acquire pieces to make the team better in the short term. In Quick's defense, this has meant that the team in front of him has not been very good either. The team performing poorly as a whole has led to them picking in the top five in the last two NHL Entry Drafts. Prospects Quinton Byfield and Alex Turcotte, obtained in those drafts are likely to be building blocks of a strong franchise going forward.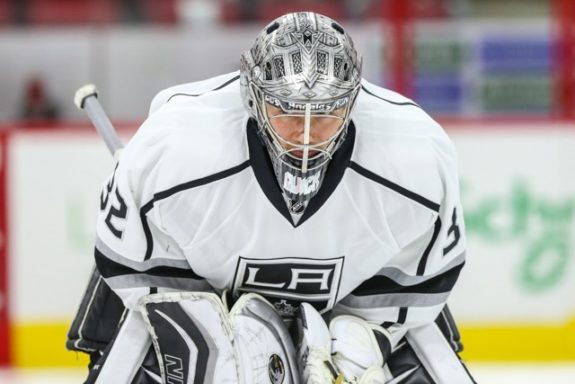 Unfortunately for Quick those young talents and others in the Kings top-ranked prospect system will likely come too late in his career for him to be a factor when the Kings are good again. He turned 35 on Jan 21 and his rapid descent statistically makes it seem like a Fleury-esque late-career renaissance is not forthcoming. This is where 26-year old Calvin Petersen enters the picture.
Petersen has started the season very strong individually. In spite of a 3-4-1 record, he has amassed a .926 save percentage (SV%) and a 2.43 goals-against average (GAA). On a better team, with better offensive support it is likely that he would have better results. He was picked up by the Kings from NCAA free agency in July of 2017. Over the last three seasons, he has only gotten 26 starts for a record of 13-11-2 with a .924 SV% and 2.56 GAA. It's a very small sample size, but playing behind the same team as Quick, Petersen has been able to get much better results.
Why then did the Kings decide not to pull the plug on Quick and give Petersen more of the workload sooner? A lot of that probably has to do with the process of a rebuild. For 2018-19 and 2019-20, it was not an inconvenience to the franchise for Quick to deliver subpar performances. This season though that has changed. Petersen has been given a 50/50 share of the starts and has fared much better than Quick.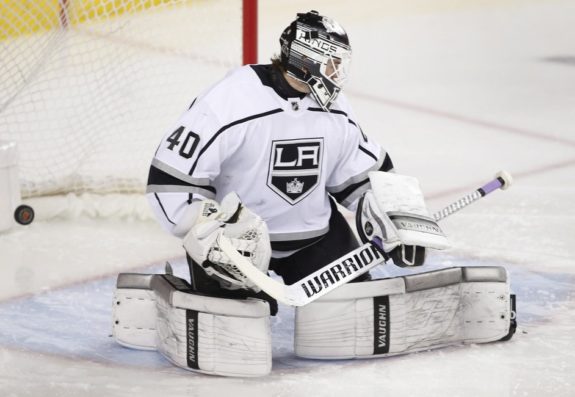 The reason this controversy only ranks as a 3/5 is because even though there's a clear transition occurring, it's working as intended. The transition from Quick to Petersen is being dictated simultaneously by the state of the team's readiness to compete and the on-ice product provided by the goaltenders themselves. The upcoming expansion draft will ultimately provide the final sentence. Teams can only protect one goaltender. I'm not sure how likely it is that the Kraken will take Quick if/when he's left unprotected, but leaving him unprotected will send a clear message that his days as the workhorse in Los Angeles are over.
It seems all but a given that Petersen is the future in net for the Kings as their youth movement is due to arrive during prime years for him. Leaving him exposed to the expansion draft would be nothing shy of foolish. Quick has been a good soldier, but if the Kings feel they are ready to try to really be competitive, he's going to find himself taking a back seat to Petersen. That's if he's even in the car at all.
Toronto Maple Leafs: Campbell vs Andersen
2/5: A Spark but Little Else
I have to get a rant out of the way first and it could very easily go off the rails a little bit. There's a cross-section of the Toronto Maple Leafs fan base and media who always seem to favor the backup goaltender over the starter. This phenomenon isn't limited to them, but it always seems to pop up. For a couple of years, Curtis McElhinney was a folk hero. Even though it was obvious that Frederik Anderson was standing on his head behind an inadequate defense.
Needing a goaltender in the 2016 offseason, then general manager, Lou Lamoriello packaged two draft picks to Anaheim to obtain Andersen. Those were, the 2016 first-round pick obtained in the Phil Kessel trade, and a 2017 second-round pick. The players drafted with those picks were Sam Steel and Maxime Comtois and even with that knowledge, you still make that trade every single time. Now, this season, he's playing behind the best defense he's ever had in front of him during his time in Toronto, but they're in a division that eschews defensive play in the favor of wide-open, high-scoring affairs. Andersen is the starter for the Maple Leafs and he will remain so for the remainder of this season.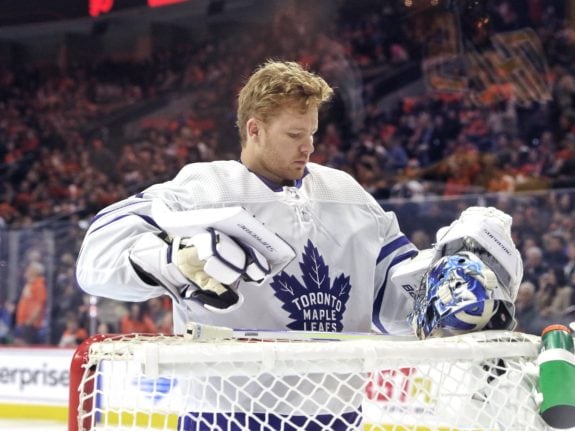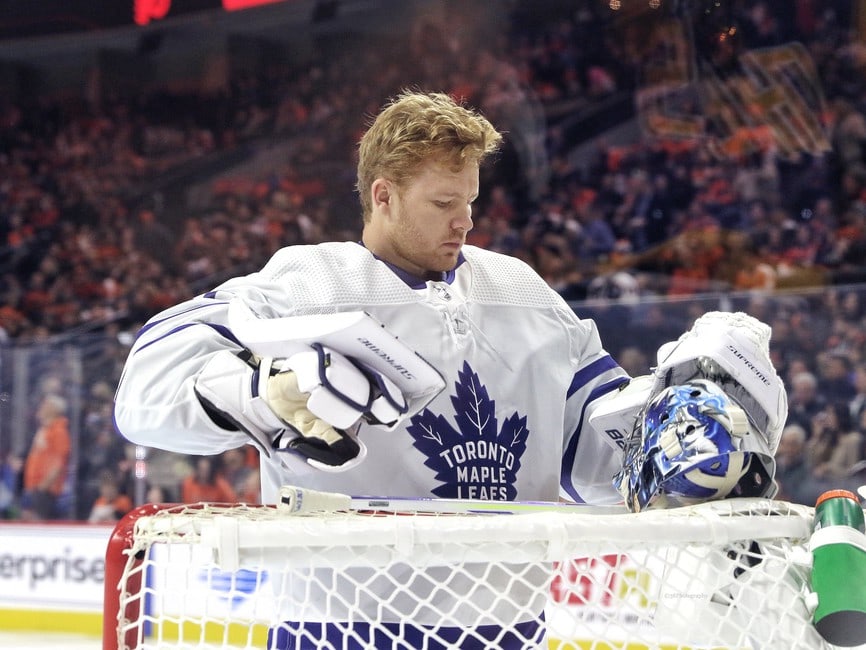 With all that said, Andersen's contract is up at the end of this season. Jack Campbell is signed for one more year at a $1.65 million salary cap hit. Andersen's current contract that accounts for $5 million against the salary cap comes off the books once the season ends. There are some salary cap considerations to take into account as well as an expansion draft.
In my mind, the obvious scenario is for the Maple Leafs to circumvent the expansion draft by not signing Andersen to a contract extension and instead have a contract ready to go for him on day one of free agency. That allows the Maple Leafs to protect Campbell and expose Michael Hutchinson while still being expansion draft compliant. There's no doubt in my mind that the Maple Leafs' management has considered this exact scenario. There is some risk associated with taking that tact though. It's possible Andersen could just decide he's done with being a Maple Leaf and walk off to free agency. It makes it easier to take that risk if they're reasonably confident that Campbell could be their guy going forward if they needed him to be.
RELATED: Maple Leafs' Jack Campbell Is a Teammate You Want on the Roster
Campbell was picked 11th overall in the 2010 entry draft. At one point in time, he was a very highly touted goalie prospect. His development kind of stalled out though and the Dallas Stars ended up jettisoning him to the Kings for prospect defender Nick Ebert in 2016. For a few years, he held the backup role with the Kings, backing up Quick and holding off Petersen. As Petersen began to emerge as a realistic second option, Campbell was less necessary for the Kings, allowing Toronto to acquire him in February of 2020 along with Kyle Clifford.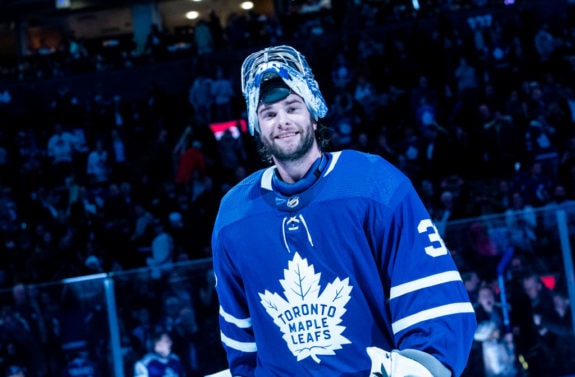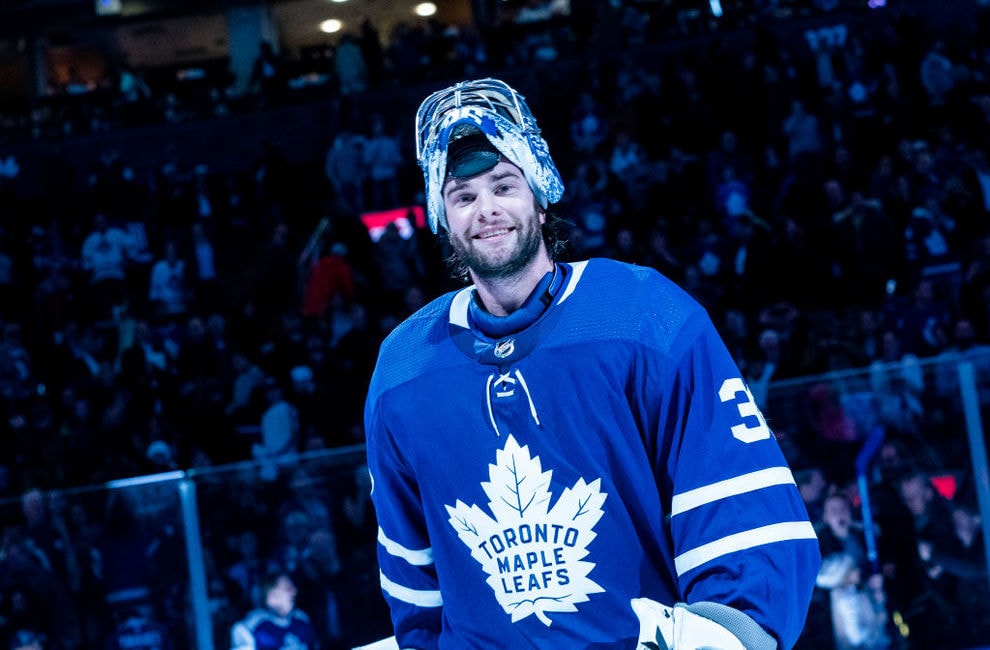 What's particularly galling about his whole discussion is the sample size Campbell is working with. Since being acquired by the Maple Leafs he has started eight games. His record through those games is 5-2-1 with a .917 SV% and a 2.47 goals-against average. His numbers are good, and he has made some brilliant saves in his outings. However, he has to play more games before he becomes Andersen's "successor" rather than his "backup". There simply just is not enough data at this point to go all-in on Campbell as it seems some are willing to do.
If Toronto is employing the expansion draft strategy I discussed above, then there will be no contract extension for Andersen prior to the expansion draft. If Andersen is not signed by the Maple Leafs before the expansion draft, it does not necessarily mean he's not coming back. The longer this season goes on without a contract extension for him, the more chatter I expect to hear about it. At the same time, the Maple Leafs do need to get Campbell playing some games once he's healthy again to increase his sample size and see what they have with him.
The only way this controversy heats up and becomes a real thing is if the team sees enough from Campbell to have him start the playoffs. With only 36 games left and no timetable yet for his return to the lineup, that seems unlikely. How far the Maple Leafs can go in the post-season rides and dies with Andersen.
Columbus Blue Jackets: Merzlikins vs Korpisalo
3/5: Simmering
At the start of this season, head coach, John Tortorella stated that he intended to use his goaltenders as a true tandem. Elvis Merzlikins makes the bigger money with the $4 million dollar salary cap hit versus Joonas Korpisalo's $2.8 million dollar cap hit, but the salary disparity isn't something on par with what's going on in Nashville or Florida. In theory, barring injury, whoever is playing the best hockey will get the most starts. The problem with that, in practice, has been Merzlikins inability to stay healthy.
| | | | |
| --- | --- | --- | --- |
| 2020-21 Season | Record | Save % | Goals Against Average |
| Joonas Korpisalo | 5-4-3 | .889 | 3.46 |
| Elvis Merzlikins | 3-3-1 | .917 | 2.81 |
Statistics courtesy of Hockey-Reference.com
As with all the other teams, the Blue Jackets only have 19 games played so it's a small sample size. Korpisalo hasn't been stronger statistically but has been given 12 of the 19 starts due to Merlikins missing time. After a Feb 5 injury, he spent six days on IR and then didn't get another start until Feb 15. If there were plans to try to get Merzlikins closer to 50/50 those will now be on hold because he just got hurt, again, in the Feb 21 game against the Predators. Matiss Kivlenieks has been called up from the Cleveland Monsters of the AHL to the Blue Jackets' taxi squad. He joins Cam Johnson as the second goalie on the taxi squad. Neither Kivlenieks nor Johnson have a particularly extensive NHL record. This likely means that, at least for now, the net belongs firmly to Koprisalo.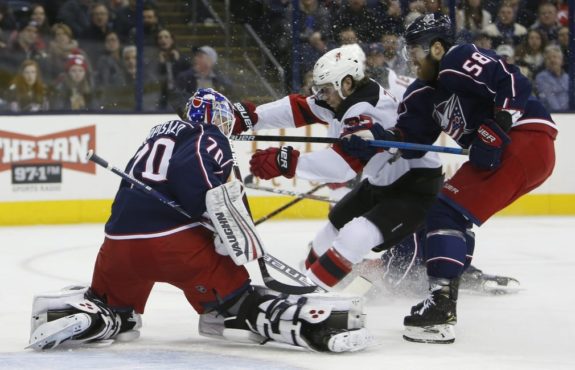 Merzlikins has been playing better hockey dating back to last season. Both players signed their current contracts in April 2020. It's pretty clear from the salary amounts that Merzlikins is intended to be the starter. However, this is an opportunity for Korpisalo to try to assert himself as a capable starter. He is not off to a good start this season, but he has played well for the Blue Jackets in the past. If they're going to have any chance of making the playoffs, they will need Korpisalo to find a new level that he hasn't reached yet.
For right now, there's not really a big controversy here. The coach made clear he'd go with a true tandem for the season, and injuries have been the thing that has disrupted that. The Blue Jackets are in a unique position with the Seattle Expansion Draft. Merzlikins is exempt from being picked, so the issue of who is the starter between him and Korpisalo doesn't necessarily have to be solved this season. Merzlikins needs to get healthy and the Blue Jackets need to get a long look at both goaltenders before they make real decisions about who's the true starter.
Philadelphia Flyers: Elliott vs Hart
1/5: Nothing to See Here, Move Along.
Carter Hart is considered by some to be the best young goaltender in the league right now. He struggled individually early in this season but Flyers management sent a clear message by continuing to put him out there in spite of backup Brian Elliott outplaying him. Hart currently sits at a .891 SV% and a 5-3-3 record. The Flyers certainly expect better from their starting netminder in terms of his save percentage, but as long as the team is able to collect points, they seem content to let him work through his struggles. This is a very different situation from some of the other teams around the league because the young up-and-comer is who the plan is clearly built around. There also aren't huge salary disparities involved.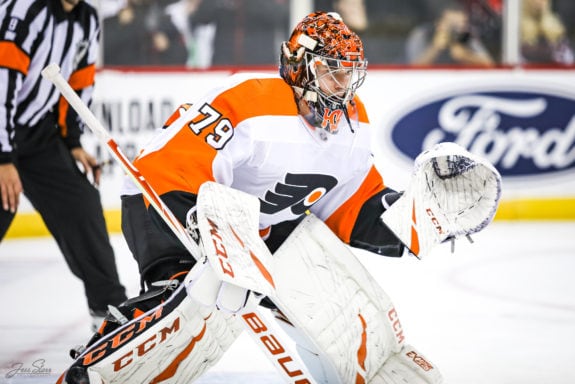 The Flyers brought Elliott back on a one-year contract this season with a clearly defined role for him. For his part, Elliott seems to embrace it. He's playing behind a very good team with deep playoff aspirations, and he's there to be a reliable backup when called upon. If asked to take on a bigger workload and take more starts, there's no doubt that Elliott would be up for it, but for the time being, that's not his role. The 35-year-old veteran has been excellent in relief of Hart, posting a .928 save percentage and a 3-1-0 record. At this point in his career, those stats are remarkable but very likely unsustainable. He hasn't averaged above a .910 SV% for a season since 2015-16.
Hart is a phenomenal young goaltender in the last year of his entry-level deal. Goaltender has been a position of flux for the Flyers for decades, but with Hart, it feels like that is all finally coming to an end. Fans and management expect him to be a big piece of the team's future and rightfully so. There's no controversy here, the net belongs to him and nothing short of an injury will change that.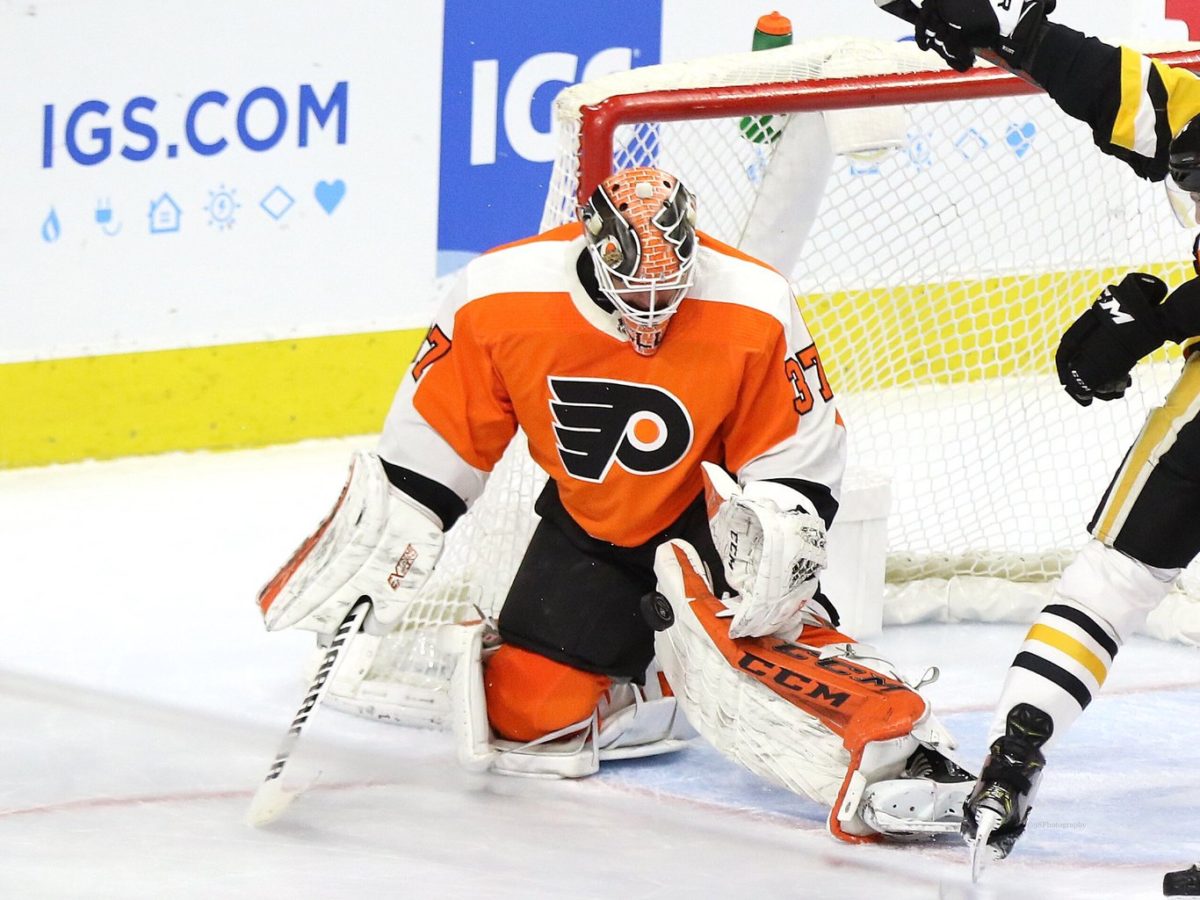 To wrap it all up in one sentence per team:
The Golden Knights have an expensive tandem, but it is indeed a tandem.
The Kings are on the cusp of a new dawn, while the sun sets on a legend.
Maple Leafs' fans and media need to stop trying to make Campbell happen.
In Columbus; Merzlikins' health issues keep giving Korpisalo more chances.
The Flyers are Hart's team and Elliott is just along for the ride.
As the season wears on some of these will work themselves out. The Blue Jackets and Golden Knights really have no sense of urgency to make decisions before the offseason and can let their situations just play themselves out. The Flyers really have nothing to work out and they just need to give their young starter some time. The Kings, and Maple Leafs have decisions that have to be made prior to the Seattle Expansion Draft. How they handle expansion will give a clear indicator of what their plans are going forward into next season. All things considered, there's no real controversy to be had here.
---
---