Projecting goalies is one of the toughest tasks for management and scouts to accomplish in the front offices of NHL teams. Many goalies draft in the first round don't ever pan out and goalies that are selected in the later rounds turn out to be elite NHL goalies. With the 2013-14 NHL season over halfway complete, The Hockey Writers takes a look at five young goalies who could have a big career ahead of them in the toughest league in hockey. The goalies in the showcase are AHL focused, with goalies yet to be selected not included.
John Gibson
Many who never heard of him quickly became familiar with Gibson during the United States Under 20 World Junior championship last winter. Originally drafted by the Anaheim Ducks in the 2011 draft in the second round, Gibson has climbed the pro ranks, earning a promotion to the NHL just a few days ago in his first full professional season in hockey.
Gibson projects as a starting goalie at the NHL level due to his technique and size in net. Read Dobber Prospects pre-draft scouting report on him below, his stock continues to rise as he develops.
"A technically sound keeper with a sharp understanding of angles and body position, Gibson's athleticism is also scary- good – but you'll rarely get to see it on display. Thanks to his poise and positioning, Gibson rarely must strain himself to make a show-stopping save."
2013-14: 13-9-4, 2.43 GAA, .918 SV %
2012-13 (OHL): 17-9-1, 2.41 GAA, .928 SV %
Philipp Grubauer
Although he's only in his third pro season, Grubauer has risen to the top in goalie prospect rankings. Last season with the first year he played above the ECHL level, joining the AHL's Hershey Bears after the NHL lockout was lifted and Braden Holtby was promoted to the Washington Capitals.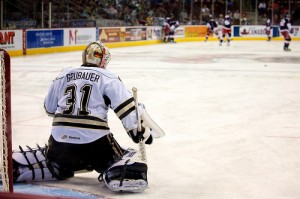 The expected goalie tandem for the Capitals was expected to be Holtby and Michal Neuvrith, but a short term injury to Neuvirth and a few excellent starts in goal by Grubauer in Washington led Washington's 2010 fourth round selection to substantial playing time. He played very well in his time in the nation's capital, but was recently assigned to the AHL in the midst of the Capitals' longest losing streak of the season.
He'll team up with veteran goalie David Leggio in Hershey as he continues to develop. While not the biggest net minder, Grubauer has excellent anticipation skills and is as flexible as they come, never giving up on a play. Parts of the game he will continue to work on including his rebound control and passing the puck from the goalie position.
2013-14 (NHL): 6-4-5, 2.38 GAA, .926 SV %
2012-13: 15-9-2, 2.25 GAA, .919 SV %
Malcolm Subban
Like Gibson, Boston's first round selection from the 2012 draft also shined at the 2012-13 Under 20 World Junior Championship, posting a 4-2 record with a 2.76 goals against average. He's also in his first pro season like Gibson and has been playing with fellow Bruins goalie prospect Nicklas Svedberg prior to Svedberg's promotion to the NHL.
Subban plays a technical style in net, but makes flashy gloves saves when he needs do. He projects a starter at the NHL level. Whether he's given that chance in Boston is yet to be determined with their wealth of goalies in their system. Read Al Jensen's draft profile on Subban below.
"I see Malcolm as Carey Price. He's calm and poised. I find Fleury as more of an acrobatic goalie and getting out there, but Malcolm is very good with his positioning with outstanding lateral ability and quickness. He can make the big save to turn a game around, but he covers post-to-post so well with his butterfly. His leg extension is incredible and he has a very quick glove hand."
2013-14: 7-6-2, 2.29 GAA, .922 SV %
2012-13 (OHL): 29-11-4, 2.14 GAA, .934 SV %
Petr Mrazek
Detroit's budding goalie prospect was selected a round after Grubauer and has also earned time in the NHL early in his career. At only 21 years old, Mrazek has played in seven NHL games, posting a 1-3 record with a 1.64 goals against average and .924 save percentage. Although Jimmy Howard is set to be the starter for the Red Wings in the future, this Czech Republic native is making a case to be Howard's backup in the 2014-15 campaign.
Hockey's Future analyzes Mrazek's makeup: "Not the largest goaltender, standing 6'0″ and weighing 184 lbs. He possesses a great deal of athleticism and does not give up on shots. Mrazek has been touted as a great competitor, who also has great vision, which makes up for his lack of size."
2013-14: 10-2-1, 2.09 GAA, .927 SV %
2012-13: 23-16-2, 2.33 GAA, .916 SV %
Jacob Markstrom
Once one of the best goalie prospects in hockey, Markstrom has seen time in both the NHL and AHL this season with the Florida Panthers. He's amassed 43 career NHL games, posting below average numbers with a 3.21 goals against average and .898 save percentage.
His 2012-13 season in the NHL was much better, where he recorded a .912 save percentage during even strength play, but had a .813 power play save percentage. This season he has a .881 even strength save percentage and 1-6-3 record. At this point in his development, I think Markstrom can become an above average backup goalie and a serviceable starter for NHL teams.
2013-14: 8-9-2, 2.83 GAA, .912 SV %
2012-13: 16-15-2, 2.65 GAA, .920 SV %
You can follow Matthew on twitter @m_speck and email him at mspeck21@yahoo.com with any questions or comments.