The Los Angeles Kings ended their epic series with the Chicago Blackhawks to set up the first LA/NY final of the major sports in decades. The New York Rangers defeated the Montreal Canadiens in six games to punch their first ticket to Finals since 1994. The NHL Hat Trick Challenge has already posted its questions for Game 1. The Hockey Writers is here to guide you to the top of your league!

NHL Hat Trick Challenge: Game 1
The three questions follow the same formula as usual. They are as follows.
Will LA score a power play goal in Game 1?
Will Carl Hagelin score a goal in Game 1?
Which team will win Game 1?
If there is anything these playoffs have taught us, it is that we (the "experts") can never perfectly predict the future. Just look at Barry Melrose's score in the Hat Trick Challenge. He's only got 3! The leader is currently sitting at 17!
Question 1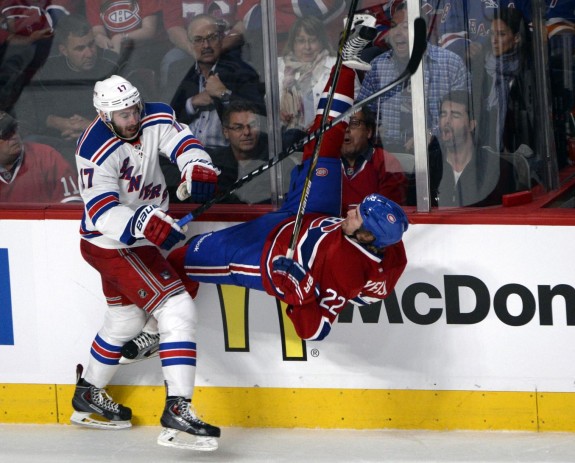 Los Angeles has had one of the best power plays in these playoffs. However, the New York Rangers have had an even better penalty kill. What can we deduce from this? Well, besides the fact that special teams do matter; it means that something has to give. The Kings run a very aggravating game. And, as Game 5 against the Canadiens proved, the Rangers can get aggravated easily. A very poor showing in that match up made the Rangers unravel. Given enough opportunities, the Kings can easily pot one behind Henrik. Answer this question with a yes.
Question 2
Carl Hagelin has a total of six goals in his 20 games this playoff season. However, only one of those goals has come on hostile ice. And, let's be honest, he isn't exactly a sharpshooter. Add that to the fact that he is now facing Jonathan Quick and the odds that he is going to be a scorer in Game 1 drop dramatically. Answer this question with a no.
Question 3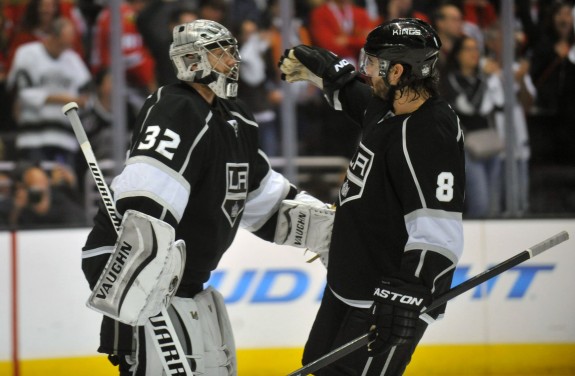 The Kings-Blackhawks series was one of the best we have ever seen. Honestly, those two teams both deserve a shot at the Cup this season. But, they are cursed to play in the same (and superior) conference. The Kings have been gritty and hardened by a tumultuous postseason. They have battled adversity and probably taken the toughest possible path to the Finals. I believe they will ultimately win this series and will start with a convincing win at home. Answer this question with The Kings.
Prize Pack for Game 1
Enterprise is sponsoring our league and in order to be eligible for these exclusive prize packs, you must interact with Enterprise and The Hockey Writers on Twitter and Facebook! On the night of Game 1, a winner will be selected from the users that have interacted with either Enterprise or The Hockey Writers in the next two days. Including a few other prizes, the Game 1 winner will receive the power play item of a $250 AMEX card! All you need is a Twitter account and the winner will be contacted through a tweet from a THW representative! But remember, to be eligible you've got to be active in the conversation!
This is a sponsored post with contest rules and giveaway prizes provided by Enterprise.  I was compensated for this post. All opinions are my own.
Kenneth is a graduate of the University of San Francisco in Politics and Chemistry. But his passion in life has always been hockey. He has played since he was four and even coached a few teams. Kenneth writes for the San Jose Sharks at thehockeywriters.com