Patrick Marleau has a chance to break one of the NHL's longest-lasting records this season.
The San Jose Sharks forward enters 2020-21 having played 1,723 regular season games. If he plays in 45 of San Jose's 56 games, he'll pass Gordie Howe for the most games played in league history, a mark that's stood since "Mr. Hockey" retired after the 1979-80 season. Along the way, Marleau will pass three more hockey immortals: Ron Francis (1,731), Jaromir Jagr (1,733) and Mark Messier (1,756).
Marleau also enters the new season with 562 goals; he needs three to pass Hockey Hall of Famers Joe Nieuwendyk (564) and Mats Sundin (564) and move into 23rd place in NHL history. The 41-year-old also needs 12 points to become the 50th player to reach 1,200.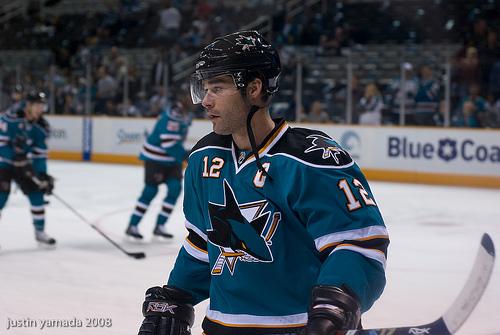 Marleau's longtime San Jose teammate, center Joe Thornton, enters his first season with the Toronto Maple Leafs with 1,509 points; he needs 23 to pass Paul Coffey (1,531) for 13th place on the all-time list and 25 to pass Mark Recchi (1,533) for 12th. Thornton has played 1,636 games, ninth on the all-time list, and if he plays 17 games for his new team, he'll pass Dave Andreychuk (1,639), Chris Chelios (1,651) and Mark Recchi (1,652).
Thornton also enters the season with 1,089 assists — he needs 11 to become the seventh player in NHL history to reach 1,100.
Chara and Ovechkin
Zdeno Chara, who signed with the Washington Capitals on Dec. 30 after 15 seasons with the Boston Bruins, has played 1,553 NHL games. The 43-year-old needs 12 more to pass Hall of Famer Nicklas Lidstrom (1,564) for fifth place among defensemen.
Alex Ovechkin of the Capitals is eighth in NHL history with 706 goals. If he scores at his career rate of .613 goals per game and plays all 56 games, he'll score 34 goals and pass Mike Gartner (708), Phil Esposito (717) and Marcel Dionne (731). He would finish one shy of Brett Hull, who's fourth all-time with 741.
Several other players figure to earn NHL Milestone Awards this season.
1,000-Game Club
As many as 13 players could join the 1,000-games-played club. The first one to get there is likely to be Travis Zajac of the New Jersey Devils, who enters the season with 991 games played and could reach 1,000 on Jan. 31, when the Devils visit the Buffalo Sabres in their ninth game of the season.
Two likely future Hall of Famers are next on the list: Montreal Canadiens defenseman Shea Weber needs 10 games for 1,000, and center Sidney Crosby of the Pittsburgh Penguins needs 16.
Goals, Assists, and Points Milestones
Patrick Kane of the Chicago Blackhawks is the closest to 400 goals — he needs 11. Zach Parise of the Minnesota Wild is 14 shy of 400, and Jeff Carter of the Los Angeles Kings needs 18.
Two longtime NHL centers are closing in on 600 assists. Jason Spezza will reach the milestone with his first of 2020-21, and Eric Staal of the Sabres needs 15.
The closest player to reaching 1,000 points this season is Anaheim Ducks center Ryan Getzlaf, who needs 35. His longtime Southern California rival, Anze Kopitar of the Kings, is next — he needs 50.
Goalie Milestones
Goalie Semyon Varlamov of the New York Islanders needs to play seven games to reach 500 in the NHL. He might be the only goalie to reach that milestone this season; the others with a chance are Brian Elliott of the Philadelphia Flyers (needs 28) and Braden Holtby of the Vancouver Canucks (32).
The milestone award for shutouts was 25 when Mike Smith, now with the Edmonton Oilers, received it — he needs one more to reach the current mark of 40. Holtby (five) and Sergei Bobrovsky of the Florida Panthers (six) could also reach the shutout milestone.
This could be a special season for Vegas Golden Knights goalie Marc-Andre Fleury. The 36-year-old has 466 regular season victories and needs 18 to tie Ed Belfour for fourth place on the all-time list. With 61 shutouts, he needs five to tie Patrick Roy for 15th all-time.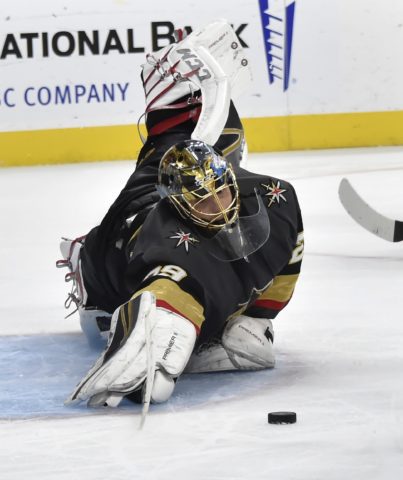 He's appeared in 847 games since arriving in the NHL with the Pittsburgh Penguins in 1983-84 and needs 12 appearances to tie Gump Worsley (860) for 12th all-time among goalies. Depending on how busy Fleury is during the season, he could also pass Grant Fuhr (868 games played; 11th), John Vanbiesbrouck (882; 10th) and Tony Esposito (886; ninth).
Trotz, Vigneault Closing In
Two coaches also have reachable milestones this season.
Barry Trotz of the Islanders has 845 wins and needs four to tie Ken Hitchcock (849) for third place all-time. The only coaches with more regular season wins are Scotty Bowman (1,244) and Joel Quenneville, now in his second season with the Florida Panthers (925).
Trotz is also 26 games away from becoming the third coach in NHL history with 1,700 games behind the bench; he trails only Bowman (2,141) and Quenneville (1,705).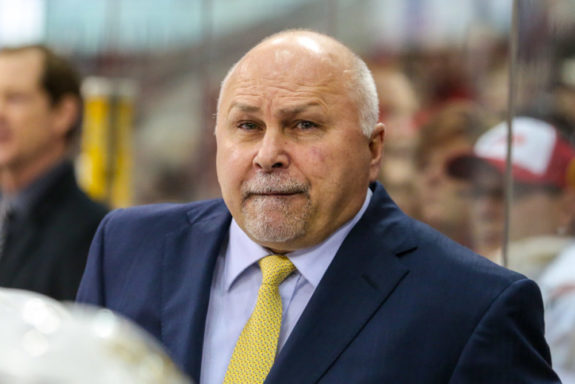 Another East Division coach, Alain Vigneault of the Flyers, enters the season with 689 victories; he needs two to tie Dick Irvin (691) for ninth all-time. With 11 wins, he'll become the ninth coach in league history with 700.
Not surprisingly, given the longer seasons and the use of the shootout to decide games tied after overtime, Vigneault is one of five active NHL coaches among the league's top 10 in career wins. In addition to Quenneville and Trotz, the others are New Jersey's Lindy Ruff (736, sixth) and Paul Maurice of the Winnipeg Jets (732, seventh). But don't bet on any of them catching Bowman, who's still more than 300 ahead of Quenneville despite coaching in an era when ties were still played.
---
---