The Ross and Rachel of team and arena relationships may end in separation. The Barclays Center in Brooklyn may be rejecting the New York Islanders, according to a Bloomberg report.
The arena's sightlines have been the subject of ongoing criticism. Ditto the team's dwindling attendance numbers and the ice quality. That no doubt plays a role in the arena reportedly deciding it's not worth dealing with. Barclays may be able to make more money without the team calling the Brooklyn arena home.
Both the Brooklyn Nets and arena are owned by Russian billionaire Mikhail Prokhorov, who is looking for an investor to take a stake in both. A revenue projection he is showing potential investors shows the Islanders contributing no revenue after the 2018-19 season, according to the report. That's an indication that Barclays expects to sever ties with the NHL club.
The contract between the team and the arena allows for either party to initiate an exit. If the team wants to leave, they leave after next season. If the arena terminates the agreement, they leave after the 2018-19 season.
That leaves a big question mark as to where the team will play. Bloomberg reiterates an earlier report that new ownership has looked into building a facility adjacent to Citi Field in Queens, though there are many obstacles to that plan.
One frequently derided option is a return to Nassau Coliseum on Long Island. According to a report from Newsday on Monday, that's once again being discussed.
There is a path for the Islanders to return to the new Nassau Veterans Memorial Coliseum where the best sight lines in NHL remain, improved attractive facilities for fans and athletes and room to add seats to accommodate the Islanders. While the decision remains with the Islanders we believe Long Island fans will make the Islanders successful in the new Coliseum.
The Islanders troubles may have replaced the Coyotes v. Glendale battle as the strangest arena battle in the NHL.
Greiss Extended
If there was any question how the Islanders feel about the current goaltending situation, they've shed a little light by inking Thomas Greiss to a three-year contract extension Monday night. The deal carries a $3.33 million cap hit, according to Newsday's Arthur Staple.
"It's gratifying. I'm just happy. I like playing here and have had success here so it worked out nicely." -Thomas Greiss on his new contract pic.twitter.com/3wiOg7fQy0

— New York Islanders (@NYIslanders) January 31, 2017
Greiss started the season as the backup to Jaroslav Halak. It was a tentative situation to start, as Greiss arguably outperformed Halak through large swaths of last season. But the team, who was carrying three goaltenders most of the season, waived Halak and assigned him to the AHL once he cleared.
The net is officially Greiss's and it looks like it will be for quite a while. He's carrying a .925 save percentage through 25 games this season.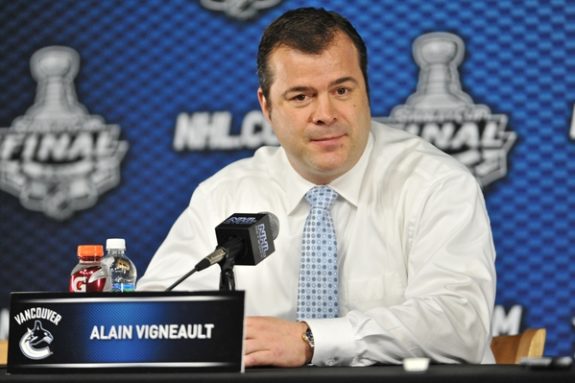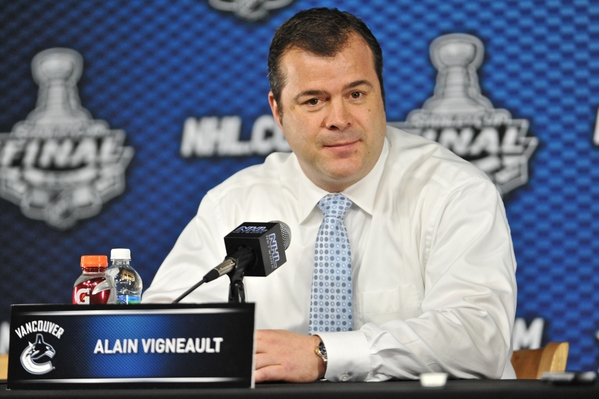 Vigneault Extended
Rangers head coach Alain Vigneault has earned a two-year contract extension from the team, according to a report in the New York Post. That extension would take him through the end of the 2019-20 season.
The report says that the expectation is a pay raise on his current deal, which doles out $2 million a year and lasts through the end of next season. ESPN's Pierre LeBrun puts that figure at "just north" of $4 million per year, which projects to make him the third highest paid coach in the league once the contract begins.
Source indicates Vigneault's new deal with Rangers worth average just north of $4 M per yr; puts him 3rd behind Babcock/Quenneville for $

— Pierre LeBrun (@PierreVLeBrun) January 31, 2017
Vigneault arrived with the Blueshirts after getting canned by the Canucks at the end of the 2012-13 season. He was signed to a five-year deal. He has taken the team to the postseason in each of his first three seasons, including an appearance in a Stanley Cup Final and an Eastern Conference Final. With the Canucks, he came within a win of the Stanley Cup in 2011.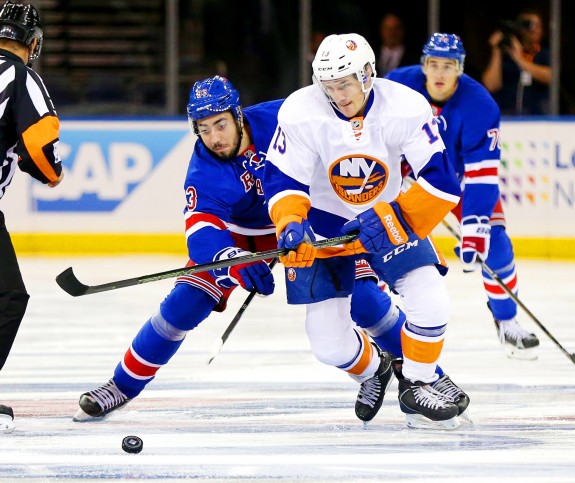 Travel Ban Impacts Rangers' Zibanejad
Rangers forward Mika Zibanejad spoke briefly with the press about U.S. president Donald Trump's "Muslim ban." The restriction has impacted Zibanejad, who is a Swede of Iranian descent.
He spoke with Justin Tasch of New York Daily News about the issue. Zibanejad's father lives in the U.S. with a green card, but much of his family remains in Iran, including his grandmother and eight cousins. Iran is one of seven countries targeted by the travel ban imposed by executive order.
"It hasn't been easy for them to come here," said Zibanejad, "and this certainly doesn't make it easier, or even possible at this point. It's hard to kind of comment on. I don't want to get in too deep, but it seems like it's very straightforward and they have very straight lines of what the deal is, but I find still they're confused about it, still a lot of confusion about what's wrong and what's not. I guess when a change like this comes very, not from nowhere, but when it comes down like it did, I feel like there was maybe not a whole lot of thought about how to work it out. It seems very straightforward but very confusing about how they deal with it."
The NHLer himself had some concerns about the travel ban after leaving the country during the All-Star break. "Obviously being here now and living here doesn't make it easier," he said. "That sucks, but I can't comment more of how things are. Right now it just sucks. The more further this goes and we see what kind of solution we come to, then it's easier to kind of comment on."
Unreal Goal
This Daniel Sparre goal for Adler Mannheim in Germany's DEL is ridiculous. This is a goal of the year contender. Just, what?
Dustin Nelson is the News Editor for The Hockey Writers. He's a contributor to Hockey Prospectus, Hockey Wilderness, and writes a column for Rotowire. He's also written for Gone Puck Wild, Wild Xtra, InDigest, Electric Literature, The Rumpus, Tiny Mix Tapes, Prefix Magazine & other publications. Have a tip? Email him at dlukenelson[at]gmail[dot]com.