As the Detroit Red Wings continue to rebuild, thoughts of missed opportunities, unnecessarily long contracts, and poor trades often come to mind. And with former general manager Ken Holland leading the charge, many had an uneasy feeling about the future.

If you were concerned about Holland's ability to execute the franchise-improving swaps, don't fret. There have been some ugly trades in Red Wings history and Holland was only responsible for one of them. Let's take a look at the worst trades of the past 90 years and hope today's Red Wings don't join the list.
Original Six Era
Back in the NHL's early days, Jack Adams oversaw roster management decisions for the Red Wings. Known as "Trader Jack", Adams completed many trades during his 35-year tenure as Hockeytown's general manager. With that being said, not all trades worked out in his favor. Some were downright horrifying.
Jack Adams Deals Terry Sawchuk to Boston
Acquired:
Gilles Boisvert
Real Chevrefils
Norm Corcoran
Warren Godfrey
Ed Sanford

↔

Acquired:
Marcel Bonin
Lorne Davis
Terry Sawchuk
Vic Stasiuk
After the Red Wings captured the 1955 Stanley Cup—their fourth in six seasons—Adams wanted to reload for another Cup run. In doing so, he traded Terry Sawchuk—the best goalie in the NHL at the time—to Boston for a collection of young players. However, none of the acquired players really made an impact with the Red Wings.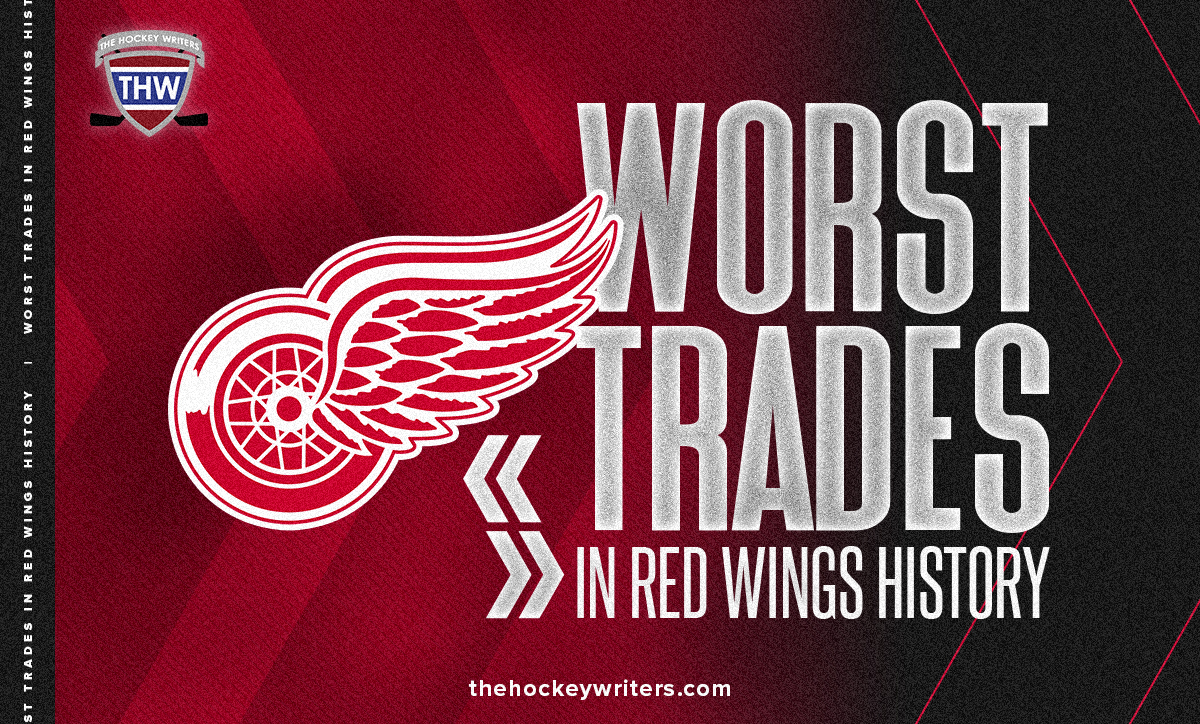 Goaltender Gilles Boisvert bounced around the minor leagues before appearing in three games during the 1959-60 season. Real Chevrefils scored 40 points with Boston the prior year, but started out slow with the Red Wings and was traded back to the Bruins after 46 games. Norm Corcoran and Ed Sanford were dealt less than three months after they arrived in Detroit as well.
---
Latest News & Highlights
---
Warren Godfrey was the only acquired player to stay in Hockeytown for an extended period of time – he played the next seven seasons in Detroit, notching 95 points during that span. Essentially trading an all-world goalie in Sawchuk for a stay-at-home defenseman was not the deal Adams thought he had.
Red Wings Bring Back Sawchuk
Realizing his error, Adams reacquired Sawchuk two years later. The cost, though, was substantial.
To bring Sawchuk back to Hockeytown, Detroit's GM had to deal up-and-coming forward Johnny Bucyk to Boston. Bucyk had scored 10 goals in limited minutes the prior season and had promise, but Adams really wanted Sawchuk back. He got his wish, and in exchange, the Bruins received a 500-goal scorer to lead their organization for the next 21 seasons. Bucyk helped the Bruins capture two Stanley Cups and reach the Final four other times.
Sawchuk was solid in Detroit, but never regained the form he displayed during his first tenure with the Red Wings.
Detroit Ships Out Ted Lindsay & Glenn Hall
After Adams caught wind of Ted Lindsay's attempt to unionize the Red Wings, Detroit's GM traded the All-Star and goaltender Glenn Hall to the Blackhawks—another team owned by the Norris family—in a blockbuster deal.
Related: Phantom Sniper Fires Up Red Wings' 'Terrible Ted'
Former Red Wing Johnny Wilson was a welcomed addition, as was young center Forbes Kennedy. Both had solid 1957-58 seasons with Detroit, but neither contributed much after that year. Bill Preston never played for the Red Wings after he was acquired, and, with Sawchuk back in the fold, Hank Bassen really wasn't needed in Detroit. He eventually joined the Red Wings during the 1960-61 campaign and served as the backup/third-string goalie over the next six seasons.
With Adams looking to move Lindsay immediately, it's no surprise the return was less than optimal. But trading the team captain and eventual Hall-of-Fame goalie Glenn Hall for minimal returns certainly contributed to the downfall of the organization.
Red Kelly's Headline Ends Red Wings Career
Acquired:
Marc Reaume

↔

Acquired:
Red Kelly
This trade has a complicated but entertaining backstory.
According to long-time Red Wings beat writer Bob Duff in his book, "100 Things Red Wings Fans Should Know & Do Before They Die", All-Star defenseman Red Kelly was interviewed by the Toronto Globe and Mail about his resurgent 1959-60 campaign, which followed a less-than-optimal 1958-59 season. Kelly revealed that he had broken his ankle during the '58-59 campaign and tried to play on it after Adams had asked him to give it a shot.
You may also like:
When the Detroit Free Press ran their version of the story, their headline made Adams into a ruthless tyrant: "Was Red Kelly Forced to Play with a Broken Foot?" Not surprisingly, Adams did not like this accusation one bit and immediately looked to move Kelly. Though Kelly never actually accused Adams of anything, the misinterpreted headline did the damage.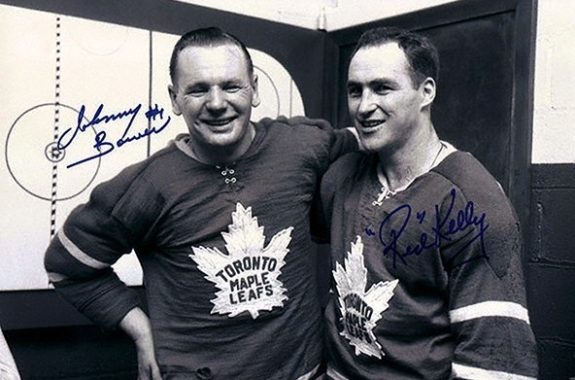 Adams tried to trade Kelly to New York, but the defenseman opted to retire rather than report to the Rangers. The NHL nullified the deal and, eventually, Adams was able to ship Kelly to Toronto for Marc Reaume. Kelly reported and played seven seasons with the Maple Leafs, winning four Stanley Cups during that time – including two over the Red Wings. Reaume would only play 47 games for Detroit.
Duff added, "The Reaume-for-Kelly swap has to make the list of worst trades in Red Wings history."
'Dead Wings' Era
After Gordie Howe and Alex Delvecchio retired, the Red Wings entered a new era: the "Dead Wings" period. Though the team struggled substantially, they only had a few truly bad transactions.
Marcel Dionne Sent Out West
Acquired:
Terry Harper
Dan Maloney
1976 2nd round pick

↔

Acquired:
Bart Crashley
Marcel Dionne
Back in 1971, the Red Wings took center Marcel Dionne second overall in the NHL Amateur Draft after Montreal drafted Guy Lafleur with the first pick. Dionne joined the Red Wings and instantly became a point-per-game player, topping out at 121 points during the 1974-75 season.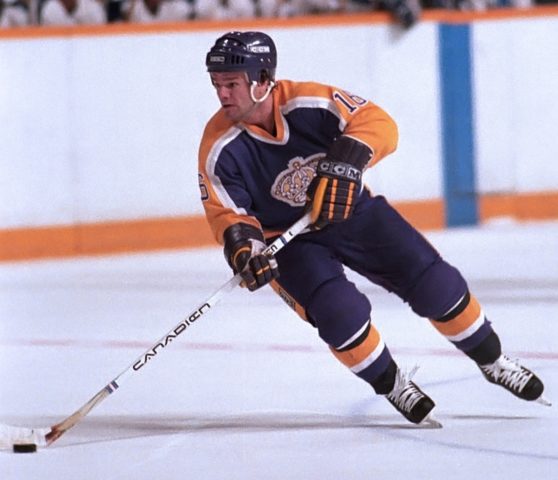 What did Detroit do with their budding superstar that summer? They traded him after Dionne had grown frustrated with losing. In exchange, the Red Wings received veteran defenseman Terry Harper, power forward Dan Maloney, and a second-round draft pick. Both Harper and Maloney had decent first seasons in Detroit but clearly did not compare to what Dionne would become. You have to wonder what GM Alex Delvecchio was thinking when he pulled the trigger on this trade.
Red Wings' Baffling Adam Oates Trade
Acquired:
Bernie Federko
Tony McKegney

↔

Acquired:
Adam Oates
Paul MacLean
The summer before Detroit's last missed postseason, the team decided to move playmaking center Adam Oates to the St. Louis Blues along with winger Paul MacLean. The two had combined for 149 points the prior season, but the Red Wings wanted to make a change.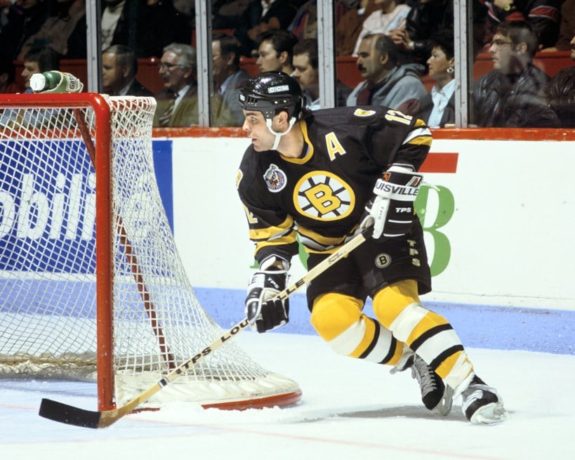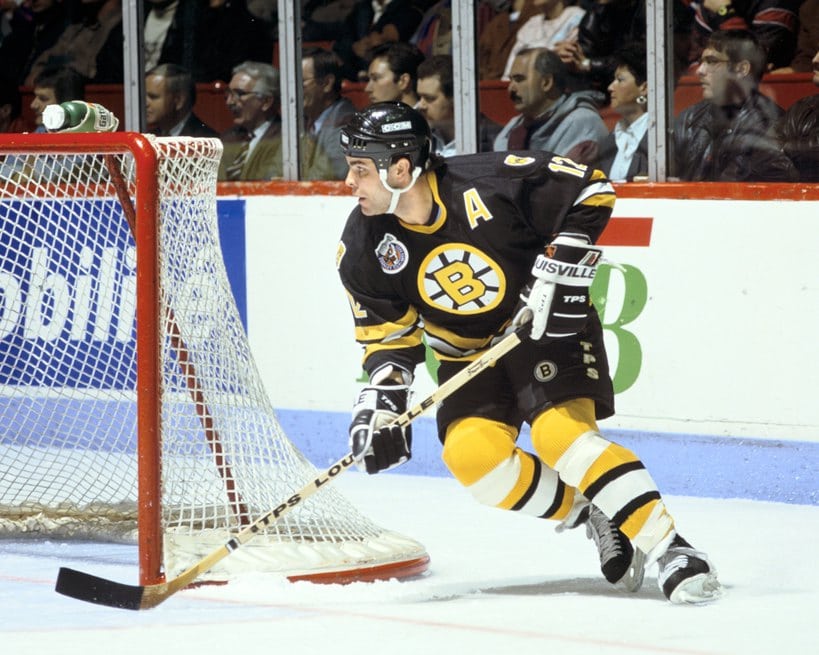 In return, Detroit acquired Bernie Federko and Tony McKegney – two veterans whose best days were behind them. Making matters worse, McKegney was traded again shortly after the season started and Federko only played one year in Detroit before retiring.
After joining the Blues, Oates teamed up with Brett Hull to form one of the most prolific duos of the early '90s. Over the next five seasons (with St. Louis and Boston), his worst year came when he only scored 99 points during the 1991-92 campaign. When he retired in 2004, Oates had accumulated 1,420 points, including over 1,000 assists.
Playoff Streak Era
Because of smart trades and excellent drafting, the Red Wings were able to reach the postseason every year for 25 consecutive seasons. There were a few bad swaps, but only one truly ugly move.
Kyle Quincey's Return to Hockeytown
Acquired:
Kyle Quincey

↔

Acquired:
Sebastian Piche
2012 first-round pick
By the time the 2011-12 season rolled around, the Red Wings were on the decline. Nicklas Lidstrom and Tomas Holmstrom were showing their age, Brian Rafalski had retired the previous summer, and—to make matters worse—a work stoppage was likely coming.
Related: Best & Worst Red Wings Trade Deadline Deals
Holland wanted to bolster his roster at the deadline to help give the Red Wings a real shot in the playoffs. Unfortunately, it was a sellers' market and Detroit had to give up a first-round pick for Kyle Quincey, who had only 23 points in 54 games with Colorado to that point. Quincey did not deliver much for the Red Wings and the team was bounced in the first round of the playoffs by Nashville.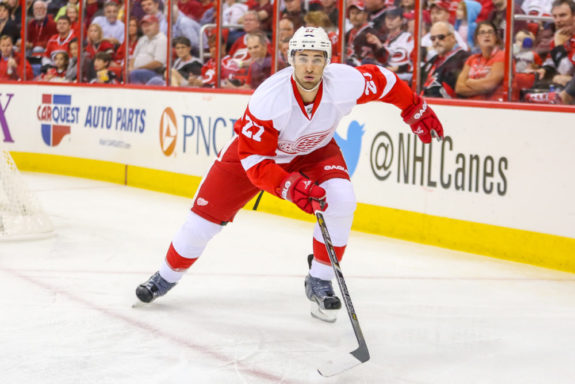 Over the next four seasons, Quincey underwhelmed in Hockeytown. Tampa Bay, on the other hand, used that first-round pick to select goaltender Andrei Vasilevskiy. With Ben Bishop now out of the picture, Vasilevskiy is the Lightning's new franchise goalie.
Which Detroit Red Wings trade was the worst of them all? Comment below with your pick.