Rejoice Detroit Red Wings fans – the 2018 NHL Trade Deadline is almost here. While in past years, this signified a Ken Holland shopping spree—or those hyped-up "internal additions" of players coming back from injury—this latest feeling is quite different. Now, it's all about stockpiling picks and prospects as part of the ongoing rebuild.
The Grind Line columns have covered this year's trade deadline extensively. It's only fair – the Red Wings have a number of players on the trading block and need to maximize their return. See what you missed:
In this week's edition of The Grind Line, The Hockey Writers' Red Wings coverage team will look back at previous trade deadlines and identify the best and worst trades completed by Holland and his management team. There have been a few solid acquisitions, but seemingly as many head-scratchers. Enjoy (and make sure you have the Tums ready).
Tony Wolak
Best Trade: Chris Chelios
1999 – Detroit acquires Chris Chelios from Chicago for Anders Eriksson, Detroit's 1999 first-round pick, and Detroit's 2001 first-round pick.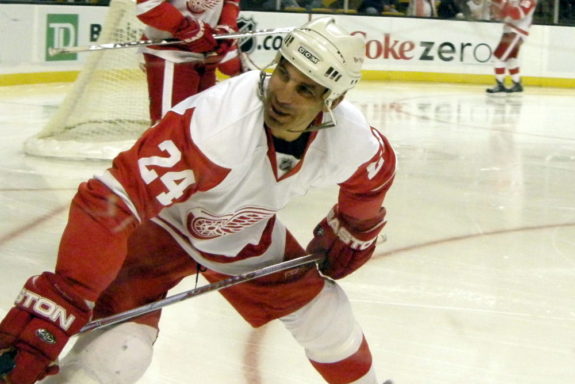 Going way back to the 1999 NHL Trade Deadline, Holland pulled off a heist. Back before the age of salary caps, advanced analytics, and the shootout, the Red Wings could stockpile quality veteran players for deep playoff runs. Chelios was by far the best acquisition of this era, if not Holland's entire tenure.
---
Related: The Best and Worst Trades in Ken Holland's Red Wings Tenure
---
Not only did none of the assets sent to Chicago pan out, Chelios was a key cog in Detroit's lineup for the next decade – certainly not what Holland expected of the then-37-year-old. Perhaps the greatest American-born defenseman, Chelios helped solidify Detroit's blueline, played astonishingly well into his 40s, and mentored the Red Wings' young, up-and-coming defensemen, such as Jiri Fischer, Niklas Kronwall, Brett Lebda, Kyle Quincey, and Jonathan Ericsson.
With the Red Wings, Chelios helped the team capture two Stanley Cups and later served in a player development role with the organization. Between his playing days and management career, Chelios spent almost 20 years with the Red Wings.
Worst Trade: Kyle Quincey
2012 – Detroit acquires Kyle Quincey from Tampa Bay for Sebastian Piche and a 2012 first-round pick.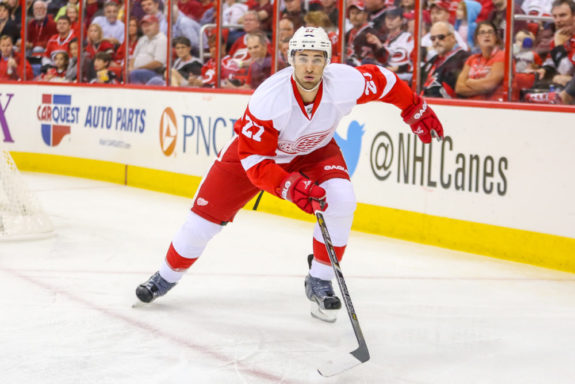 Coming off of consecutive second-round losses to the San Jose Sharks, the Red Wings sought out to beef up their roster ahead of the 2012 playoffs. As part of a three-way deal, defenseman Kyle Quincey came to Detroit from Colorado and the Red Wings sent minor league defenseman Sebastian Piche and their first-round pick to Tampa Bay (the Lightning had sent Steve Downie to Colorado as well).
Yes, that first-round pick turned into All-Star goaltender Andrei Vasilevskiy. The issue here isn't that Detroit essentially traded Vasilevskiy for Quincey—after the first round bust that Tom McCollum was, Detroit likely wouldn't have drafted Vasilevskiy with their pick had they retained it—but overpaying for a third-pairing defenseman, let alone one they waived a few years prior.
That year, the Red Wings already had Nicklas Lidstrom, Ian White, Niklas Kronwall, and Brad Stuart in top-four roles, with some combination of Jonathan Ericsson, Brendan Smith, and Jakub Kindl on the third pairing. There was no need to bring in Quincey for a first-round pick.
Back then, the reasoning was that the 2012 NHL Draft had a weaker class than previous years. That may be true, but if Detroit had their pick and wanted to select a skater, there were plenty of quality options available. Olli Maatta, Michael Matheson, Brady Skjei, and Tanner Pearson were selected after Detroit's (Tampa Bay's) 19th overall pick – Colton Sissons, Damon Severson, Esa Lindell, and Shayne Gostisbehere were selected later on as well. Getting Quincey as a rental was not worth the price.
Jacob Messing
Best Trade: Brendan Smith
2017 – Detroit acquires a 2017 third-round pick and 2018 second-round pick from the New York Rangers in exchange for Brendan Smith.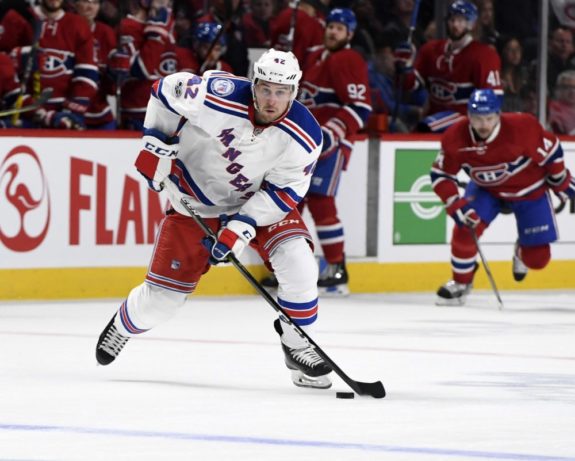 Smith, 28 at the time, was Detroit's first-round pick in 2007, but failed to reach the expectations typical of a 27th overall selection. He continuously posted favorable possession stats for the Red Wings, but never eclipsed the 20-point plateau or solidified himself as a defensive stalwart.
He was shipped off in a favorable exchange before his contract expired. He received a four-year, $4.35 AAV extension with the Rangers. Fifteen months later, he was placed on waivers and assigned to the AHL, saving the Wings a bad contract, poor play and another contractual headache.
The third-round pick was used to select Zachary Gallant, who has statistically taken a step back from 2016-17 with the OHL's Peterborough Petes. The 2018 second-round pick originally belonged to the Ottawa Senators, who sit in a favorable draft position for Detroit in what is believed to be a deep draft year. It's shaping up to be in the 32-40th overall range.
Worst Trade: David Legwand
2014 – Detroit acquires David Legwand from Nashville Predators in exchange for Patrick Eaves, Calle Jarnkrok, and a 2014 third-round pick.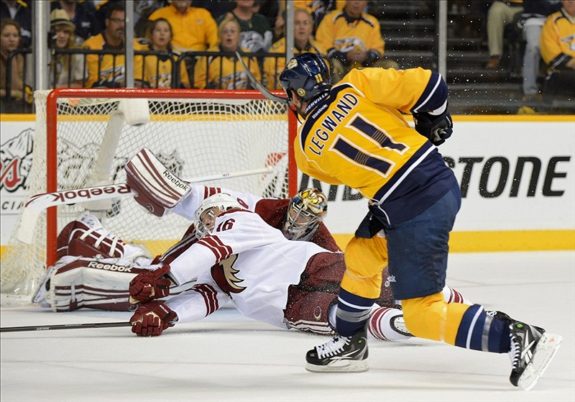 It was all about earning that 23rd-consecutive playoff berth for the Red Wings, which, upon completion, turned the conditional pick into a second-rounder, making the deal even worse.
Eaves, 29, was set to become an unrestricted free agent following the 2013-14 season and as a bottom-six, injury-prone guy, his salary and usage were expendable. He played just five games for the Predators, who let him walk at season's end.
Jarnkrok, then 23, was a former second-round pick that never received a chance in Detroit, but would seize an opportunity in the Music City. Still just 26, Jarnkrok is well on his way to a career year in goals, assists and points through 56 games (14 G, 14 A). With a cap hit of $2 million over the next four seasons, the versatile Swede has played a huge role in the contenders' bottom six.
The draft pick was later traded to San Jose, who selected Julius Bergman, who has had mediocre success with the AHL's San Jose Barracuda.
Griffin Schroeder
Best Trade: Mathieu Schneider
2003 – Detroit acquires Mathieu Schneider from Los Angeles Kings in exchange for Sean Avery, Maxim Kuznetsov, a 2003 first-round pick, and 2004 second-round pick.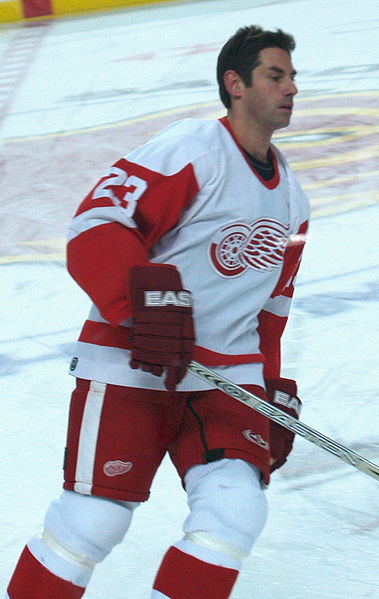 This may be the best trade in Holland's tenure that did not yield a Stanley Cup in the acquired player's time with the team.
Looking for another offensive defenseman to complement Nicklas Lidstrom, the Wings were aggressive in their pursuit of Schneider. At the time, he came into Detroit with four seasons of 40-plus points under his belt.
From 2003-07, the New York native would account for 28 percent of the Red Wings' blue line scoring with 157 points in 218 games. Through his tenure, he and Lidstrom (180) placed seventh and third respectively among all NHL blueliners in total offense.
Unfortunately, the playoff success was limited, as Detroit won just one round from 2003-06 before their Western Conference Finals appearance in 2007. Schneider suffered an injury before the third round and didn't receive the opportunity to make a difference in a series Detroit would lose in six games.
As for what the Wings sent the other way, the most notable name would be the infamous pest, Sean Avery. Though he would gain notoriety and have limited success with the Kings, New York Rangers, and Dallas Stars, his documented off-ice issues proved to be a tipping point for the league.
Worst Trade
2014 – Detroit acquires David Legwand from Nashville Predators in exchange for Patrick Eaves, Calle Jarnkrok, and a 2014 third-round pick.

It hurts just reminiscing this one.
Sitting ninth in the Eastern Conference with a 28-21-12 record, the Red Wings were entering the home stretch of one of their more challenging seasons health-wise. Before the trade deadline on Mar. 5, the team was down Henrik Zetterberg, Pavel Datsyuk, and Darren Helm down the middle.
Naturally, Holland wanted an experienced face to keep the team afloat as their middlemen healed.
Minutes before the deadline, the Wings pulled the trigger on a deal to acquire just that in David Legwand. The then-33-year-old wasn't an offensive dynamo by any means, notching just two campaigns of 50-plus points in his career.
The line of thinking likely was that if the team could stabilize themselves until their health was restored, the deal would be worth it for a playoff run. As we all know now, however, the deal has aged horribly.
The Wings did make the playoffs and extended the streak, but were crushed in the first round by the Boston Bruins in five games. Legwand departed after the early exit, playing just two more seasons before retiring in 2016.
Patrick Eaves, then buried in Detroit's bottom six, found his niche and had a career season in 2016-17. He scored 32 goals and 51 points between the Dallas Stars and Anaheim Ducks and made a name for himself as a finisher.
Calle Jarnkrok continues to make the deal sting with each passing season. In the previous two campaigns, he posted at least 15-plus goals and 30-plus points. In 2017-18, he's well on his way to a career year having scored 14 goals and 28 points in just 56 contests, playing a key role in Nashville's top-nine.
The Wings have since loaded their bottom two lines with bloated contracts and currently have $15.2 million invested in Justin Abdelkader, Darren Helm, Frans Nielsen, and Luke Glendening.
As for the one that got away, the 26-year-old is in the second year of a six-year contract that will pay him $2 million per season.
What was the best and worst Detroit Red Wings trade deadline deal? Comment below with your picks.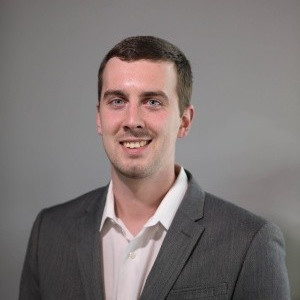 Tony Wolak is based in the Washington D.C. area and covers the Detroit Red Wings for THW. As a former junior and college hockey player, Tony has a unique perspective on Red Wings topics.