Throughout the regular season, the NHL rumor mill is full of players that many believe are certain to be traded at or around the NHL trade deadline. Unfortunately, most of these rumors that fans and media members hear (and report on) never come to fruition. Thus leaving a number of players still on the same rosters.
When the season comes to an end and the offseason is in full swing, however, those rumors often ramp up once again. In addition to old rumors coming back, plenty of new players are then added to the reported list of those expected to be on the move. Once again, though, most of those names never get the trade call. In fact, plenty of them ultimately stay with the same team for at least the entire upcoming season.
But that won't stop the rumors and speculation from happening. In fact, as the NHL Entry Draft and free agency approach, the talk is sure to increase regarding a number of players that could find themselves calling a new city home next season. But which players are just falsely being thrown about as trade bait, and which ones have a real shot at being dealt before the start of the 2015 season?
Jordan Eberle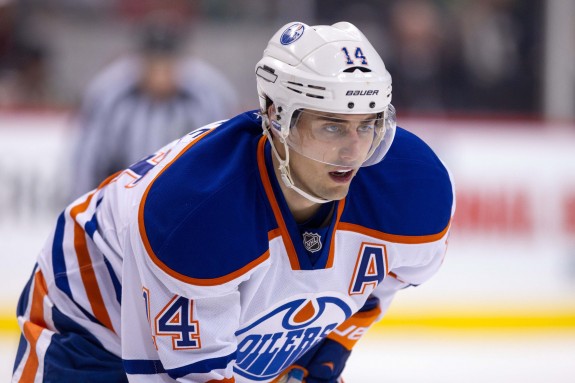 Jordan Eberle is a player that has been in and out of the rumor mill for the better part of the last two-and-a-half years. This time, however, I think it's finally time a deal actually gets done. With Connor McDavid (likely) coming aboard in June and new general manager Peter Chiarelli in town, the Oilers are likely going to be a pretty active team this summer.
The Oilers have a new arena expected to open after next season, and Chiarelli will want to finally establish a winning team in Edmonton after 9 years of missing the playoffs. Eberle will ultimately be the odd man out in Edmonton with McDavid and Ryan Nugent-Hopkins in the fold, and young prospects in the system. Dealing Eberle for some more pieces, especially on the defensive side of things who can come in and play in the NHL, could prove to be a good move for the Oilers.
Ryan O'Reilly
Another player who's been talked about for the better part of three seasons has been Ryan O'Reilly. The Colorado Avalanche center is entering the final year of a two-year, $12-million bridge contract he signed prior to last season. His contract dispute with the Avalanche has been well documented, and it's not believed that this "complicated" pairing will continue after next season ends.
Instead of losing him for nothing as an unrestricted free agent next summer, GM Joe Sakic will likely look to deal him for some big, NHL-ready, parts to get Colorado back into the playoffs. By giving a team the rights to negotiate with him prior to the completion of a trade, Sakic could lock down some bonus compensation for his efforts.
Tyler Bozak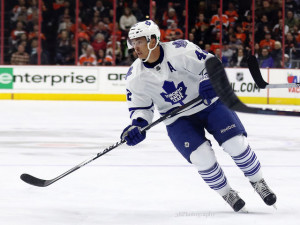 The Toronto Maple Leafs are getting set to enter full rebuild mode. One of those players that could be the victim (or the beneficiary) of the Leafs rebuild could be Tyler Bozak. Since coming to the NHL in 2009, Bozak has been a productive second-line center for Toronto by averaging 38 points per season through six years.
He was rewarded for his efforts with a five-year extension with Toronto in 2013. Since signing his new contract, Bozak has put up 49 points in back-to-back seasons. That type of productivity could fetch the Maple Leafs a few nice pieces should the new General Manager decide he isn't going to be a part of the rebuild, which I don't think he is.
Patrick Sharp
Patrick Sharp is the third player on this list who has been a part of the trade rumor talk for quite some time. With Patrick Kane and Jonathan Toews both signed to new, expensive long-term contracts, Sharp's time in Chicago is likely coming to an end.
Kane and Toews both having a $10.5-million cap hit kicking in this season which means Sharp's $5.9-million ultimately won't be one that the Blackhawks will want to deal with for the next two seasons. He's 33 and his production
dropped off
significantly from a year ago.
Still, any team with cap room that is looking to add a proven offensive talent will jump all over the chance to acquire Sharp. After nine-and-a-half seasons in the second city, I just can't see Sharp suiting up for Chicago on opening night this year.
Dion Phaneuf
The last player on this list is yet another man rumored to be on the move for a while now. If the Leafs are entering a rebuild then there is no doubt that Dion Phaneuf is one player who won't be part of it. He's been a solid player for Toronto during his time, but his $7-million cap hit that lasts for five more years just can't be justified on a rebuilding team.
Rather than being relied on to be a top-pair defensemen in the NHL, Phaneuf could thrive as a fourth or fifth man in the back. Former GM Dave Nonis recently stated that a trade for Phaneuf was close near the most recent deadline, but he just didn't bite the bullet. With Toronto making changes and Phaneuf reportedly wanting out of the organization, the chances are high the he finally gets dealt this summer. Of course, Toronto will probably have to eat some of his contract to get it done.
Michael is a former Managing Editor for The Hockey Writers. He's covered the Buffalo Sabres, along with the NHL in general, for various outlets since 2009. His work has been featured on outlets such as Yahoo, Sports Illustrated and Fox Sports.