Every season, roster decisions are made by either adding new players through trade or free agency or by placing current players in new roles. Here, we'll look at three players who are excelling in new situations, one on a new team and two in new roles.
Brayden Schenn Propelling the Blues to First Place
An offseason trade with Philadelphia brought 26-year-old Brayden Schenn to the Blues. After playing much of his career centering the Flyers' second line, he has been on the Blues' first line with Vladimir Tarasenko and Jaden Schwartz. While Tarasenko is a household name, Schwartz has gone under the radar despite being very productive in recent seasons. Adding Schenn to the mix has resulted in a dynamic line that is generating 43 percent of the team's offense.
Entering this season, Schenn had career highs of 26 goals and 59 points, both set during the 2015-16 season. That season was his best, with 1.99 points per 60 minutes of 5-on-5 ice time and 22 high-danger chances generated. He produced at these levels while skating with Wayne Simmonds and Claude Giroux or Jakub Voracek a majority of the time. Last season he regressed, and only four of his 25 goals occurred at 5-on-5 play.
Since becoming a Blue, Schenn has had Schwartz on his line for nearly all of his 5-on-5 ice time and Tarasenko for over half the time. When the trio is deployed, the team has a 60.47-percent Fenwick at 5-on-5 and has scored 17 goals while allowing just four. Of Tarasenko and Schwartz's 28 goals, Schenn has assisted on 46 percent, or 13 goals.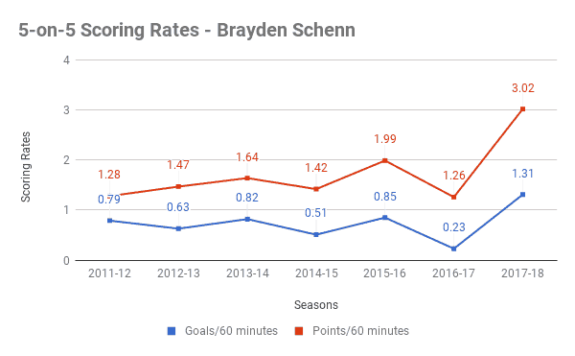 Individually, Schenn is already closing in on previous offensive career highs. His 16 goals and 37 points are tied for seventh and ninth in the league respectively. There is reason to believe in the sustainability of his success with only three of his goals and nine of his points coming on the power play. Considering Schenn was the only addition of magnitude to the Blues' roster and his presence as a first-line center, his play is certainly a reason for the team's somewhat surprising success.
Couturier the Key to Giroux's Rebound
Philadelphia's Sean Couturier may have just turned 25, but he is already in his seventh NHL season. He has generally centered the Flyers' second or third lines, playing a strong two-way game but never posting more than 39 points. This season, however, he was moved to the first line with Claude Giroux and Jakub Voracek or Wayne Simmonds, and the results have been great.
Since receiving the bump in playing time, Couturier has produced at nearly a point-per-game rate with 30 points in 31 games. In fact, his 0.97 points-per-game mark is better than double his career mark of 0.46 entering this season. His 15 goals tie a career high and his 10 goals at 5-on-5 are just three behind his best season. Per 60 minutes of ice time at 5-on-5, he is setting career highs in goals, points, and scoring chances.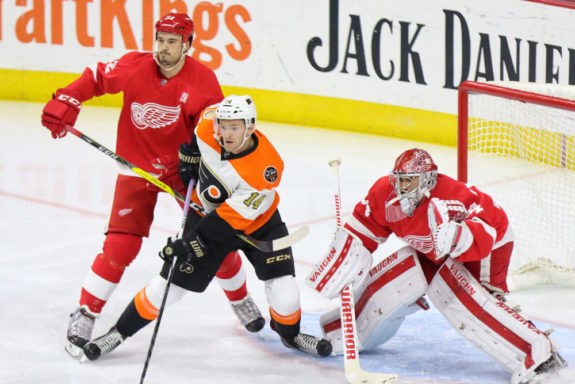 When on the ice together, Couturier, Voracek, and Giroux are excelling at 5-on-5 with a 54.46-percent Fenwick. They are also controlling nearly 70 percent of goals. When Giroux and Voracek are without Couturier these metrics drop to a 44.44-percent Fenwick and to 50 percent for goal control.
Couturier's impact has been especially profound in Giroux's production. Last season, in 82 games, he had just 14 goals and 58 points, both his lowest in a full season since 2009-10. Of Couturier's 15 goals, Giroux has assisted on 11 of them, and their chemistry is making the most out of Giroux's skills as a passer. Couturier's ability to be a goal scorer has also helped make the most out of Giroux's lack of shots, which are down to just 5.48 attempts per 60 minutes while his career average has been 7.69.
Teravainen Bringing Stability to Carolina's First Line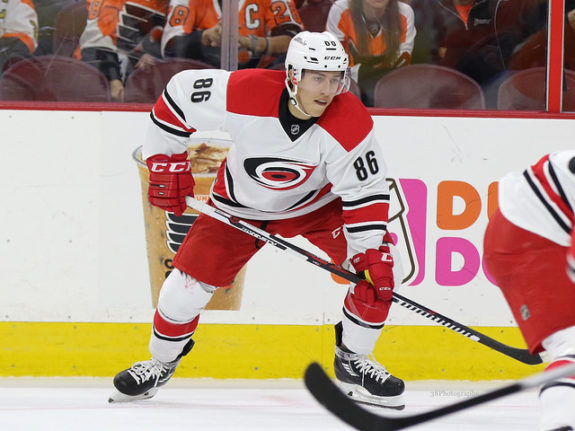 Finnish forward Teuvo Teravainen was acquired by the Hurricanes from Chicago during the summer of 2016 after spending parts of three seasons with the Blackhawks. With Chicago he was generally used in the bottom six, topping out at 15:21 per game during the 2015-16 season. Since joining the Hurricanes, Teravainen has been given a bigger role with an increase in playing time, and he set a career high in offense last season.
He started last season playing on the second and third lines before ending the year on a line with Jordan Staal and fellow Finn Sebastian Aho. This season started the same as last but he has found solid playing time on the top line with those two in recent weeks. When on the ice together, the team has a 53.73-percent Fenwick at 5-on-5 and are controlling over 53 percent of scoring chances.
Individually, Teravainen is scoring at a higher rate than ever before both in points per game and points per 60 minutes. His 2.31 points per 60 minutes of 5-on-5 ice time is a full point higher than his career average entering this season. His presence on the top line has also brought out the best in Staal and Aho.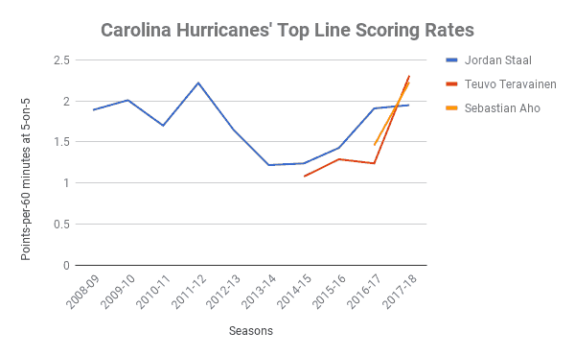 Staal, the veteran of the line, is scoring at a rate of 0.26 goals per game, his highest since his final season as a Penguin in 2011-12. Second-year pro Aho is also having a better season than last, even if his goal totals aren't in line with his rookie season. In total, his 0.74 points-per-game are significantly higher than his 0.60 from last season, a rate increase that equals 11 points over a full season.
It is widely known that the Hurricanes are missing an elite goal scorer on their roster, but the emergence of Teravainen as a solid puck distributor has allowed Staal to re-establish himself as a scorer. Similarly, it has given Aho the freedom to shoot the puck more compared to last season and if his shooting percentage rebounds, this line will be very productive.
*All stats came from Hockey-Reference, Natural Stat Trick, Hockey Viz, and Corsica.
My name is Kyle, and I'm the managing editor of The Hockey Writers. I joined THW in Oct. 2017 and am always striving to bring you the best hockey coverage possible. You can email me directly at kyle@thehockeywriters.com.