The match-ups for the NHL playoffs were finally set on Saturday night. Wins for Phoenix and Florida assured them of winning the Pacific and Southeast division titles respectively, while San Jose and Washington were also able to improve their playoff positioning. The logical thinking is that an 82-game regular season should provide a pretty good measure for how the NHL playoffs will go.
However, every season there are teams that upset the favourites from the #5-#8 places in the standings. In fact, the dominant story lines during the NHL playoffs are usually based around a team that usurps expectations. Last season, it was Tampa Bay's run to within one game of the Stanley Cup finals. In 2010, seventh seeded Philadelphia and eighth seeded Montreal made it all the way to the Eastern conference finals. In 2009, sixth seeded Carolina made a run to the Eastern conference finals and in 2006, all four of the top seeds in the Western conference lost and the eighth seeded Edmonton made it all the way to the Stanley Cup finals.
The NHL playoffs may not be March Madness, but they are difficult to predict. Coaches have time to prepare, a good bounce can change the entire series, and the fact is that every team in the postseason is a good team that can beat any other team in the league on their day.
This year's Western conference playoff match-ups have that upset potential. Parity is more of a factor than ever in the NHL with LA and San Jose two of the strongest looking seventh and eighth seeded teams in recent memory. It will not be a surprise to see a few surprises in the Western side of the NHL playoffs this spring.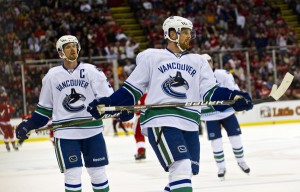 Los Angeles Kings v Vancouver Canucks
The Canucks will be desperate to return to the Stanley Cup finals, but their initial test won't be an easy one against the Kings. LA won the last two match-ups between the two teams in a season series that was split. On paper, Vancouver have a deeper, more powerful offense (not to mention a pretty good defense) and should simply overpower the eighth seed. However, goaltending is even more vital in the postseason and this match-up pits Vezina Trophy frontrunner Jonathan Quick against an unsettled situation in Vancouver, where Roberto Luongo was booed and Cory Schneider cheered when Luongo was pulled in a 5-4 win against Anaheim. Meanwhile, Daniel Sedin's status remains uncertain ahead of the playoffs. Maxim Lapierre has done an admirable job scoring six points in his last seven games, but there are serious questions as to whether the career fourth liner can keep that sort of pace up in the postseason. Daniel's absence will put even more pressure on his brother Henrik on the team's top line, and it should be remembered that Vancouver's offense is coming up against one of the best defenses in the league. Add to that fact that LA has been scoring over three goals per game since the calender turned to March. The President's Trophy winners won't have an easy task if they want to get their Stanley Cup campaign off to a strong start.
San Jose Sharks v St Louis Blues
The Blues owned the season series winning all four match-ups. If defense wins championships then St Louis has to start as one of the favourites to win it all after they won the Jennings Trophy conceding the fewest goals in the league (just 165). Ken Hitchcock's team has been almost flawless since he took over as coach, but if they have been flawed, it has been lately. They are 4-4-4 in their last 12 games and their defensive play has been a little inconsistent. This is also a team with a goaltending conundrum as Hitchcock must pick one of Brian Elliot or Jaroslav Halak as the team's #1 for the postseason. The Sharks enter this series with the unfamiliar tag as underdog, but it would be a mistake to write this team off based on their regular season. Joe Thornton, Patrick Marleau, Logan Couture, Joe Pavelski, Martin Havlat and Ryane Clowe form two excellent scoring lines. The NHL playoffs are completely different from the regular season and this San Jose core has a lot of experience having made the Western conference finals in each of the last two seasons. Most importantly, this is a team that really has improved its blue-line. Brent Burns plus the emergence of Marc-Edouard Vlasic and Justin Braun as consistent players has helped this blue-line become a strength of this team rather than a weakness. They also start the playoffs on a four-game winning streak and with 10 wins in their last 15 games.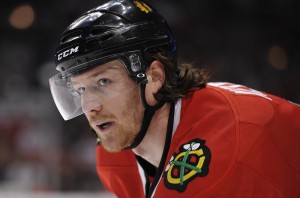 Chicago Blackhawks v Phoenix Coyotes
It's hard to say which of these teams winning would constitute as an 'upset' since Chicago actually finished with more points than Phoenix in the regular season. The reality is that the sixth seeded Blackhawks have a serious opportunity to make it past the third seeded Coyotes. Chicago are tied for the second best team in the West and they will be hoping that captain Jonathan Toews returns for Game 1 of this season. The Blackhawks have five 20-goal scorers and another player in Dave Bolland stranded on 19. Few teams can boast an offense armoury that includes Marian Hossa, Patrick Sharp and Patrick Kane. On top of that, goaltender Corey Crawford is playing his best hockey of the season after a poor start, where he struggled to hold on to the starters job against Ray Emery. He owns a .916 save percentage and a 1.81 GAA in the 11 games he has played in during April and March. Phoenix has yet to win a series in the NHL playoffs, but they enter the series with a five-game winning streak and the hottest goaltender in the league in Mike Smith. Smith finished a Vezina calibre season by conceding just two goals in his last five games. The Coyotes won the season series 3-1, but the two teams have not played since February.
Detroit Red Wings v Nashville Predators
The #4 v #5 match-up rarely presents a straight up favourite-underdog clash and this one is no different. Nashville will be very happy to enjoy home ice advantage against Detroit, who are just 17-21-6 on the road. The two teams split the season series 3-3 and were only split in the regular season standings by virtue of the Predators taking two more of their losses past regulation time. The Predators are many writers dark horse pick to challenge for a Stanley Cup, but their first against an experienced Red Wings team will not be easy. Detroit struggled down the stretch, but this veteran line-up will appreciate a few days off before the first round begins. The likes of Nicklas Lidstrom, Pavel Datsyuk and Jimmy Howard have all been battling injuries in March. Expect this roster to be better organised and fresher when the postseason begins. On top of that, while Nashville have acquired some playoff experience over the last few seasons, no team has enjoyed more success in the NHL playoffs in recent history than the Red Wings.